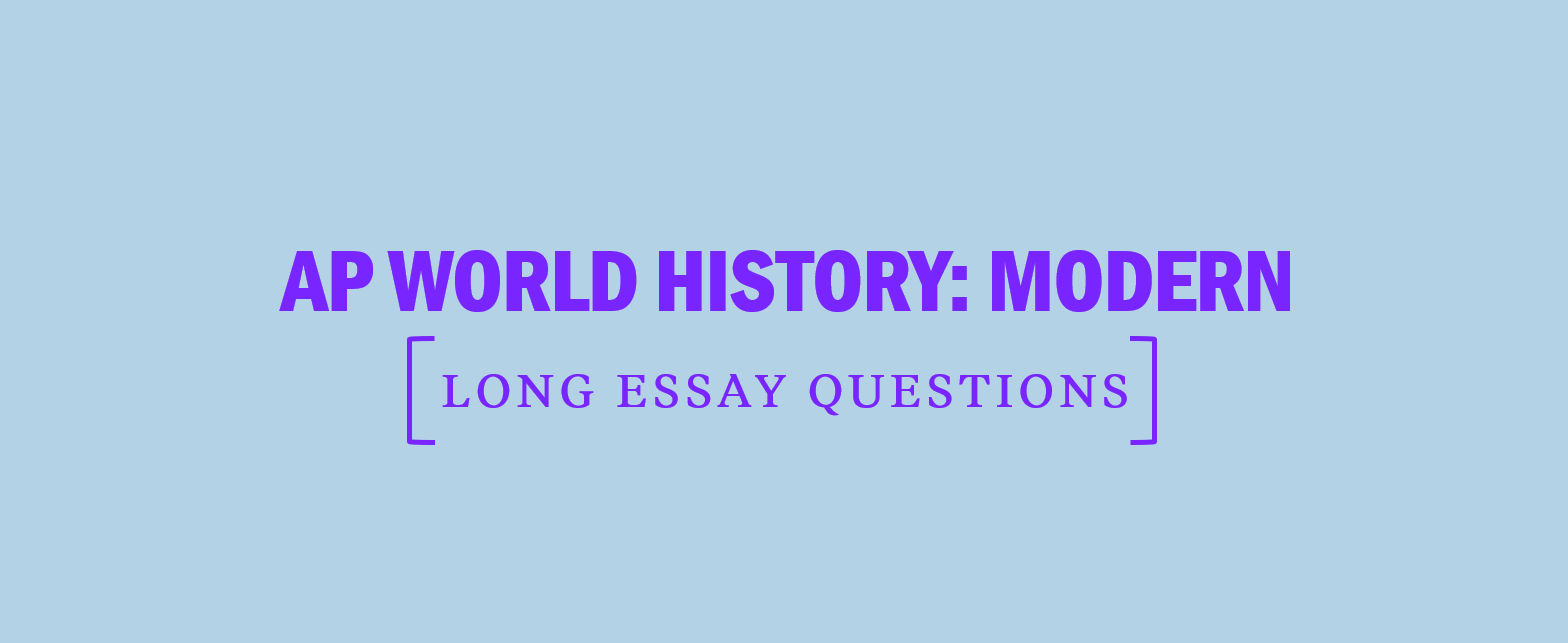 The second part of Section II of the AP World History exam contains three long essay questions—you must respond to one. The long essay question assesses your ability to apply knowledge of history in a complex, analytical manner. In other words, you are expected to treat history and historical questions as a historian would. This process is called historiography—the skills and strategies historians use to analyze and interpret historical evidence to reach a conclusion. Thus, when writing an effective essay, you must be able to write a strong, clearly developed thesis and supply a substantial amount of relevant evidence to support your thesis and develop a complex argument.
The College Board's characteristics of a high-scoring long essay question response are listed below. Note that the requirements are very similar to those of the DBQ; the primary difference is that any requirements related to use of the documents are removed from the scoring requirements for the LEQ.
Thesis: Make a thesis or claim that responds to the prompt. The thesis or claim must be historically defensible and establish a line of reasoning.
Context: Provide context relevant to the prompt by describing a broader historical development or process.
Evidence: Use specific and relevant examples as evidence to support an argument in response to the prompt.
Historical Skill: Use a historical reasoning skill (causation, comparison, or continuity and change) to develop an argument in response to the prompt.
Complex Understanding: Demonstrate a complex understanding of an argument that responds to the prompt by using evidence to corroborate, qualify, or modify the argument.
AP World History: Modern Long Essay Question Strategy
The LEQ may be the most abstract prompt you encounter on the free-response section. It is therefore extra important to use the Kaplan Method in order to organize your ideas and logically think through your response. You must select one of the three LEQ prompts. While each question will focus on the same reasoning process (for instance, all three questions may test causation), the questions will address different time periods: Question 2 will focus on the time period from 1200 to 1750, Question 3 will focus on the time period from 1450 to 1900, and Question 4 will focus on the time period from 1750 to 2001. Choose the option that will best showcase your ability to construct a historically defensible thesis and provide specific, relevant evidence.
Consider the following special strategies for the long essay question. Scoring requirements are highlighted in bold.

During Step 1: Analyze the Prompt
Each long essay question begins with a general statement that provides context about the tested time period, and then the second sentence identifies your task, which will always entail developing an evaluative argument. Make sure to read all three prompts carefully. Think of the evidence you could use and the argument you could develop in response to each one, then choose the question you feel most confident about.
Begin crafting your thesis statement. You must have a thesis that takes a stand, answers the entire question, and shows the reader the path you will take in your essay answer. It is not enough to merely restate the task as your thesis. One of the most important things to do is to take a position. Don't be afraid of taking a strong stand for or against a prompt as long as you can provide proper and relevant evidence to support your assertions. Each prompt will lend itself to building a thesis that employs a historical skill, such as causation, continuity and change, or comparison.
Part of developing your thesis should be considering how your essay's argument will demonstrate a complex understanding. As for the DBQ, your argument should address the complexity of the historical development or process—perhaps by including multiple variables, by considering both causes and effects, or by making an insightful connection to another time period. See the DBQ section of this chapter for a complete list of ways to demonstrate complex understanding.
During Step 2: Plan Your Response
Make short notes that outline each paragraph of your essay, including the points you will make and the evidence you will use to support your points.
The first paragraph of your essay will likely contain your thesis statement; the thesis may also appear in the conclusion, but placing it in the introduction will make it easier for your readers to follow your essay.
Consider how you will provide context for the essay topic. The context you provide must be more detailed than a brief reference and should situate the topic of the prompt in relation to developments before, during, or after the time period from the prompt. The introduction paragraph or first body paragraph may be good places to include contextualization.
In general, each body paragraph should address one part of your claim or one category of evidence you are providing in support of your thesis. Organizing your essay according to the historical skill being tested is an easy and effective way to structure your essay; each paragraph of an essay responding to a prompt about causation could address one cause, for instance. Jot down the evidence you will include in each body paragraph. To earn the maximum points for use of evidence, you must use examples that support your overall argument—merely listing relevant examples but not explaining how they support your claim will only earn 1 instead of 2 possible points for evidence.
Confirm that your plan addresses all the essay requirements before moving into the writing step.
During Step 3: Action! Write Your Response
There is no "standard" number of paragraphs you must have. AP readers look for quality, not quantity.
The first paragraph of your essay should include your thesis and any other organizational cues you can give your reader. There is no need to spend time creating a "hook" or flashy statement for your first sentence or using rhetorical questions. AP graders are reading for the items that are listed in the rubric. You will notice that creativity in language is not a listed item. However, a well-written and developed argument is a desired item.
Your body paragraphs should follow the "road map" you set in your introduction and thesis. Don't stray from your plan, or you will find yourself straying from the prompt. You have taken the time to make a plan, so follow it! Do not merely list facts and events in a "laundry list" fashion. You must have some element of analysis between each set of evidence you provide. Using transition words, such as however, therefore, and thus, to show shifts in thought can make creating analytical sentences quick and easy. You should practice stringing facts and thoughts together using these "qualifying transitions" in your sentences.
Beware of telling a story rather than answering the question. Readers are looking for analysis, not a revised version of your textbook. Do not attempt to shower the reader with extra factoids and showy language; focus on developing a well-crafted argument.
Because this is a formal essay, you should avoid using personal pronouns, such as you, I, or we, and slang words. Because your essay is about history, write your essay in the past tense.
You should end each body paragraph with a mini-conclusion that ties the paragraph back to the thesis. It can serve as a transition sentence into the next paragraph or stand alone. In either case, the reader should be able to tell easily that you are shifting gears into another part of the essay.
Lastly, write your conclusion. Restate your thesis, but in a new way. Instead of rewriting your thesis word for word, explain why your thesis is significant to the question. Do not introduce new evidence in your conclusion. The conclusion should tie all of the mini-conclusion sentences together and leave the reader with a sense of completion. If you are running out of time when you reach the conclusion, you may leave it off without incurring a specific penalty. However, the conclusion can help solidify your entire argument in the minds of your readers, so practice writing timed essays so you can learn the proper timing it takes to write a complete essay (conclusion included).
Neatly correct any obvious errors.
NEXT: AP World History: Modern Sample Long Essay Question


https://wpapp.kaptest.com/study/wp-content/uploads/APWHM-Long-Essay-Questions.png
643
1568
admin
http://wpapp.kaptest.com/wp-content/uploads/2020/09/kaplan_logo_purple_726-4.png
admin
2023-04-03 08:17:07
2023-04-03 19:34:31
How to Approach AP World History: Modern Long Essay Questions