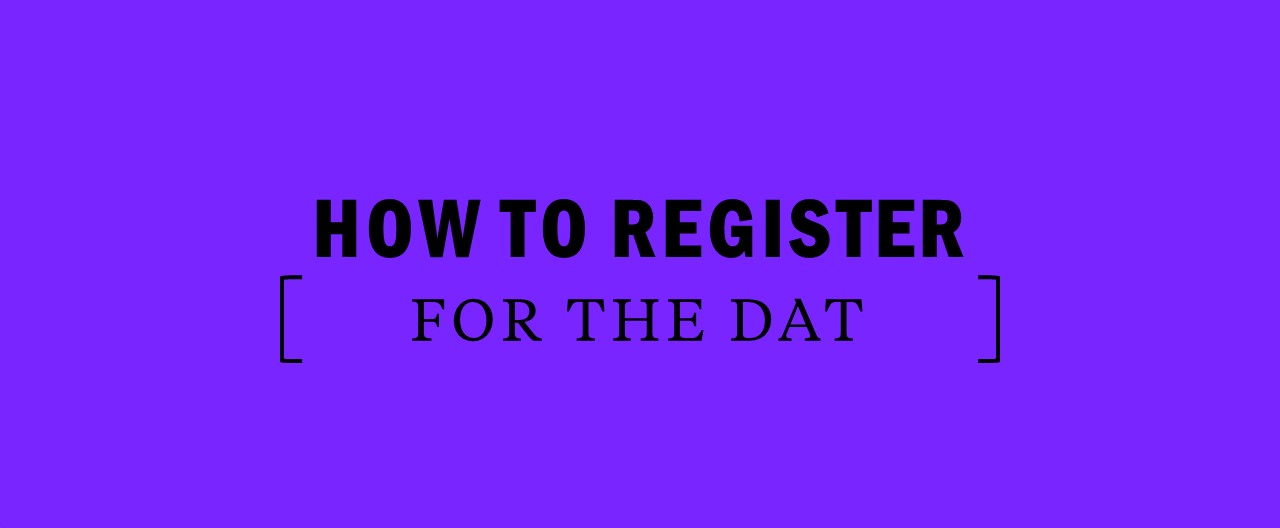 If you're planning on applying to Dental School, you'll have to take the DAT. To register for the DAT or apply for admission to dental school, you will first need a DENTPIN. The DENTPIN is a standardized personal identifier used by the agencies responsible for the accreditation of dental school applicants when registering for the DAT. To obtain or retrieve a DENTPIN, visit ada.org/dentpin.
Once you have a DENTPIN, you will be able to submit an electronic application at ada.org using a credit card. To request a paper application, call 1-800-232-2162.

The DAT® is conducted by the American Dental Association (ADA) and has been in operation on a national basis since 1950. The DAT is administered year-round at test centers operated by Prometric. The official DAT website is found at ada.org/dat and is where you begin the process of registering for the DAT. You will also find the DAT Guide and a PDF of Frequently Asked Questions as well as many other resources for DAT test takers.
After your application and fee are processed, you will receive instructions to contact Prometric (prometric.com) to arrange a date, time, and location for your test. Plan to register several weeks in advance of when you want to take the test so you can arrange the best time and location. Any corrections to your application must be completed at least two weeks prior to your test date, and rescheduling your test incurs a rescheduling fee that varies according to the advance notice you provide.
The DAT is administered exclusively on the computer and can be taken almost any day of the year.
[ RELATED: 1-Month DAT Study Plan ]
What To Bring When Taking The DAT
To check in for your testing session, you will need your admission ticket (emailed to you as confirmation of your registration) and two forms of valid, nonexpired identification with signature, one of which must be government-issued and contain a photograph of you, such as a driver's license, passport, state ID, or military ID.
The first and last names on your admission ticket must match your personal IDs exactly; however, IDs with only middle initial or with no middle name included will be accepted. At the testing center, additional security procedures such as photos or digital fingerprints may be taken to confirm and record your identity.
During the test, time is kept via a countdown timer in the corner of the screen. You will not be allowed to wear a watch and may not have access to a clock. One 15-minute rest break is scheduled for the middle of the test. You may take additional breaks with the permission of the proctor, but the test timer will continue running, and you will lose that time. Even if you are not at the computer, the test will continue to run itself, and successive sections will start automatically if time for the previous section has elapsed.
An on-screen periodic table is provided for only the Survey of Natural Sciences section, and an on-screen calculator is provided for only the Quantitative Reasoning section. The testing center provides a noteboard and marker to use for taking notes and writing out calculations. If you need to replace your noteboard or marker, you may ask the proctor for a new set any time during the test (although if this is during a section, your time will continue to elapse). You will not be allowed to bring your own calculator, writing utensils, or paper.
https://wpapp.kaptest.com/study/wp-content/uploads/2019/08/How-to-register-for-the-DAT.jpg
528
1280
admin
http://wpapp.kaptest.com/wp-content/uploads/2020/09/kaplan_logo_purple_726-4.png
admin
2022-01-24 11:40:21
2022-01-24 17:51:13
How do I register for the DAT?