Future MBAs have a lot to keep track of when applying to business school, so we're here to provide some straight talk on the issue of admissions rounds for business school—namely, whether applying in round one, round two, or round three is best for your particular strengths.
Many MBA admissions officers will tell candidates that if they can submit their applications in round one—or at least avoid round three—they should do so, the logic being that most of the spots in the class will be filled by strong applicants by the time round three comes along.
But there are no absolute rules for when to apply; it is dependent upon the strength of the business school candidate. Before applying, every candidate should think about which round is best for him or her as an individual. Inevitably, there are two common questions that crop up during the MBA admissions process.
MBA Application Rounds—Which is Right for You?
Did you know that most business schools process MBA applications in rounds? What does that mean for you? Well, for most schools, it means that there are three separate application deadlines—or rounds—of processing. How does this play into your business school admissions strategy?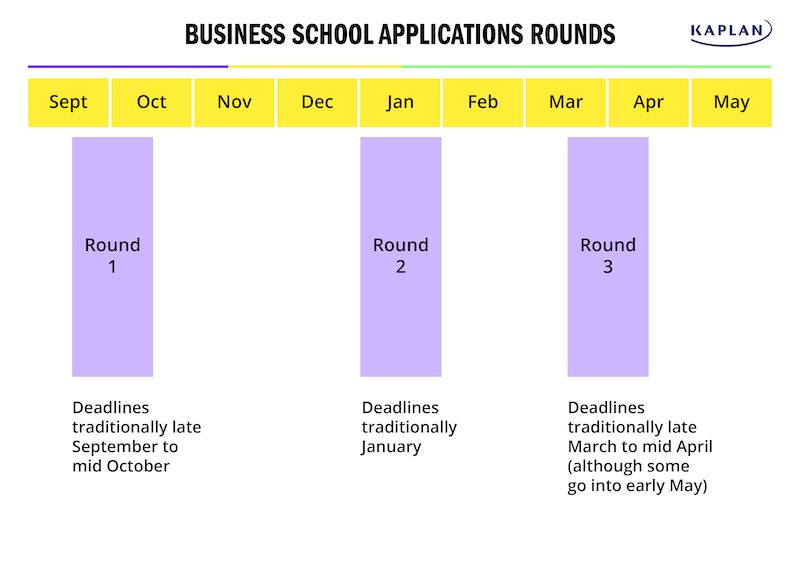 Round One: Deadlines in September—October
Round one sees some of the best MBA applications. Those who apply in the fall are often candidates with good grades, solid work experience, and high levels of organization in their activities. If you are a strong MBA candidate, it is probably a good idea to apply in round one. Submit in the earliest round possible provided you don't compromise the quality of your application.
Not to suggest you should postpone the process unnecessarily, even if you are not the most well-rounded candidate. If your GMAT scores are above 600, the early deadline is the one for you. In this first round, the numbers of applications received by business school admissions offices are comparatively small. Admissions directors almost universally say that later rounds are more competitive than earlier rounds. Most schools try to fill the bulk of their slots with early-round candidates, filling out the class and making sure the incoming group will be as impressive and diverse as possible in later rounds.
"What are the main benefits of applying in round one of MBA admissions?"
All things being equal, a candidate would have a slight edge in the first round. You should submit your application when it presents you at your best—whichever round that happens to be. At the same time, if certain factors apply to you, it's advisable to do everything you can to make sure both you and your application will be ready for round one.
If you are part of an overrepresented group, submitting your application before your constituency is well represented in the class can be a wise move.
If you are a unique candidate with a low GMAT score, shoot for a round one submission, because fewer spots are available for such candidates later on. If several low-GMAT candidates are accepted in the first round, your school of choice may be constrained by its need to drive its GMAT average higher and may not be able to send out another offer to a candidate with a low score.
If the admissions committee blatantly confers an advantage on candidates who apply early and you are certain that you want to attend this school, then applying early is probably worth the effort.
Round Two: Deadlines in January
The second business school application deadline sees the largest group of applicants, and that means there are more candidates to compete with. Some MBA programs receive over 2,000 applications during this round. The applications seen here are usually from students who generally do well, but could present more weaknesses, although this does vary from school to school and from year to year. If you have a GMAT score that's less than 600 and you feel strongly that you will do well in taking it again, opting for the second round in MBA application might work the best for you.
When an applicant is rejected in an early round, in most cases they cannot have their application reconsidered in later rounds—their only option is to reapply the following year. So, applicants who apply in later rounds do not compete against rejected applicants from earlier rounds. The one exception is waitlisted applicants. Because they were real contenders in the earlier rounds, they make the later rounds more competitive.
In short, determining which round is best for you as a candidate can influence your acceptance. You should never let timing compromise the strength of your application, however. In other words, if applying earlier means sending out an application package that reflects anything less than your best self, you're better off postponing your submission to a later round.
"If I wait for round two, will I be too late?"
Overall, don't worry if you can't submit in round one. The majority of spots are awarded in round two. Rest assured, the schools will always find room for a strong applicant.
Unfortunately, when you are being compared to a group of unknown competitors, being concerned about every perceived difference or deficiency your business school application might reflect is unavoidable.
Some candidates worry if they are a year older than the average incoming student at their target school; others fret if they are a year younger. Some applicants fear having a GMAT score that is ten points below a school's average, and many worry about sending their applications after round one. However, the overall strength of your candidacy, which is a measure of many factors, is far more important than where you fit in relation to any single statistic—not to mention whether you apply in round one or two.
So, although the general advice encourages candidates to apply early if ready, no one should put off their MBA admissions dreams for a year if applying in round one is just not practical. You may be surprised to discover that admissions committees encourage early applications but also concede that the difference in selectivity between the first and the second rounds is very small.
Round Three: Deadlines in March— April/May
It is generally true that round three admissions are more difficult than rounds one and two. There are only a limited number of vacant class seats left by this point, the others having been allotted to admits from earlier rounds. Admissions officers are very much aware that they have only so many seats left to fill, so they become even more careful about which candidates those seats go to.
While it's not quite accurate to say that round three applicants are held to a higher standard than earlier candidates, their applications are usually read with especially close scrutiny. As a general rule, round three applicants have less of a margin for error. Admissions committees do look at these later applications very carefully. Minor slips that earlier candidates might have gotten away with are likely to be caught and challenged. So take extra care to make sure your round three application is carefully planned out and meticulously prepared.
How to Make Your MBA Application Checklist
Everybody's business school application timeline is different and dependent upon his or her own schedule, but the application checklist is pretty consistent across the board.
It's never too early to start putting together your MBA application. While you're gathering your materials, it's a good time to take stock of your progress and determine your next steps. Where are you in the process now? Where would you like to be next week, next month? We've put together some tips to get you going!
Before you apply to business school
Start at the beginning with the bigger questions before focusing on specifics like taking the GMAT and writing your personal essay.
Have you…
Determined your business school application timeline and which round of admissions best fits your strengths?
Selected the MBA programs you're targeting?
Figured out how you'll finance your MBA?
Prepared for the GMAT by taking the Kaplan 20-Minute Workout?
Taken a free Kaplan GMAT practice test?
Taken the GMAT and secured the score you need?
Started your application essays?
Submitted your applications?
If you checked off all of these things, congratulations! You're well on your way to applying to business school
If you need some help getting organized, however, we've put together a schedule for you to follow. Here you'll find some tips on how to pace yourself through the process so nothing sneaks up on you before you submit those final forms!
24–18 months before starting business school
Start making your MBA application checklist
Research career paths and determine short- and long-term goals.
Gain experience in the industry that will best further your long-term career goals.
18-12 months before starting your MBA program
Gather information from schools to develop the list of MBA programs you're targeting.
Brainstorm and draft your application essays.
Provide recommenders with all the information they will need to write great letters—remember to make it as easy for them as possible!
Request transcripts from all the schools you have attended.
12 months before starting business school and on (or senior year of undergrad)
Select a GMAT test date.
Take a free practice GMAT with Kaplan.
Proofread applications thoroughly and submit. First-round application deadlines are usually in October, second-round in January, and third-round in April.
Investigate financial aid options.
0
0
admin
http://wpapp.kaptest.com/wp-content/uploads/2020/09/kaplan_logo_purple_726-4.png
admin
2019-10-27 06:02:49
2020-09-11 20:40:31
MBA Application Process