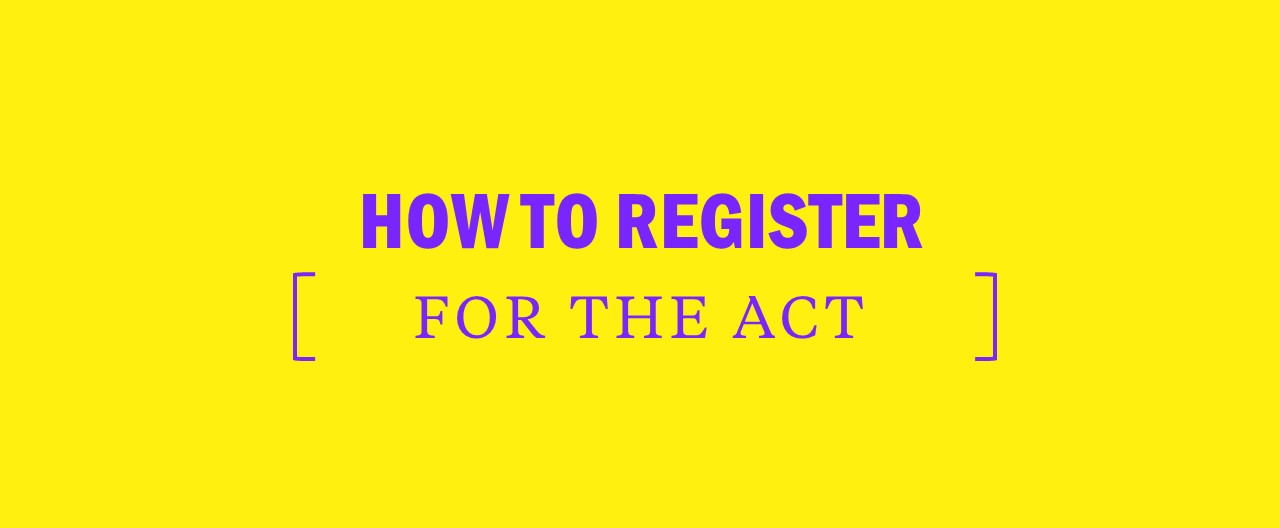 To register for the ACT, you will need to make an ACT web account. Make sure you have a reliable internet connection and about 40 minutes to complete the registration process. You'll supply the following as you register:
This is also where you'll specify whether or not you want to take the writing portion of the ACT. Since different colleges and universities have different requirements, be sure to check ahead of time to see if your colleges require that you submit an ACT writing score.  
During ACT registration you'll indicate which colleges you want to receive your ACT score report, request accommodations or EL resources, and opt-in to ACT's Educational Opportunity Service (EOS), which connects students with colleges, universities, and financial aid opportunities. 
Depending on whether or not you decide to take the ACT writing portion, you'll need to pay either $52 (ACT without writing) or $68 (ACT with writing) by credit card or fee waiver when you register for the ACT. This fee covers the cost of testing, high school and personal score reports, and up to 4 college ACT score reports. You have the option of sending additional college score reports for a fee of $13 per report. Additional fees will be applied for a change of test type, change of test date, change of testing center, standby testing and late test registration.

When Should I Take the ACT?
It's a good idea to plan your ACT test date based on your study plan rather than the other way around. Take a
free ACT practice test
to gauge how long you'll need to study for the ACT, and register for a test date that will give you plenty of time to prepare.
The ACT is offered seven times per year. The registration deadline is about a month before each test date, and the late registration deadline is about two weeks later. It's common for students to take the ACT 2-3 times, so plan to take the ACT sometime in your junior year of high school to give yourself plenty of time to retest once or twice if you don't hit your goal score right away. 
What to do if you miss the ACT registration deadline?
If you miss the late registration deadline, you have the option to pay a $55 fee and register for standby testing. Though standby testing doesn't guarantee admittance to the ACT, if there are enough materials, seats, and staff available you'll be permitted to test. Your $55 will be refunded if you're denied admittance on test day.

If you requested any accommodations or english learner resources when you registered for the ACT, be sure and complete the accommodations request process by the late ACT registration deadline. This will include signing the Consent to Release Information to ACT form and working with your school officials to finalize the request and submit documentation to ACT.  
After you register for the ACT, decide what ACT prep will fit your schedule and learning style. You might choose to register for an ACT course taught by an expert instructor, follow a self-guided curriculum, or just work your way through an ACT prep book. Whatever method you use to study, make sure you give yourself time to rest. Don't cram all the way up until the morning of the ACT; instead, use the day or days before the ACT to relax. 
[ RELATED: ACT 3-Month Study Plan ]
How to Study the Week Before the ACT
When Will You Recieve ACT Scores?
Your
ACT scores
will be posted on your ACT web account. You can expect to receive your multiple-choice scores 2-8 weeks after your test date and your writing score approximately 2 weeks later. ACT will prepare one score report for your online ACT account, one for your high school, and one for any colleges you indicated when you registered. 
After you've received your scores, you can request additional score reports for a fee of $13 per report through your ACT Web account, by phone (319.337.1270) or by mail at the following address:
ACT Customer Care — Score Reports
PO Box 451
Iowa City, IA 52243-0451
ACT will only send scores to the colleges you indicate at the time of registration. That means that if you retest, you'll need to re-list each college when you register. Don't assume that because ACT has sent your scores to your list of colleges in the past that they'll do it for subsequent tests without you arranging it. 
https://wpapp.kaptest.com/study/wp-content/uploads/2020/06/How-to-register-for-the-act-exam.jpg
528
1280
admin
http://wpapp.kaptest.com/wp-content/uploads/2020/09/kaplan_logo_purple_726-4.png
admin
2022-01-14 09:00:57
2022-01-14 15:49:35
How to Register for the ACT