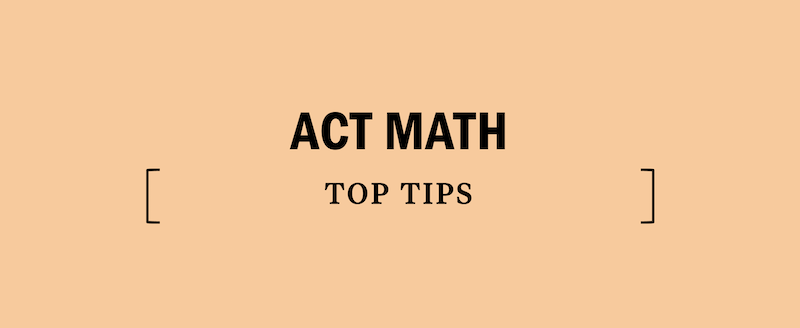 The ACT Math Test is a similar to the math portions of many standardized tests. Even so, the ACT math has a few surprises, especially if you are more familiar with the SAT. Here, we'll go over ACT math basics and tips so you'll be prepared for what's in store.
[ RELATED:  Top 10 Tips for ACT English  •  Top 10 Tips for ACT Science  •  Top 10 Tips for ACT Reading ]
ACT Math Timing
You are given 60 minutes to answer 60 questions. That's pretty easy to remember, but don't think that you should allot one minute for each question. Like most math standardized tests, the difficulty range on the ACT math is relatively wide: practice answering the easier questions quickly so you'll have adequate time to answer the tougher ones.
ACT Math Directions
The instructions on the math portion are relatively long and detailed. Don't waste time reading them on the day of the test. Get to know them now.
Choose the correct solution to each question and fill in the corresponding bubble on your answer sheet.

Do not continue to spend time on questions if you get stuck. Solve as many questions as you can before returning to any if time permits.

You may use a calculator on this test for any question you choose. However, some questions may be better solved without a calculator.
Note: Unless otherwise stated, you can assume:
Figures are NOT necessarily drawn to scale.

Geometric figures are two dimensional.

The term line indicates a straight line.

The term average indicates arithmetic mean.
ACT Math Tips and Strategies
ACT Math Tips
ACT Math Practice Questions
https://wpapp.kaptest.com/study/wp-content/uploads/2020/02/act-math-top-tips-strategy-stragies.png
328
800
admin
http://wpapp.kaptest.com/wp-content/uploads/2020/09/kaplan_logo_purple_726-4.png
admin
2021-12-09 11:10:29
2022-11-04 16:27:15
10 Must-Know ACT Math Tips