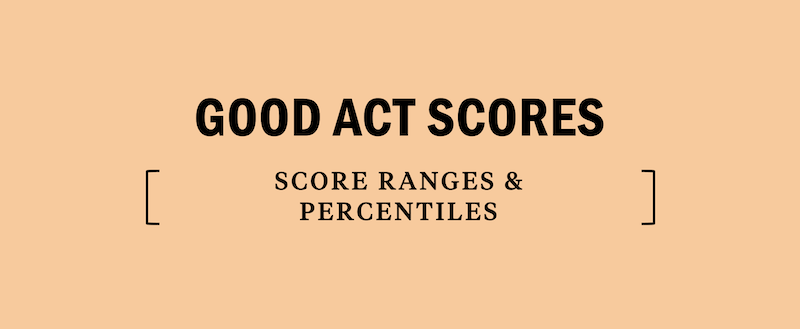 The ACT is scored out of 36, with the top 10% of test-takers getting a composite score of 28-36. When setting your ACT score goal for the upcoming admissions season, it's a good idea to look at the score averages for the schools to which you're applying. Overall, the average ACT score is 21, and a score of 23 or above is often considered a good score. Read on for the breakdown of ACT scores in the top 10%, top 25%, top 50%, and below:
ACT Score Ranges + Percentiles: Average, Good, and Highest Scores
VIDEO: What is a good ACT score?
What is the average ACT score for first-time test-takers?
The average ACT score for first-time test-takers is around 20. Most students who take the ACT only take the test once but test-takers have the ability to take the ACT multiple times, and then combine their best score from each ACT subject into an ACT Superscore, which makes it very difficult to determine an average ACT Score.
The best way to evaluate how competitive your ACT score is by comparing it to the average score used by the colleges you are applying to instead of comparing yourself to a national average.
It depends on which college you are applying to however in general a good ACT score for college is in the 21-26 score range. Let's take a look at some specific good ACT scores for the colleges with high enrollment numbers.
| University | typical act score range |
| --- | --- |
| Texas A&M University | 26-32 |
| University of Central Florida | 25-30 |
| Ohio State University | 26-32 |
| Florida International University | 23-29 |
| University of Illinois Urbana-Champaign | 27-33 |
| Arizona State University | 21-28 |
| Georgia State University | 20-26 |
| University of Minnesota | 25-31 |
| University of Texas at Austin | 26-33 |
ACT/SAT Score Conversion Calculator
Quickly convert your ACT score to an SAT score using our free calculator.
ACT test-takers now have the ability to take the ACT multiple times, and then combine their best score from each ACT subject into an ACT Superscore. Your ACT Superscore can increase your odds at getting admitted to the college of your choice by better reflecting your abilities and skills. Wondering if your target school/college(s) Superscores ACT? And if so, how to Superscore your ACT? Read more
about the new ACT Superscore system.
What factors other than ACT Score influence college admissions?
Keep in mind that your ACT score does not stand alone. Whether or not you are admitted to a college program (and whether or not you receive scholarship money) depends on several factors. In addition to focusing on getting the best ACT score possible, you should also work on obtaining the best GPA possible, writing a spectacular personal statement, taking a challenging course load, and rounding out your application with extra-curricular activities.
ACT Scoring: How is the ACT scored?
The ACT is scored on a 1 – 36 scale in each section in 1-point increments. The 4 multiple-choice sections (English, Math, Reading, and Science) will all have scores provided separately. This relatively small scale means that small improvements in your score can make a big difference in your percentile ranking (sometimes, a 1-point increase in your score can boost your percentile ranking by 5 points).
Remember that on the ACT, you are NOT penalized for wrong answers. Understanding the scoring and knowing how to approach each section is an important part of doing your best on test day.
Katie Sollenberger, Manager of Content and Curriculum, ACT, SAT, and GED
"Standardized tests like the ACT or SAT can feel scary because they may feel or look different from tests you've taken in school. Luckily, both the ACT and the SAT are predictable precisely because of their standardized nature. With routine practice, you can know exactly what you're looking for on the test, lowering your stress levels and increasing your confidence. Don't try to cram; give yourself at least two months to prepare, and plan to practice at least twice per week."
Some schools have decided to make ACT test scores optional as part of their application requirements. This may sound like a good idea but if you are looking to have your application stand out, a good ACT score is still one of the best ways to do that. Just because a school has decided to allow applicants to exclude ACT test scores does not mean other applicants are not continuing to submit ACT scores when applying.
https://wpapp.kaptest.com/study/wp-content/uploads/2021/05/good-act-score-scores-scoring-range-ranges-percentile-percentiles-perfect-college-admissions-need.png
329
800
admin
http://wpapp.kaptest.com/wp-content/uploads/2020/09/kaplan_logo_purple_726-4.png
admin
2023-11-06 10:47:58
2023-11-06 17:31:59
What's a Good ACT Score?