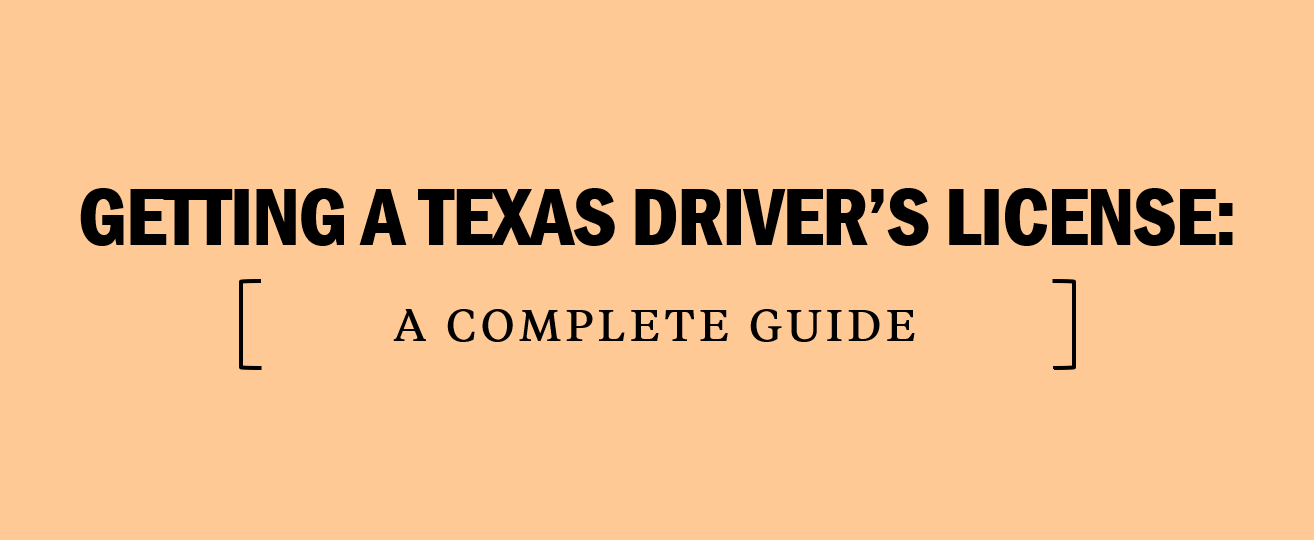 Getting your driver's license is a big step towards independence and adulthood. And though the path to an unrestricted Texas driver's license might seem like a long and complicated one, we're here to help you decipher the qualifications for a learner's permit, how to land a provisional license, and everything in between.
[ Read Next: SAT vs. ACT: Which Test Should You Take? ]
---
Qualifications for a Driving Permit
You have to be 15 years old to get your driver's permit in Texas. While you can start taking driver's education when you're 14, you can't take the actual DMV written exam to get your driving permit, sometimes called a learner's license, until you're 15. Second, you must have completed the classroom portion of an approved driver's education class. These classes come in several forms:
A traditional classroom setting, offered at your public school
A certified driver's training school
At home with a parent-taught driver education online course
The driver's education classes consist of two sections– an in-classroom section and an in-car section. You only need to complete the classroom portion before you take the learner's permit exam. This classroom portion of the driver's education class will consist of at least 32 hours of classroom instruction, completed over the course of at least 16 days.

You'll also want to take some time to study for the test outside of what you've learned in your driver's ed class. Check out the Texas Driver Handbook and take an online practice test to check your readiness for the DPS-issued written permit test.
The Day of the Driving Permit Written Exam
If you've taken the driving permit written exam as part of your driver's ed course, you don't need to worry about this step. For everyone else, though, it's time to make your way down to the DMV for the permit and vision tests. According to the Texas DMV website, you'll need to bring the following things with you:
Proof of identity
Proof of your Social Security number
2 documents proving Texas residency or lawful presence in the state and country
Your Texas Driver Education Certificate (DE-964). You'll get this when you complete driver's education. If you did driver's ed with a parent, bring the completed Classroom Instruction Driver Education Affidavit (DL-90A) and a Classroom Instruction Log (DL-91A)
Proof of enrollment in school (you can get this from the front office at your school), high school diploma, or GED
A completed Application for a Texas Driver's License (DL-14A) signed by a parent
$16 for the exam fee
A parent or guardian to sign paperwork
Once you submit your paperwork, you'll take the written permit test and a vision exam. If you pass, you get your learner's permit! That means you're allowed to drive, as long as a licensed driver of over 21 is with you in the car.
Qualifications for an Intermediate License
Once you've passed your driving permit exam, you're allowed to start preparing to receive your intermediate, or provisional, driver's license. The qualifications for receiving your intermediate license are as follows:
You must be at least 16 years old
You must have had a learner's permit for at least 6 months
You must have completed the 30 hours of behind-the-wheel training included in your driver's ed course. These hours must include 7 hours of in-car observation and 10 hours of night driving.
You must fulfill the Impact Texas Teen Driving requirement by watching an informational video about distracted driving. When you finish watching the video, you'll get a certificate of completion. You must present the certificate at your driving skills test.
When you pass the driving skills test, you'll receive your intermediate driver's license. Congratulations! This means that you're a licensed driver! Something to keep in mind, though, is that your license is marked "provisional" until you turn 18. This means that there are still a few restrictions on your license:
You can't drive between midnight and 5 am
You can't have more than one passenger under 21 years old who is not a family member
You can't communicate wirelessly, hands-free or not, unless it's an emergency
Once you turn 18 years old, these restrictions will be lifted and you'll be free to drive whenever and with whomever you choose. Best of luck on your path to getting your Texas driver's license!
https://wpapp.kaptest.com/study/wp-content/uploads/Texas-DL_featured-image.png
540
1314
admin
http://wpapp.kaptest.com/wp-content/uploads/2020/09/kaplan_logo_purple_726-4.png
admin
2023-02-24 13:56:03
2023-03-01 01:09:49
How to Get a Driver's License in Texas