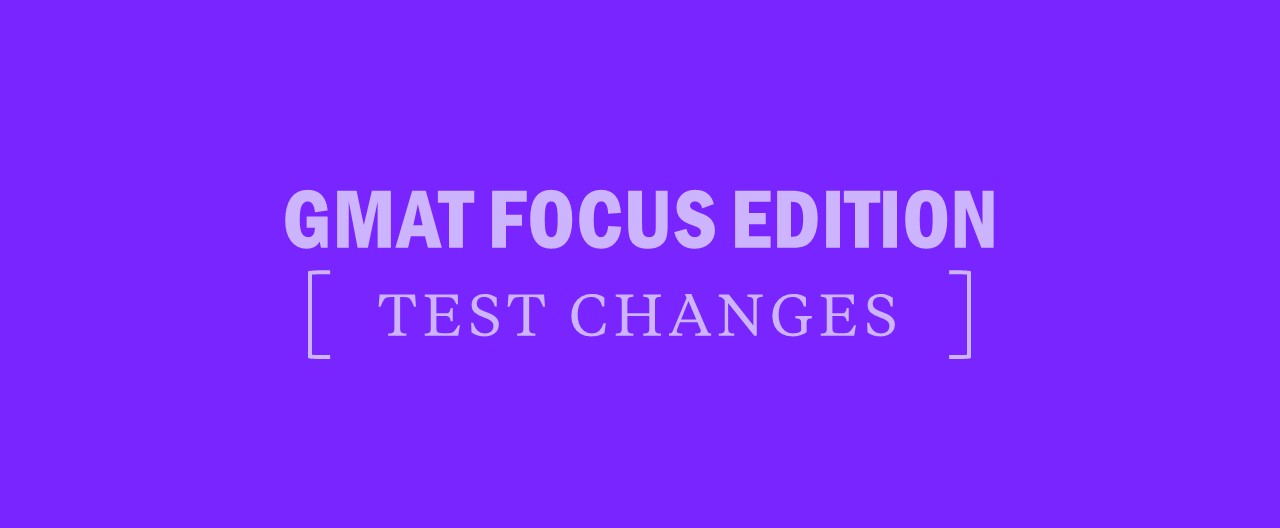 In March 2023, GMAC announced that a new version of the GMAT called the GMAT Focus Edition will launch in the fourth quarter of 2023 (October to December); the exact date has not yet been announced. The current version of the GMAT exam will be available until at least "early next year [2024]" and will then be phased out.
"This is a seismic shift in the business school landscape. Test takers have a unique opportunity to determine which version is best for them."

Stacey Koprince, Director of Content & Curriculum, Manhattan Prep Powered by Kaplan
TABLE OF CONTENTS
What to do if you are currently studying for the GMAT or applying in 2023?
This GMAT Focus Edition announcement doesn't need to affect your 2023 GMAT plans—unless you want it to. If this announcement stresses you out in any way, ignore it and continue with your GMAT study plans.
The current version of the GMAT exam will be available through at least rounds 1 and 2 of the 2023 application cycle (for a 2024 school start date). If you plan to be done with the GMAT in 2023, feel free to stop reading right now and get back to your studies.
If anything, the GMAT Focus gives you some added flexibility—if, for example, your plans change and/or you decide you also want to try for a better score on the new GMAT exam…and then submit whichever score is better for you.
Should you take the old GMAT or the new GMAT Focus?
If you are planning to apply in 2023, move forward now assuming that you will take the old version of the GMAT. You can completely ignore all of the hype around the new exam.
If something changes with your plans later, you can figure it out at that point. And if you end up trying both tests, you'll have your choice regarding which set of scores to submit.
If you are planning to take the exam in 2024 or later
We expect to have full information about the new test in the next 2-3 months. But you can still get started studying for the GMAT now or continue your studies—just concentrate on the question types and topics that are tested on both exams. On Quant, take geometry off of your list. On Verbal, take Sentence Correction off of your list. And start studying Integrated Reasoning (which many "old GMAT" students put off until close to the end of their studies).
If you are undecided
There's no need to rush the decision. If you do decide in a month or two that you want to take the old GMAT, you'll just need to add Sentence Correction and certain math topics back to your studies—but there's plenty to study between now and then, so get started.
Need help deciding?
Take our short quiz to see if the new GMAT focus is right for you.
Will business schools still accept the old GMAT in future years?
If you're studying now but not planning to apply until a later year, you can still take the current / old version of the GMAT. Your scores will still be valid for 5 years from the date of your test and schools will continue to accept valid scores.
When will GMAT Focus launch?
The GMAT Focus Edition will launch in Q4 of 2023—that is, in the October to December timeframe. A specific launch date has not yet been announced. The launch date for official prep materials, including GMAT Focus practice tests, is June 6, 2023. In the meantime, you can practice using the current-exam practice tests.
How long will the current / old GMAT be available?
The current (soon to be "old") version of the GMAT will be available until at least January 2024. A specific end date has not yet been announced.
How is the GMAT changing? What does the GMAT Focus cover?
Official practice materials not yet been officially released, but here's what we know so far about the GMAT Focus.
| GMAT Focus Test Section | Time | # of problems | Details |
| --- | --- | --- | --- |
| Quant | 45 min | 21 | No Geometry and includes Problem Solving questions only |
| Verbal | 45 min | 23 | No Sentence Correction and includes Critical Reasoning and Reading Comprehension |
| Data Insights | 45 min | 20 | Includes all four Integrated Reasoning problem types, as well as Data Sufficiency |
| AWA/Essay | n/a | n/a | Removed from the test |
The exam will also include one optional 10-minute break and you can take the three sections in whatever order you prefer.
Is the GMAT score scale changing?
Yes, the GMAT Focus score scale will be different than the legacy GMAT scale.
On the new GMAT exam (GMAT Focus), all three sections (Q, V, and DI) will factor into your total score on a scale of 205 to 805 in 10-point increments. On the old GMAT exam, only the Quant (Q) and Verbal (V) sections factor into your Total score.
You will also receive individual section scores for each section. The new scoring scale for each section is 60 to 90 in 1-point increments.
On the GMAT Focus, you'll also be able to send your results from just one test date, so you can choose your best set of scores to send to schools.
[ RELATED: What's a good GMAT score? ]
Is GMAT Focus still adaptive?
Yes, GMAT Focus is still a question-adaptive exam, like the old GMAT; this structure is the gold standard for standardized exams. The drawback: On any question-adaptive exam, you have to answer the current question on screen in order to advance to the next question—and you can't go back once you've answered. That can be stressful.
But there's a twist. GMAC has found a way to adjust the algorithm to allow GMAT Focus test takers to change up to 3 answers per section. This is impressive—they're basically reinventing question-adaptive testing. They (and the business schools) still get the vast advantages conferred by having a question-adaptive test, while extending some flexibility to test takers.
You will still need to choose an answer to each problem as you go. Then, at the end of the section, you'll be able to review any problems you want and change up to 3 answers. (You'll also have access to a bookmark feature throughout so that you can quickly find again the problems that you want to review.)
I've heard some people say that being able to change just 3 answers is a source of stress in itself. That's true to a certain extent, but I'm actually glad that this limitation exists. You'd never want to take an exam where you answer all the questions…and then second-guess yourself and change half of your answers. That'd be a terrible strategy—for a test or in business itself.
So the limit will force you to really think about what you're doing:
Objective reasons to change
– Found a careless mistake
– I remember some fact/rule/process I'd forgotten 15 minutes ago
Don't change!
– Second-guessing myself but not really sure
– Panic-changing as the clock ticks down
– Agonizing between two answers
It basically comes down to this: Do you have an objective reason to know that your first answer is wrong? If so, change it. If not, your first answer is your best answer; stick with it. (This applies both in the moment and after the fact, by the way, so it's also true for the old version of the GMAT.)
What will likely be tested on both versions of the GMAT exam?
Quant/DI problem types
– Problem Solving
– Data Sufficiency
– Tables
– Graphs
– Multi-Source Reasoning
– Two-Parts
Quant/DI topic areas
– Arithmetic (including number properties)
– Algebra
– Statistics
– Fractions, ratios, percents
– Word Problems (including sets, probability)
Verbal problem types
– Critical Reasoning
– Reading Comprehension
While geometry is the only "whole" content area that will drop, it's possible that certain pieces of content within the other math categories will also be removed from the exam. We're still waiting to hear. Both Problem Solving and Data Sufficiency problems will be on the GMAT Focus, but Data Sufficiency will move over to the Data Insights section.
The existing Critical Reasoning and Reading Comprehension question types are likely to remain largely the same.
The Data Insights section may add some math content areas (if so, probably in statistics / data sets) or it may be largely the same as the current Integrated Reasoning section. As such, you can get started on learning everything that is currently included in the Integrated Reasoning section.
How can I prepare for the GMAT Focus?
Official GMAT prep materials for the GMAT Focus are slated to release on June 6, 2023. A significant portion of the exam material will not change, so you can also use existing GMAT materials to prepare for those question types and topic areas that are common to both exams.
https://wpapp.kaptest.com/study/wp-content/uploads/What-is-the-gmat-focus-edition.jpg
528
1280
Seth Pedicini
http://wpapp.kaptest.com/wp-content/uploads/2020/09/kaplan_logo_purple_726-4.png
Seth Pedicini
2023-05-17 13:35:16
2023-05-17 18:43:56
What is the GMAT Focus Edition?