The average salary of a lawyer can be an important consideration when you are deciding what industry you want to work in or whether you want to pursue a law degree. There are many factors to weigh when considering becoming a lawyer, and knowing about how much money you might make can help with financial planning and give you a good estimate of when you can expect to pay off your law school loans.
According to the U.S. Bureau of Labor Statistics, lawyers in the United States earned a median of $120,910 in 2018. 
[ RELATED: How long is law school? ]


Top Earning States for Lawyers
Here are the top 5 states ranked by average income for lawyers: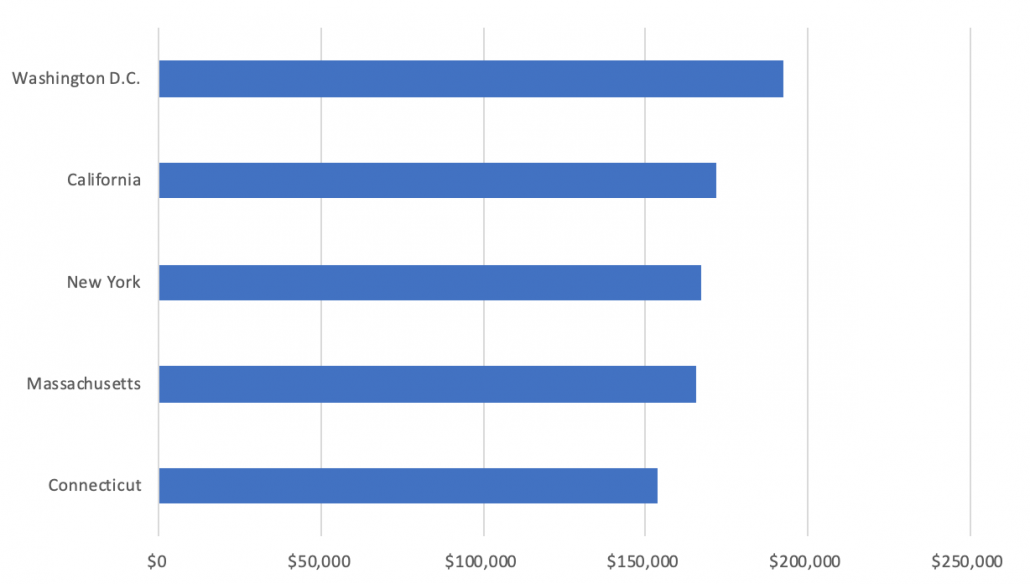 Expand for specific numbers by state:
Washington D.C.: $192,530

California: $171,550

New York: $167,110

Massachusetts: $165,610

Connecticut: $153,640
Top Earning Metro Areas for Lawyers
The numbers above represent state-wide averages. Average salaries for lawyers in metropolitan areas tend to be higher. Here are the top 10 metro areas in which lawyers are paid the highest average annual salary,
according to the U.S. Bureau of Labor Statistics
.
According to U.S. Bureau of Labor Statistics, top 10 metro areas are (by mean salary):
San Jose-Sunnyvale-Santa Clara, CA: $207,950

San Francisco-Oakland-Hayward, CA: $183,070

Washington-Arlington-Alexandria, DC-VA-MD-WV: $179,980

Los Angeles-Long Beach-Anaheim, CA: $176,020

Houston-The Woodlands-Sugar Land, TX: $175,380

Oxnard-Thousand Oaks-Ventura, CA: $172,900

New York-Newark-Jersey City, NY, NJ, PA: $172,020

Bridgeport, Stamford, Norwalk, CT: $171,690

Boston-Cambridge-Nashua, MA-NH: $170,720

Sheboygan, WI: $170,350
The top-paying non-metropolitan areas, according to the U.S. Bureau of Labor Statistics, are as follows:
North Valley-Northern Mountains Region of California: $159,320

West Texas Region of Texas: $153,490

Central New Hampshire: $130,300

Arizona Nonmetropolitan Area: $127,210

Alaska Nonmetropolitan Area: $126,940
Lawyer Wage Gap Between Men and Women
Parallelling a national trend across all fields, male lawyers tend to earn more than female lawyers. The
U.S. Bureau of Labor Statistics reported
that in 2018, female lawyers' weekly salary was about 80% of male lawyers' weekly salary. This gap, however, is narrowing each year; in 2006, female lawyers earned just 70.5% of what their male counterparts earned. 
The annual mean wages for the top-paying industries for law, according to the U.S. Bureau of Labor Statistics, are as follows: 
Cable and other subscription programming: $234,310

Pipeline transportation of crude oil: $215,700
Motor vehicle manufacturing: $205,610
Computer and peripheral equipment manufacturing: $204,710
Petroleum and coal products manufacturing: $200,830
As of May 2018, the median annual earnings for the four industries with the highest level of employment for lawyers are as follows: 
Federal government: $145,160

Legal services: $122,150

Local government, excluding education and hospitals: $94,490

State government, excluding education and hospitals: $86,900
Lawyers who own their own practices usually make less than lawyers who work in law firms or other companies. 

Public vs. Private Sector Earnings
Whether you work in the public or the private sector will affect your potential earnings significantly. According to the
National Association for Law Placement
, the median annual salaries for public service attorneys are as follows:
When compared to the national median income for lawyers ($120,910), it's clear that private-sector lawyers make significantly more than those working in public service. In 2018, the median income for private-sector attorneys was more than double that of the highest median figures for entry-level public-sector lawyers.
[
NEXT:
Law School Admissions: Choosing a Law School
]
0
0
admin
http://wpapp.kaptest.com/wp-content/uploads/2020/09/kaplan_logo_purple_726-4.png
admin
2020-01-07 10:40:33
2020-09-11 20:40:13
Average Lawyer Salaries