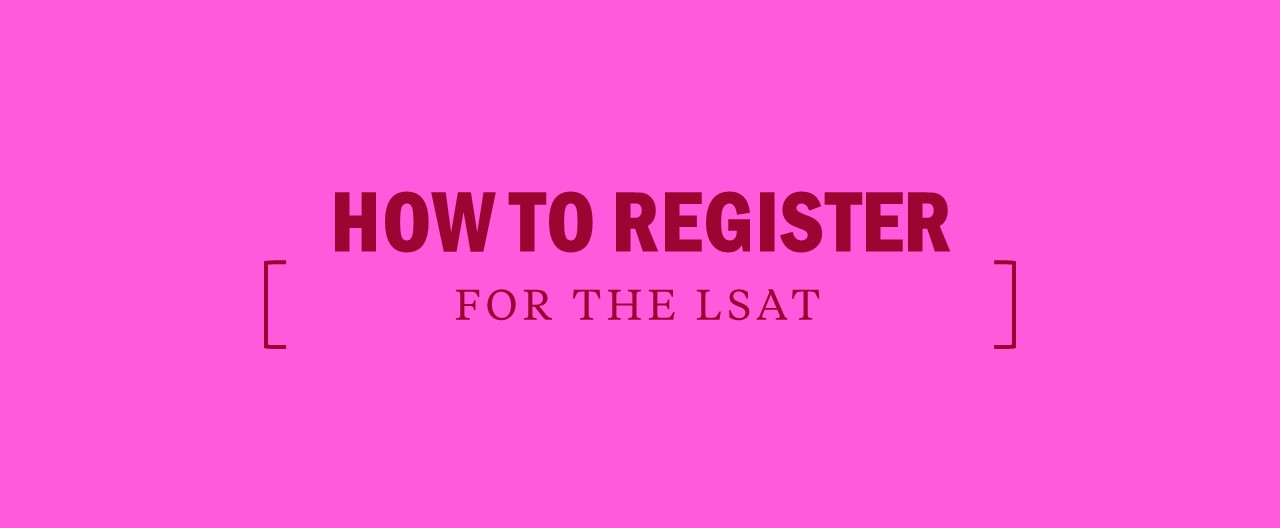 While you can register for the LSAT by phone (by calling 215-968-1001 during LSAC's business hours), it's much more common to register online through your LSAC account. Once you've created your account, you'll indicate the LSAT date and testing location for which you're registering. The deadline to register for the LSAT is generally 5-6 weeks before the test date, but registration opens long before that.
In addition to registering for the LSAT, you should register for the Credential Assembly Service (CAS), an LSAC service that includes the following: transcript summarization, creation of law school reports, letter of recommendation processing, and electronic law school application processing. The vast majority of law schools require applicants to apply through CAS.
Be prepared to pay the following basic fees as you register for the LSAT and CAS:
$200 to take the LSAT, including

LSAT writing

$195 for CAS 

$45 for each law school report (one for each law school to which you're applying)
A variety of LSAT accommodations is available to test-takers, should you require them. You can request these accommodations through LSAC after you've completed your registration. LSAC will notify you of its decision regarding your request within 14 days of receiving it.
When should I take the LSAT?
The LSAT is offered nine times each year at many testing centers across the United States. Law school application periods open in the fall and accept applicants on a rolling basis, so you should test (and retest, if necessary) as early as possible in order to have the greatest chance of admittance.
Take the LSAT in June, July, or September to be as competitive an applicant as possible. The November/December LSAT is the last option if you want to be considered for admittance the following fall, though you won't have time to retest before the application window closes. 
Some testing centers do not administer the LSAT on all nine LSAT dates; once you've decided when you'd like to test, check to make sure that the LSAT will be available at your preferred testing center. 
While it's possible to adequately prepare in as little as a month, you should plan on taking several months to study for the LSAT. This will give you time to take some practice tests, focus on your weak areas, and still get some rest the week before the LSAT. If you feel like your test date won't give you enough time to study properly, consider rescheduling your LSAT. It's better to be prepared and do well the first time than to rush your LSAT prep and have to retest later.
5 LSAT Tips to Help You Get Into Law School
Before LSAT Test Day Checklist
There are a few things you'll need to take care of between registering for the LSAT and showing up at your testing center on LSAT test day. 
First, upload a

picture of yourself

to your LSAC account by the

deadline

associated with your test date. 

Second

,

sign the

LSAT Candidate Agreement

. 

Third, print out your LSAT admission ticket from your LSAC account.

Do not sign the ticket!

You will sign the ticket at the check-in table.  
On LSAT test day you'll be required to present page 1 of your unsigned LSAT admission ticket and a current photo ID in order to be admitted to the testing center.
You'll be automatically notified of your score about three weeks after you take the LSAT. If you choose to retake the LSAT, keep in mind that you can only test three times within any given year, five times within the current and previous five years, and seven times in your lifetime. 
Law schools will contact LSAC when they are ready to receive your score report. If your CAS file is complete, LSAC will send the report.

https://wpapp.kaptest.com/study/wp-content/uploads/2020/04/How-to-register-for-the-lsat.jpg
528
1280
admin
http://wpapp.kaptest.com/wp-content/uploads/2020/09/kaplan_logo_purple_726-4.png
admin
2022-01-18 16:30:39
2022-04-20 15:14:09
How to Register for the LSAT