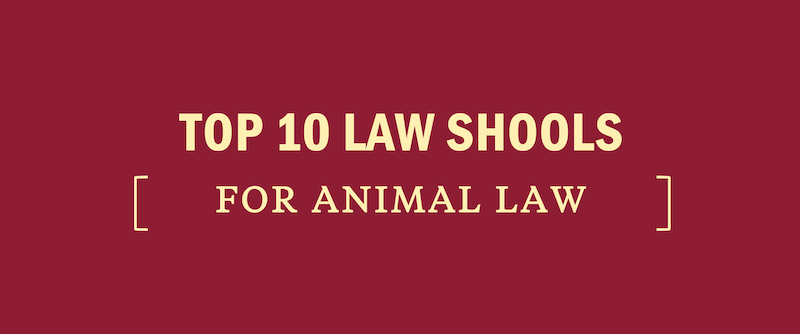 Animal Law is a small but burgeoning field.  In 2001 there were only nine animal law classes offered in the United States, and today there are over 100.  Animal law is any type of legal action that affects the rights, standing, or welfare of an animal.  It can encompass many traditional areas of law, like torts, contract law, and family law.  Cases can range from litigation against negligent veterinarians or manufacturers of harmful pet products, to defending animal activists' Constitutional rights.
[ RELATED: LSAT Course Locations Near You ]
Here are some of the best schools with animal law programs or courses:
10. University of Michigan (TIE)
[ LEARN MORE ]
Michigan Law offers an animal law course, and has a chapter of the Student Animal Legal Defense Fund.  In addition, the Michigan Law website features a page devoted to the practice area of animal law, which offers various school, state, and national resources for students interested in pursuing animal law.
10. University of Denver (TIE)
[ LEARN MORE ]
The University of Denver offers a new Animal Law Program, which typically offers multiple options of Animal Law coursework to pursue each semester. This Program is great for anyone interested in research in this field.
[ LEARN MORE ]
NYU offers an Animal Law Seminar every semester.  The seminar, which may be taken for writing credit, is taught by David Wolfson, who has represented a number of animal protection groups like Farm Sanctuary and The Humane Society of the United States.  NYU Law students can also sit in on classes in the undergraduate Animal Studies Initiative, which offers several classes for the Animal Studies Minor.
8. Northwestern University
[ LEARN MORE ]
Northwestern University Law School was another recipient of Bob Barker's animal law endowment.  Thanks to his donation, Northwestern Law School regularly offers a course on animal law.  The Student Animal Legal Defense Fund at Northwestern is also extremely active; in 2010 it hosted an "Animal Law Week," featuring lectures, film screenings, dinners, and a service event.
7. University of California, Berkeley
[ LEARN MORE ]
For those who prefer the East Bay to the South Bay, Bruce Wagman also teaches an animal law course at Boalt Law School.  Berkeley's chapter of the Student Animal Legal Defense Fund hosts frequent potlucks, fundraisers, and speaking events.
[ LEARN MORE ]
Stanford in one of the few schools in the country with a publication devoted to animal law, the online Stanford Journal of Animal Law and Policy.  Stanford also has a Student Animal Legal Defense Fund chapter, and offers a course on Animal Law taught by Bruce Wagman.  Wagman coauthored the comprehensive animal law casebook, and recently published a book on worldwide animal laws and practices.
[ LEARN MORE ]
When Harvard, one on the nation's top law schools, began offering an animal law course in 1999, it lent legitimacy to the newly-growing field.  Last year, Harvard hosted the eighth annual inter-law school National Animal Law Competition.  An Animal Law course is taught once a year by Paul Waldau, and Harvard has an active Student Animal Legal Defense Fund chapter.
[ LEARN MORE ]
In 2007, Georgetown University Law Center partnered with The Humane Society of the United States (HSUS) to offer two new animal law initiatives.  An animal protection litigation seminar allows students to earn academic credit while working with HSUS legal staff on animal cruelty cases.  In addition, Georgetown added the first animal law fellowship, which provides Georgetown Law Centers with a one-year job with the Humane Society after graduation.
3. University of Pennsylvania
[ LEARN MORE ]
Penn Law prides itself as a leader in Animal Law.  Penn offers an annual seminar class in Animal Law and Ethics, and students at Penn formed the Animal Law Project.  ALP assists nonprofit organizations with research and analysis of animal law issues, allowing students to apply their classroom knowledge to real life problems.
2. University of Virginia
[ LEARN MORE ]
The Animal Law Program at the University of Virginia was established in 2009 through a $1 million grant from animal rights activist and former game show host Bob Barker.  The Program offers one animal law class every year, helps students find internships and externships related to animal law, sponsors a writing competition for UVA graduate students, and hosts prominent speakers.
[ LEARN MORE ]
Located in the forests of Portland, Oregon, Lewis & Clark Law School offers the most extensive animal law studies program in the country.  Students can specialize in Animal Law as a subset of the Environmental Law Program.  Through a collaboration with the non-profit Animal Legal Defense Fund, Lewis & Clark also features the Center for Animal Law Studies.  The Center serves as a think tank and offers conferences, scholarships, and clinical opportunities.

For more information about animal law programs and careers, visit the Animal Legal Defense Fund website.
↓  MORE LAW SCHOOL RANKINGS  ↓ 
https://wpapp.kaptest.com/study/wp-content/uploads/2019/12/top-law-schools-animal-law-lawyer-school-best.png
334
800
admin
http://wpapp.kaptest.com/wp-content/uploads/2020/09/kaplan_logo_purple_726-4.png
admin
2022-09-10 10:25:08
2022-09-12 16:36:38
Top 10 Law School Animal Law Programs