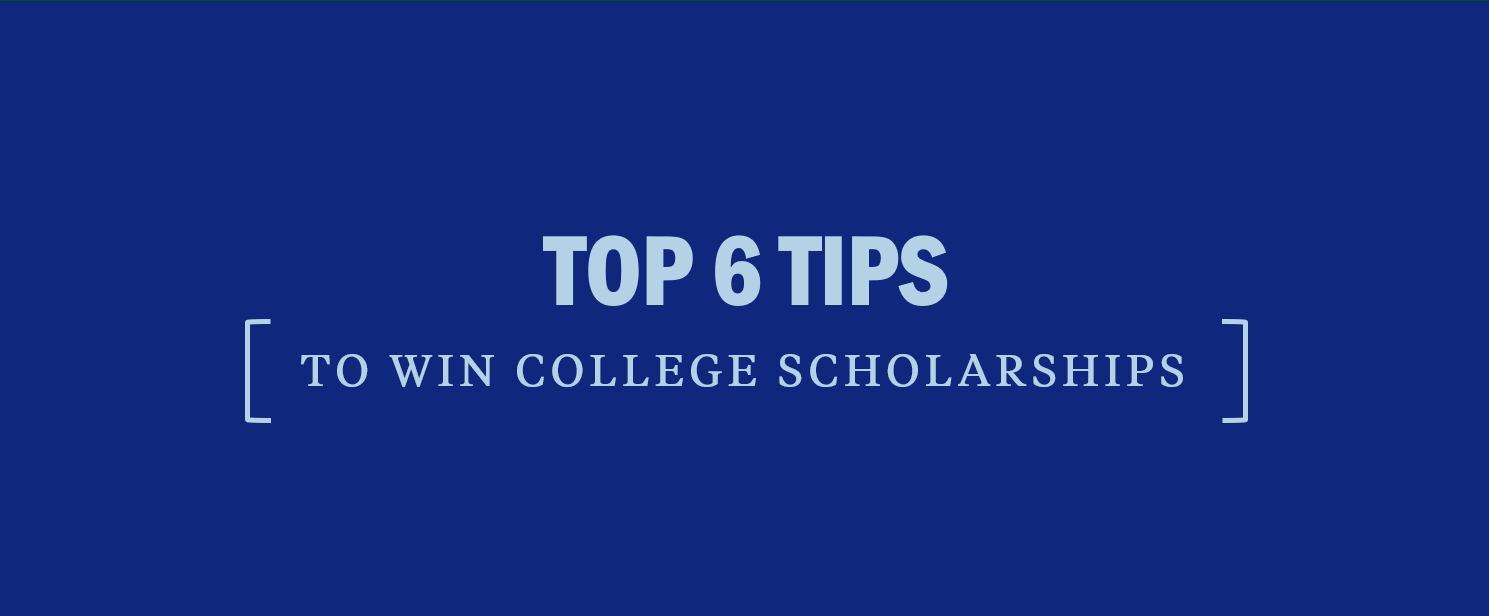 Paying for college might be one of the most confusing and frightening parts of applying. In addition to filling out the FAFSA, which will help you secure financial aid, you may consider college scholarships. Remember, financial aid largely depends on your family's income and other factors, but many college scholarships are awarded based on your merit or interests. Follow these six tips to win college scholarships.
[ RELATED READING: FAFSA & FINANCIAL AID ULTIMATE GUIDE]
---
COLLEGE SCHOLARSHIP TIP 1: Start researching early.
Start researching scholarships as soon as possible so you don't miss important deadlines. Check your potential colleges, high school guidance office, religious institution, community center, parents' workplace, and anywhere else you can. Your high school's website may include scholarship recommendations, and both College Board and ACT offer scholarships. Don't think that unimpressive grades mean you don't qualify for scholarships or awards. Do your research and see what scholarships are out there; you may be surprised by what you find.
Some popular college scholarships are listed below:
National Merit Scholarship:

Qualified high school students enter the National Merit Scholarship Program by taking the Preliminary SAT/National Merit Scholarship Qualifying Test (PSAT/NMSQT®) at the specified time in high school, usually in your junior year. Learn more about

how to become a National Merit Scholarship Finalist

.

BigFuture Scholarships:

These College Board scholarships reward you for planning for life after high school. BigFuture makes it easy to enter monthly drawings with no essay and minimum GPA, test score, and citizenship requirements.



Equitable Excellence Scholarship:

This future-focused college scholarship is awarded to high school seniors who have made outstanding achievements in non-academic activities in their school or community. In addition to the scholarship money, Equitable will also offer development opportunities and engagement programs to award recipients to support their first year of college.



Gates Millennium Scholarship Program:

This scholarship program is funded by a grant from the Bill & Melinda Gates Foundation and provides outstanding African American, American Indian/Alaska Native, Asian Pacific Islander American, and Hispanic American students the opportunity to complete an undergraduate college degree in the discipline of their choice. One thousand new Gates Millennium Scholars are selected each year.

Coca-Cola Scholarship:

The Coca-Cola Scholarship has been around for over 25 years. It is an achievement-based scholarship recognizing students for their capacity to lead and serve their schools and communities. Financial need is not a factor to qualify for a Coca-Cola Scholarship.
Looking for more college scholarship options? Check out College Board's scholarship search tool.
COLLEGE SCHOLARSHIP TIP 2: Investigate everything.
You can get a scholarship for having all sorts of qualities. Of course, grades and test scores are key components, but they're not the only thing that scholarship committees look for. Some applications will require you to write an essay, submit recommendations, or send a resume. Brainstorm a list of activities you participate in or talents you have and look for awards in those areas.
COLLEGE SCHOLARSHIP TIP 3: Follow all steps and instructions.
Many people ignore this critical piece of advice. It pays to follow the rules, and it's noticeable when you don't. That includes submitting all requested information in a timely fashion, which may mean you need to work closely with your guidance counselor or teachers who are writing recommendations for you. Keep an eye on deadlines to ensure you don't disqualify yourself from a college scholarship you could have won.
COLLEGE SCHOLARSHIP TIP 4: Be confident and self-assured.
Whether you are filling out your application, writing your essay, or going on interviews, it's important to have a good self-image, confidence in your abilities, and pride in your past achievements. Practice giving an "elevator pitch" with some high-level talking points; in 30 seconds or less, convince the audience that you deserve what you're asking for—or at least convince them that you deserve a chance. This is one time when it's okay to brag about yourself. Don't downplay your strengths and achievements.
COLLEGE SCHOLARSHIP TIP 5: Thank those who have helped you.
A handwritten thank-you note goes a long way and is often remembered. You'll want to do this in the future when you go on job interviews as well. If you don't have time for a note right away, send them a quick email; then, do your best to follow up with a written note in the next week or so. Expressing thanks in written form helps reinforce that your supporters have made the right choice in advocating for you. It also lays the groundwork for you to reach out to them for future references.
Unfortunately, there are many scholarship scams out there. Avoid identity theft and paying money to a scammer by doing your research and only applying to legitimate scholarship foundations. A good rule of thumb is to be wary of those that charge you a fee to apply; you shouldn't have to give money to get money. A list of fraudulent scholarship companies and other information you should be aware of are available at
www.ftc.gov
.
https://wpapp.kaptest.com/study/wp-content/uploads/Tips-to-Win-College-Scholarships_featuredimage.png
616
1489
admin
http://wpapp.kaptest.com/wp-content/uploads/2020/09/kaplan_logo_purple_726-4.png
admin
2023-01-04 08:29:44
2023-01-04 22:02:48
Top 6 Tips to Win College Scholarships