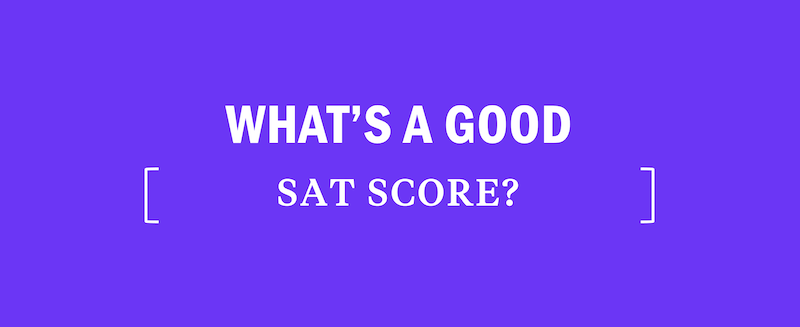 What's a good SAT score? If you're trying to figure out your SAT score goal for the upcoming admissions season, you'll want to look at the SAT averages for the schools you'll apply to. There are great resources like the College Board where you can search for averages at a wide variety of colleges.
The SAT is based on a 1600-point scale, with 2 sections—Math and Evidence-Based Reading and Writing—scored between 200 and 800. There is also an optional essay, which is evaluated separately. There is no penalty for wrong answers, so your raw score is the sum of the number of questions you answer correctly.
Raw scores are converted to scaled scores, which are used to determine percentile ranks. The percentile indicates how well you did compared to other test takers. For example, if you score in the 72nd percentile, you did better than 72% of test takers.
SAT Score Ranges: Average, Good, and Highest SAT Scores
Some schools have decided to make SAT test scores optional as part of their application requirements. This may sound like a good idea but if you are looking to have your application stand out, a good SAT score is still one of the best ways to do that. Just because a school has decided to allow applicants to exclude SAT test scores does not mean other applicants are not continuing to submit SAT scores when applying.
Your answer sheet is scanned, and your raw score is calculated by the College Board's system. Because there's no penalty for guessing for the SAT, your raw score is the number of questions you answered correctly. Raw scores are converted to scores on a scale of 200 to 800 using a process called equating.
This process ensures that your score is not affected by different forms of the test or other students' ability levels. This scaled score is what you see when you get your scores.
The SAT is scored on a 200 to 800 scale in each section in 10-point increments. The 2 sections (Evidence-Based Reading and Writing and Math) will have scores provided separately. This relatively small scale means that small improvements in your score can make a big difference in your percentile rank (sometimes, a 10-point increase in your score can boost your percentile rank by 5 points).
How Many Points is Each Question Worth on the SAT?
In terms of your raw SAT score, each question answered correclty will result in you recieving one point and there is no penalty for guessing or skipping a question on the SAT.
Does my SAT Score Determine Which College Will Accept Me?
No, your SAT score does not determine which college will accept you, but it will help differentiate your application, even if the SAT is optional at the school you are applying to. Whether or not you are admitted to a college program (and whether or not you receive scholarship money) can depend on several factors. In addition to focusing on achieving the best SAT score possible for you, you should also work on obtaining the best GPA possible, writing a spectacular personal statement, taking a challenging course load and, and rounding out your application with extracurriculars.
How is the SAT Essay Scored?
SAT Essay responses are scored using a carefully designed process:
Katie Sollenberger, Manager of Content and Curriculum, ACT, SAT, and GED
"Standardized tests like the ACT or SAT can feel scary because they may feel or look different from tests you've taken in school. Luckily, both the ACT and the SAT are predictable precisely because of their standardized nature. With routine practice, you can know exactly what you're looking for on the test, lowering your stress levels and increasing your confidence. Don't try to cram; give yourself at least two months to prepare, and plan to practice at least twice per week."
https://wpapp.kaptest.com/study/wp-content/uploads/2020/02/what-is-whats-a-good-sat-score-scoring-range-ranges-percentile-percentiles-perfect-scores.png
327
800
admin
http://wpapp.kaptest.com/wp-content/uploads/2020/09/kaplan_logo_purple_726-4.png
admin
2023-01-13 14:30:14
2023-05-05 21:37:08
What's a Good SAT Score?