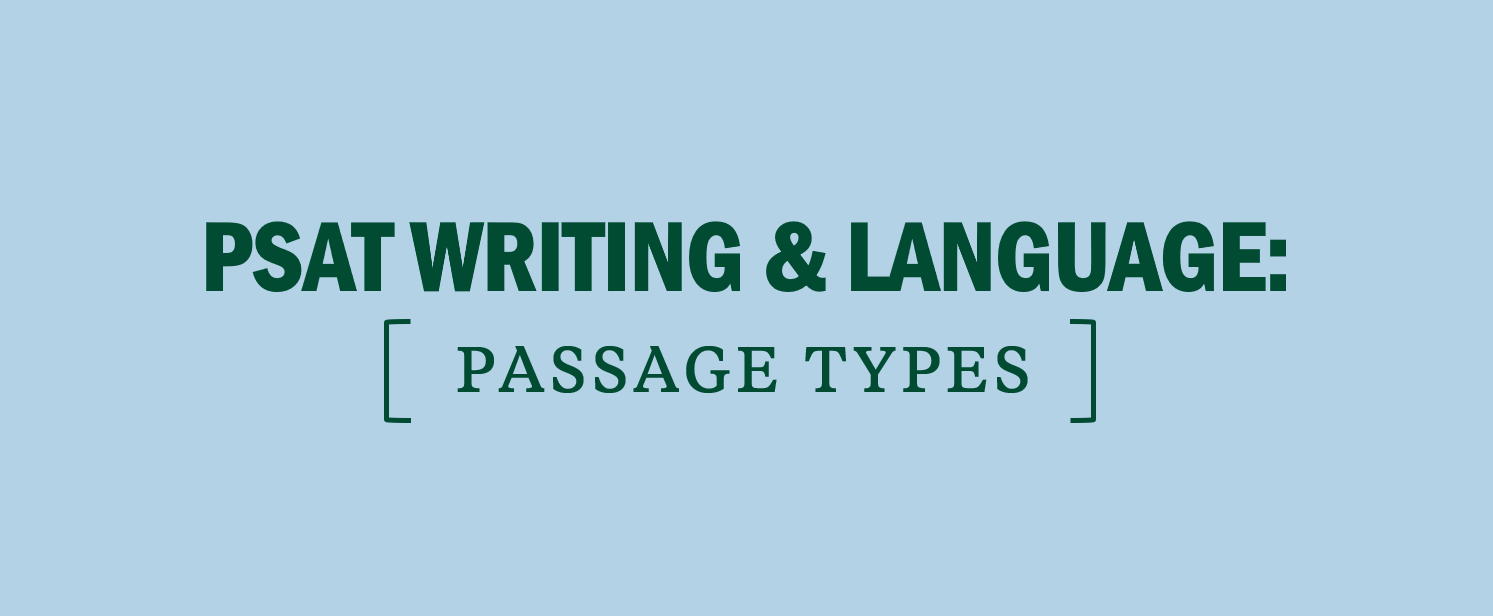 You will see four Writing & Language passages on the PSAT, each of which will have 11 questions. Recognizing the text type of a Writing & Language passage helps you focus on the questions as they relate to the passage's general purpose. Knowing the overarching aim of the passage will help you answer questions more efficiently and accurately.
Writing & Language Passage Types
1–2 Argumentative texts
Author will advocate a point, idea, or proposal
1–2 Informative/Explanatory texts
Author will explain, describe, or analyze a topic in order to impart information without necessarily advocating
1 Nonfiction Narrative text
Author will use a story-like approach to convey information or ideas
The PSAT rewards critical thinking in context. Pay attention to the text type to answer Writing & Language questions more efficiently.
Let's look at three short Writing & Language passage excerpts (without errors) and see how a PSAT expert identifies the text type of each. The left column features the passage excerpt, while the right column demonstrates the
strategic thinking
a test expert employs when identifying Writing & Language text types.
Sample Argumentative Passage
Strategic Thinking
What does the opening phrase, "It has long been believed," suggest? The author might be challenging a belief or advocating something against that belief.
What does the word "however" indicate? A change in direction in the passage
What is the author advocating? Voting from home
What text type is this?

Argumentative
Sample Informative/Explanatory Passage
Strategic Thinking
What does the introductory phrase, "Some psychologists believe," indicate? That the author is reporting on a behavior or phenomenon
What other phrases indicate this "reporting" approach? "To test this theory, researchers . . . " and "While the experiment's results . . ."
What is the author describing in this passage? A theory of expression recognition
What text type is this? Informative/Explanatory
Sample Nonfiction Narrative Passage
Strategic Thinking
How is this passage different from the previous two passages? It is written in the first person.
How do you know? The author uses personal pronouns such as "I" and "me."
What text type is this? Nonfiction narrative
---
Previous: PSAT Reading: Vocab-in-Context Questions
Next: PSAT Writing & Language: The Kaplan Method
https://wpapp.kaptest.com/study/wp-content/uploads/psat-writing-and-language_passage-types.png
616
1493
admin
http://wpapp.kaptest.com/wp-content/uploads/2020/09/kaplan_logo_purple_726-4.png
admin
2022-11-26 14:59:12
2022-12-01 00:08:54
PSAT Writing and Language: Passage Types