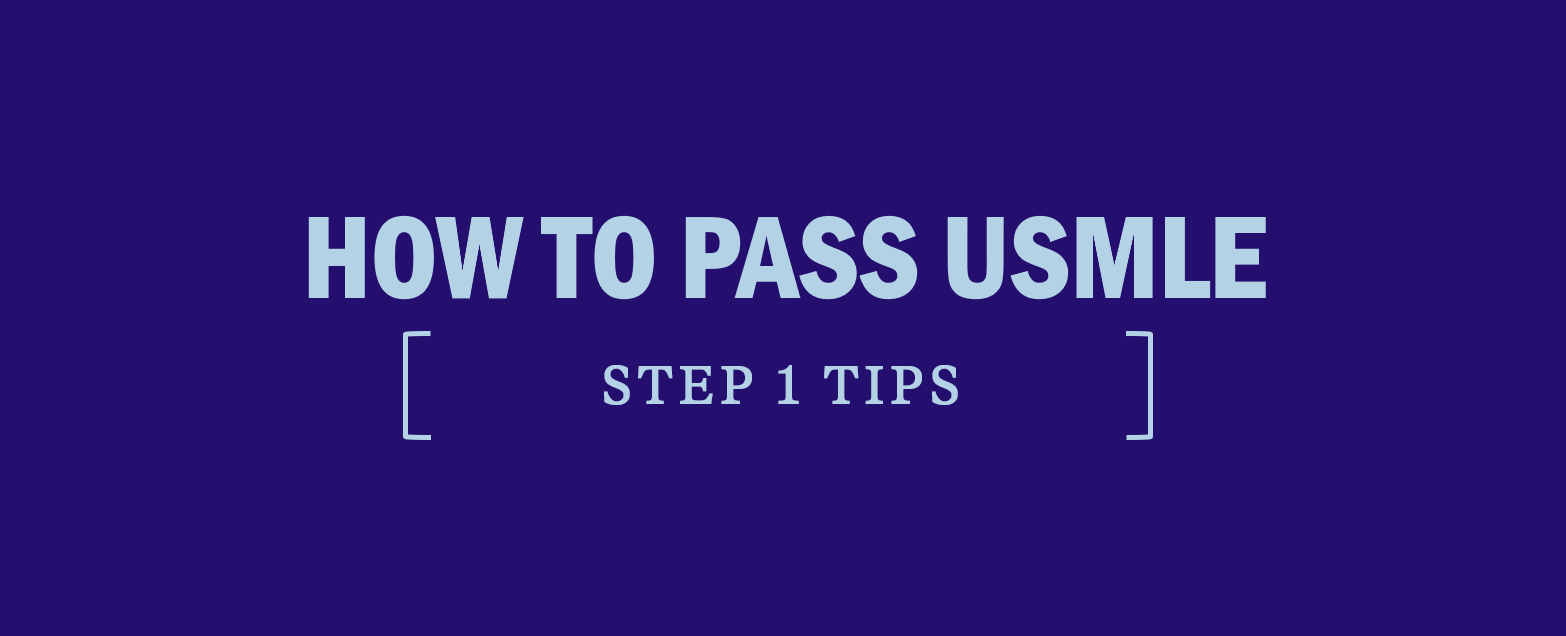 Learn how to pass the USMLE Step 1 by reviewing our top study tips. The Step 1 exam is a marathon, not a sprint. It requires dedication and commitment on a daily basis within the 2-3 months allotted in preparation for the exam. You will spend a significant amount of your day studying for the USMLE Step 1. As challenging as it may be, remember your 3rd year of medical school awaits, where you will finally be able to enter the clinical rotations and experience what you've wanted to do since the first day you started medical school.
[   RELATED:  A Guide to the Different Medical School Exams   ]
The USMLE Step 1 exam is one of the most important examinations in a medical student's quest for residency. Combining the knowledge and critical thinking accumulated within the first two years, this 8-hour exam challenges students' mental strength and physical stamina to withstand long hours of testing. In essence, it foreshadows the daily challenges that physicians face as they aim to keep themselves focused on providing quality care for their patients during long work hours. Passing the USMLE Step 1 is not an easy task, and your life will change significantly within the time period you devote toward preparation. This is why staying calm, focused, and collected is essential. The USMLE Step 1 exam is the only thing standing between you and the wards.
Maximize your test prep and avoid burnout by following these USMLE Step 1 study tips.

How to Pass the USMLE: Expert Advice for IMGs
Hear from members of the Kaplan Medical Honor Society about their top USMLE study habits and advice for future board examinees.
Phuong Min Nguyen, Kaplan Medical Honor Society
Can you tell us about your studying habits?
"I started using Kaplan Qbanks at the beginning of the study as my adviser suggested and I also increased the number of questions I did daily as I went further later on. I preferred study alone during the reading and learning phase. However, when I started doing NBME, I joined a Facebook group discussion."
What advice do you have for fellow IMGs preparing for the USMLE?
"Avoid procrastination. Don't steer yourself too far from your schedule."

"Don't skip your day off. You definitely need a day free of USMLE study. Free up your RAM memory, and fill your day off with joy and your family."

"Keep your mind fresh. Take care of yourself literally above all. Do exercise and eat healthy food."

"Don't rely too much on caffeine beverage, it could crush you later on when you are too dependent on it."

"Finally and most important, regarding USMLE questions, DON'T pick an answer choice just because you feel like it. Pick it with confidence, not with fear. If you pick an answer doubtfully, you might waste a lot of time thinking back and forth, checking it again and again."
Can you tell us about your studying habits?
"I like a mixed-study style. There are certain topics that I prefer to study alone with music on, while other topics I prefer to study with a group and discuss with classmates. I love studying using Qbanks as opposed to watching videos, and I learn best by writing things out so whiteboards are very important to me."
What advice do you have for fellow IMGs preparing for the USMLE?
"Give yourself enough time to study, but also know that over-studying can also hurt you by burning you out before you even sit for the exam. Get to know your study style and what works for you, but choose 1-3 resources and stick to them. Otherwise, you will get overwhelmed by the number of resources out there."
Can you tell us about your studying habits?
"Due to the importance of USMLE scores for the residency application process, I decided to receive formal preparatory courses with Kaplan Medical. I was interested in the optimal study environment that was provided by the In-center courses. Being surrounded by peers with similar study goals as myself helped to keep me motivated. Furthermore, the adequate levels of comfort, silence, and support helped minimize distractions, something especially beneficial considering that I prefer to study by myself.
The Kaplan courses also provided a complete and thorough review of all relevant topics. The USMLE's involve numerous topics throughout the vast field of medicine, but the methodical structure of the Kaplan courses facilitated an efficient mental organization of key points. They provided an excellent base of knowledge that was not only vital for tackling intricate exam questions, it was also useful for mastery of the basic principles that form the core and essence of Medicine."
What advice do you have for fellow IMGs preparing for the USMLE?
"A bit of advice I have for IMGs would be to set aside some dedicated time to study for the USMLEs, especially for Step 1. Having multiple unrelated things in your head will split your focus and might get in the way of an excellent score. Having other responsibilities simultaneously to your studies might also make it difficult to find time to relax; resting occasionally is something I found very useful."
[   KEEP STUDYING:  Passing the USMLE—A Scoring Guide   ]

https://wpapp.kaptest.com/study/wp-content/uploads/How-to-Pass-USMLE-Step-1.png
636
1566
admin
http://wpapp.kaptest.com/wp-content/uploads/2020/09/kaplan_logo_purple_726-4.png
admin
2023-05-19 13:00:37
2023-05-19 20:47:27
How to Pass USMLE Step 1: Top 5 Tips