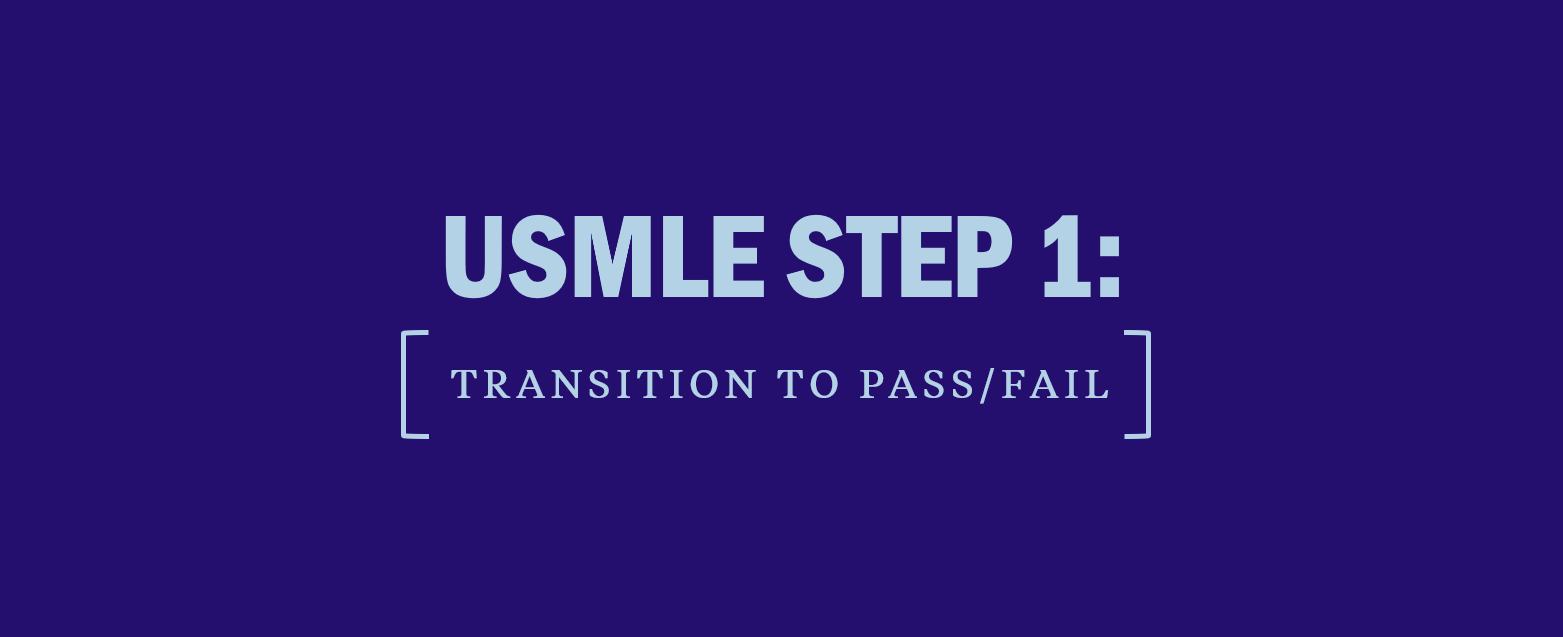 The USMLE Step 1 score reporting has transitioned from a numerical score to a pass/fail outcome as of January 26, 2022. If you took the Step 1 exam before that date, you would have received a numerical score and a pass/fail outcome on your score reports and transcripts. Now, Step 1 examinees will only receive a pass/fail result on their score reports. Read on to learn why USMLE Step 1 scoring has changed and what it means for students and educators.
[ Read Next: Passing the USMLE: A Scoring Guide ]
Why did the USMLE Step 1 scoring change?
The Federation of State Medical Boards (FSMB) and the National Board of Medical Examiners (NBME), co-sponsors of the USMLE, are committed to making the transition from medical school to residency as smooth as possible for applicants. The previous residency selection system was highly stressful, in large part because of the overemphasis placed on USMLE scores. In changing the scoring from a numerical to a pass/fail system, candidates for residency are now considered holistically, with the USMLE Step 1 result considered one of many application factors. The USMLE co-sponsors are clear that this change is the beginning of systemic changes in the transition from undergraduate to graduate medical education. The well-being of medical students is taking center stage in the transition from undergraduate to graduate medical education.
Are the USMLE Step 2 CK and Step 3 changing?
The other USMLE Steps will continue to be scored as they have been in the past – with a three-digit numerical score from 1 to 300. However, now that the USMLE Step 1 is pass/fail, earning a good score on Step 2 CK and Step 3 will make you a more competitive candidate for residency programs and fellowships. The FSMB and NBME believe that the USMLE as a whole will remain a good determinant of whether or not a student is qualified to practice medicine without placing undue stress on residency applicants.
What does the Pass/Fail USMLE Step 1 mean for students

?
For most medical students, the USMLE Step 1 change to pass/fail won't affect residency applications. Students should still study for the USMLE Step 1 since they are still required to pass in order to practice medicine, and the knowledge they gain will help them in medical school and their remaining board exams. This test change does not require students to change their study strategy for USMLE Step 1. All students should continue to prepare for the exam as if it were going to be scored numerically.
Learn about the changes to the USMLE and the impact it may have on medical students here:
How does the USMLE Step 1 change affect International Medical Graduates?
The USMLE transition to pass/fail significantly affects International Medical Graduates. One of the ways IMGs had to distinguish themselves as great candidates was by scoring really high on the Step 1 exam. This change levels all candidates to the detriment of IMGs who have significantly different experiences that are not validated in the US residency Match process. For IMGs, this means that they need to ensure they pass Step 1 on their first attempt and that they have a high score in their Step 2 exams.
What does the Pass/Fail USMLE Step 1 mean for educators?
The USMLE Step 1 will supply less information in the residency match process than in the past. That means that residency programs will need to develop alternative methods of assessing the qualifications of their applicants. It also means that residency programs may look more closely at USMLE Step 2 scores.
It's anticipated that the FSMB and NBME will continue to roll out changes to the USMLE and residency match process. Though we don't know yet what these changes will be, the
co-sponsors of the USMLE have said that
"additional system-wide changes may unfold, including advances in reliable and holistic assessment of the training of physicians."
RELATED: Types of Medical School Exams
https://wpapp.kaptest.com/study/wp-content/uploads/USMLE-Step-1-Transition-to-Pass-Fail.png
637
1563
admin
http://wpapp.kaptest.com/wp-content/uploads/2020/09/kaplan_logo_purple_726-4.png
admin
2023-05-19 09:58:00
2023-05-19 20:58:02
USMLE Step 1 Transition to Pass/Fail