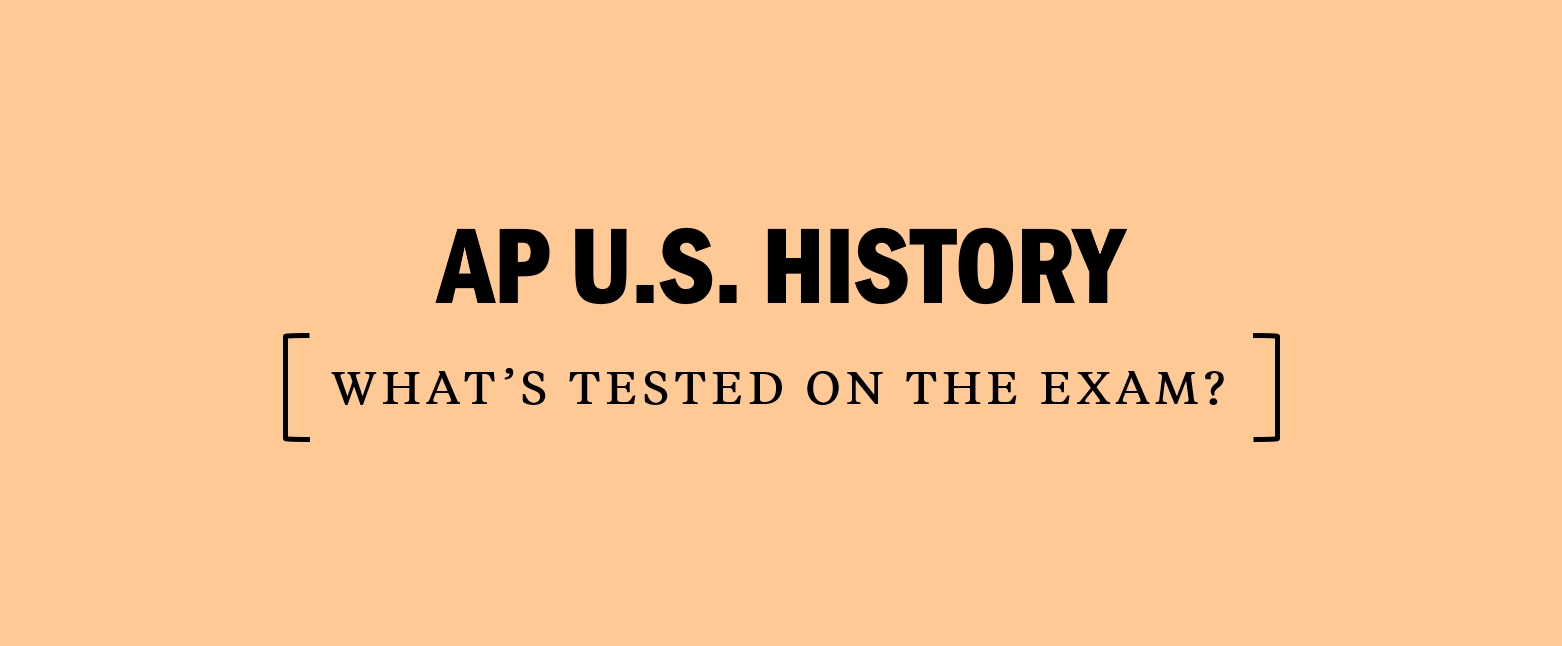 The AP U.S. History (APUSH) exam is a big one—its content measures your knowledge of U.S. history from pre-Columbian societies to the present. After taking a college-level class, you will certainly have a large base of historical knowledge heading into the exam. However, the AP exam asks you to take what you've learned one step further and apply that knowledge in complex and analytic situations to show evidence of college-level learning. While a solid foundation of historical knowledge is critical to your learning, application of that knowledge earns top scores.
AP U.S. History: What is Tested
The AP Test Development Committee designs the AP U.S. History exam yearly as an opportunity for you to
demonstrate mastery of skills
typically found in introductory college U.S. History classes.
The exam, divided into two sections, is three hours and fifteen minutes long. Section I is 1 hour and 45 minutes long and consists of 55 multiple-choice questions and four short-answer questions. Section II is 1 hour and 30 minutes long and consists of one document-based question (DBQ) and one long essay question (LEQ).

| Section | Number of Questions | Time |
| --- | --- | --- |
| 1 | Part A: 55 Multiple-choice questions – 40% | 55 minutes |
| | Part B: 4 Short-answer questions – 20% | 50 minutes |
| 2 | Part A: Document-based question – 25% | 55 minutes |
| | Part B: Long essay question – 15% | 35 minutes |
| Total: | 55 Multiple-choice, 4 Short-answer, 1 Document-based, and 1 Long essay | 3 hours and 15 minutes |
Section 1, Part A: Multiple-Choice Questions
The 55
multiple-choice questions
will be divided into sets of two to five questions based on a primary or secondary source, historian's argument, or historical problem. These questions assess your ability to understand and interpret the stimulus material as well as your knowledge of the historical issue being tested. Even if a set of questions is based on a specific portion of U.S. history, the individual questions may require you to thematically link the stimulus to other eras.
Section 1, Part B: Short-Answer Questions
These four
short-answer questions,
timed at 10 to 12 minutes each, will concern a theme in U.S. history. At least two of the questions will provide you with a choice so you can exhibit your strengths by having you use historical and critical thinking to react to a primary source, a historian's argument, secondary sources (e.g., data or maps), or general suggestions about U.S. history. All four of these questions will require you to pinpoint and explore examples of historical evidence related to the source or question. Because these questions are short-answer questions, you do not need to develop and support a thesis statement.
Section 2, Part A: Document-Based Question
The
document-based question
(DBQ) allows you to demonstrate your ability to examine and integrate data and appraise verbal, quantitative, or visual evidence. Like the long essay, the DBQ is evaluated based on your ability to devise a thesis statement and back it up with applicable evidence. The documents this essay is based on can vary in length and format. Question content can contain charts, graphs, cartoons, and pictures, in addition to written materials. You are expected to be able to connect the given documents with a historical period or theme while honing in on significant periods and issues. Therefore, it is essential to demonstrate your familiarity with historical themes, rather than just the events and people important to the question's focus, to earn the highest scores.
Section 2, Part B: Long Essay Question
In this section, you will have a choice of two similar
long essay questions
to showcase the extent of your knowledge. The long essay questions gauge your ability to use historical thinking to explicate and assess events significant in the scheme of U.S. history. This essay necessitates a central thesis or argument that you support by evaluating specific and relevant historical evidence.
Multiple-choice questions
will test your ability to think critically about various kinds of historical evidence, focusing on applying interpretive skills to historical evidence rather than factual recall. Short-answer questions ask you to connect problems or sources from different historical periods. Rather than testing your ability to develop a thesis, these questions gauge your ability to exercise historical thinking.
The DBQ and LEQ will ask you to explain change over time, to analyze cause and effect, to compare one time period to another, or to explain specific developments and changes in a category or categories. To do well on this section, you must have a good understanding of historical analysis and the broader themes of U.S. history. While these two essays remain largely unchanged from the previous version of the AP U.S. History exam, the DBQ will contain only five to seven texts taken from not only secondary but also primary sources.
Need some help studying? Check out this AP U.S. History Rapid Review Live sample. 
https://wpapp.kaptest.com/study/wp-content/uploads/APUSH_Whats-tested.png
646
1562
admin
http://wpapp.kaptest.com/wp-content/uploads/2020/09/kaplan_logo_purple_726-4.png
admin
2023-04-03 09:50:07
2023-04-11 18:44:19
What's on the AP U.S. History Exam?