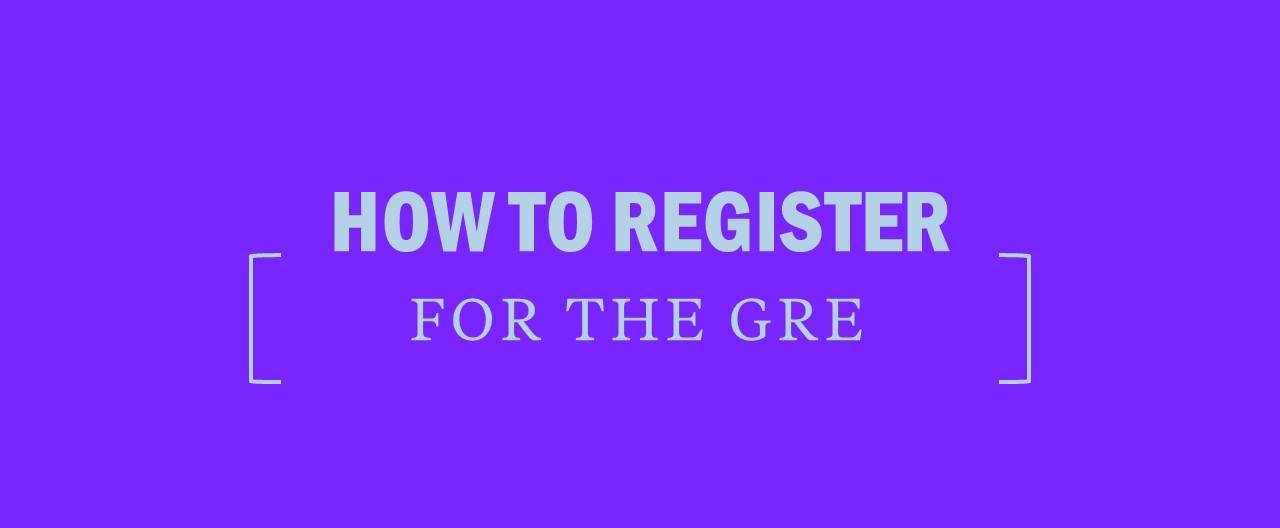 The computer-based GRE General Test is offered year-round however registering early is strongly recommended because spaces often fill up quickly. If you live inside or outside the United States or in Canada, Guam, the U.S. Virgin Islands, or Puerto Rico register for and schedule your GRE, use one of the following options outlined below.
[ RELATED: How to study for the GRE ]
How To Register For the GRE Online
To register for the GRE online, you can register (if you are paying with a credit or debit card) through
ETS
. Once the registration process is complete, you can print out your voucher immediately (and can reprint it if it is lost). If you register online, you can confirm test center availability in real time.
Steps To Register for the GRE Online
Registering for the GRE online
is the easiest method of registering. 
Step 1:

Create an ETS account

. Make sure the name you use to register is exactly the same as the name on the

ID documents

you'll present at the testing center. 



Step 2:

Choose your test date and location. You'll be able to see your options in a calendar format by clicking the "Register / Find Test Centers, Dates" button. Once you've decided on a test date and location, click the "Register" button. 



Step 3:

Confirm your personal information and agree to the testing policies and conditions. You can also opt to register for free for the

GRE Search Service

, which enters you into a recruitment pool for universities. 



Step 4:

Pay the fees. The GRE itself is $205, with added fees if you wish to purchase products from ETS. 
How To Register for the GRE by Phone
To register for the GRE by phone, call 1-800-GRE-CALL or 1-800-473-2255. Your confirmation number, reporting time,and test center location will be given to you when you call. Payments can be madewith an American Express, Discover, JCB, MasterCard, or Visa credit or debit card.
How To Register for the GRE by Mail
To register for the GRE by mail, complete the Authorization Voucher Request Form found in the
GRE Information and Registration Bulletin
. Mail the fee and signed voucher request form in the envelopeprovided to the address printed on the voucher.
[ RELATED: Preparing for the GRE ]

When Should I Take the GRE?
The computer GRE is offered year-round at many testing locations across the world. In the few places where computer GREs are unavailable, you can take a paper version of the GRE in February and November. 
You should choose a GRE test date based on the application deadlines for the schools to which you're applying. GRE scores are sent to the schools you indicate 8-10 days after you take the GRE, but plan on giving yourself enough time before your application deadlines to retake the GRE if necessary.
Registration is also when you can begin the approval process for GRE accommodations, should you need them. 
Whether you decide to take a GRE prep course or prepare on your own with books and other GRE practice resources, you should plan on spending approximately 10 hours/week for 3 months preparing for the GRE. This will give you plenty of time to learn and review the information and take several practice tests. 
How You Should Prepare for the GRE
When Will you Receive GRE Scores?
Once you've completed the GRE, you'll have the option to either report or cancel your scores. If you choose to report your scores, you'll be able to view an unofficial score report for the Verbal and Quantitative Reasoning sections immediately upon completing the test. At this point you can choose to send your most recent GRE scores or GRE scores from a previous test day to your selected institutions. If you're unhappy with your scores, you can also choose not to send them. 
Four score reports are included with the price of your GRE. If you wish to send any additional score reports, you can do so after test day for a fee of $27/score report. Your scores are good for 5 years. 
You'll get an email with your official test scores, including the analytical writing score, 10-15 days after you take the GRE. At this point your official scores will be sent to the schools you indicated on test day (or, if you took the paper version of the GRE, that you indicated during registration).
[ NEXT: GRE 1-Month Study Plan ]
https://wpapp.kaptest.com/study/wp-content/uploads/2020/04/How-to-register-for-the-GRE.jpg
528
1280
admin
http://wpapp.kaptest.com/wp-content/uploads/2020/09/kaplan_logo_purple_726-4.png
admin
2023-09-08 09:55:03
2023-09-08 14:57:33
How do I register for the GRE?