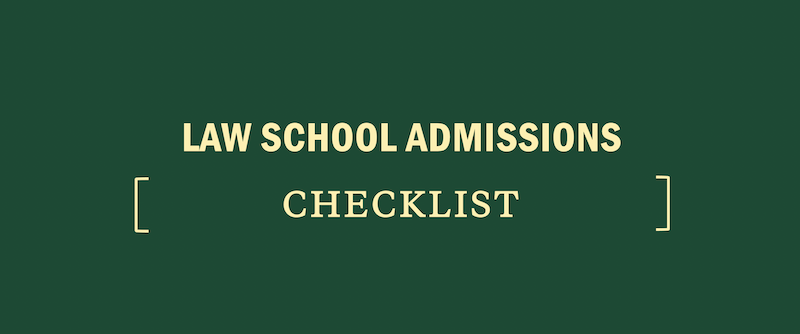 Applying to law school is a long process with many steps. The earlier you start to build relationships with professors, consider what type of law you are interested in, and plan for taking the LSAT, the better. Our Kaplan LSAT experts suggest first asking yourself, what needs to be done?
Get a great start by checking out the LSAT study resources on our checklist of things to be done before your applications are due, and fill in a calendar with what you know is already on your agenda: school, work, obligations, birthdays. Looking ahead is the best first step on your path to LSAT and law school victory.
3 Years Before Law School: Plan
Start looking into your areas of interest, researching schools, and talking to advisors. You can even target specific classes that can help you prepare for the LSAT. If you're applying to law school soon and haven't started "your plan" in earnest, that's OK. There are no prerequisites for law school, besides a competitive LSAT score and a strong GPA.
Give thought to what type of law you'd like to practice: entertainment, personal injury, criminal, and so on.
Consider taking writing, critical thinking, reading-intensive, and logic courses. While not required for law school admissions, these will give you a leg up when it comes time to prepare for the LSAT and will help prepare you for law school.
Get familiar with resources like the Law School Admission Council, through which you will later submit your application, the National Association for Law Placement, and the American Bar Association.
Look into joining a preprofessional student organization with other prospective law students.
Enhance your knowledge of the legal field by talking to practicing attorneys in different industries, law school students, and others with firsthand experience.
Law School Admissions Tip #1: connect with a pre-law advisor early—and often. advisors can help you map out your curriculum and timeline and might eventually write or compile your recommendations. they may also have connections with the law school admissions community.
2 Years Before Law School: Prepare
The next order of business is to prepare for the LSAT and start pulling together the pieces of your law school applications. A strong GPA and LSAT score, as well as a well-written personal statement, will help you stand out.
Research specific law schools. Consider factors like location, cost, reputation, competitiveness, employment prospects of alumni, and financial aid availability.
Make an LSAT prep calendar. Include important dates, like deadlines for test registration, applications, and financial aid. Schedule your test prep, as well. Give yourself three to six months before your test date to prepare.
Consider which professors know you well enough to write strong, positive recommendations. Contact them early so they'll have plenty of time to meet your application submission deadlines.
Start working on your law school application early. Give yourself plenty of time to draft and revise your personal statement and resume.
Law School Admissions Tip #2: Take a free practice LSAT to figure out your strengths and weaknesses. Consider other LSAT prep options, like enrolling in an LSAT course to help boost your score.
1 Year Before Law School: Apply
Now is the time to finalize your law school applications and take care of all the small but vital details involved. Here are some pointers to wrap up the application process with professionalism and efficiency.
Choose your LSAT test date and reserve your seat on LSAC.org. The LSAT is given eight times a year: March, April, June, August, October, November, January, and February. Register for an exam date no later than the fall in which you plan to apply—or a year before you will be starting law school. This will give you ample time to re-prep and retest if necessary. Sign up as soon as registration dates open. Seats can fill up quickly.
Figure out how you are planning to prepare for the LSAT: classes, self-prep with books, LSAT tutors, and attend some free events! Then register/buy/sign up and get it on that calendar. Remember that if you have any questions, we are always available to help on Twitter, Facebook, or by phone. Still in school? Make an appointment with your prelaw advisor and get any information or resources they might have.
Set your LSAT score goals and continue to prepare, keeping a positive attitude and a systematic approach. Schedule weekly practice tests and put them on your calendar.
Make sure all supporting materials—test scores, transcripts, personal statement, addenda, resume, and letters of recommendation—are included in your application package or otherwise safely en route to your prospective schools' admissions offices.
Submit your law school application through the centralized LSAC application system. Law schools use a rolling admissions process, so the earlier you apply, the greater chance you have for acceptance and earning merit-based scholarships. As you choose the schools to which you will apply, add their admissions deadlines to your calendar– but keep rolling admissions in mind! At many law schools, the earlier in the process you apply, the better chance you have. Also talk to the schools about admission fee waivers if you know you are applying!
Wait for acceptance letters!
Law School Admissions Tip #3: Spend some time on your personal statements, thinking about how you want to come across. Have at least two people review them—someone who knows you well and someone who knows how to write well.
Six Months Before Law School: Decide
Here comes the fun part: deciding where you want to go to law school. Keep these things in mind while you're narrowing down your choices.
Weigh the pros and cons of each program carefully. Beyond rankings and reputation, look for the best fit for you, taking into account each school's specific programs and student culture. Visit schools wherever possible.
Don't forget to consider non-academic factors like climate, extracurricular opportunities, setting, cost of living, and financial aid.
Look into options for financing your education: grants, fellowships, scholarships, and other opportunities. Law schools give significant scholarship money based on test scores.
Law School Admissions Tip #4: When deciding where you want to go, talk to current students at your top-choice schools. They can offer firsthand perspectives on student life, workload, course selection, etc.
Let Kaplan help get your law career off to the right start with comprehensive LSAT test prep. For more information and to get an overview of all we have to offer, view our
LSAT prep
offerings.
https://wpapp.kaptest.com/study/wp-content/uploads/2021/06/law-school-admissions-checklist-lsat-tips-study-prep.png
334
800
admin
http://wpapp.kaptest.com/wp-content/uploads/2020/09/kaplan_logo_purple_726-4.png
admin
2021-06-01 11:29:00
2022-04-19 20:07:32
Law School Admissions Timeline & Checklist