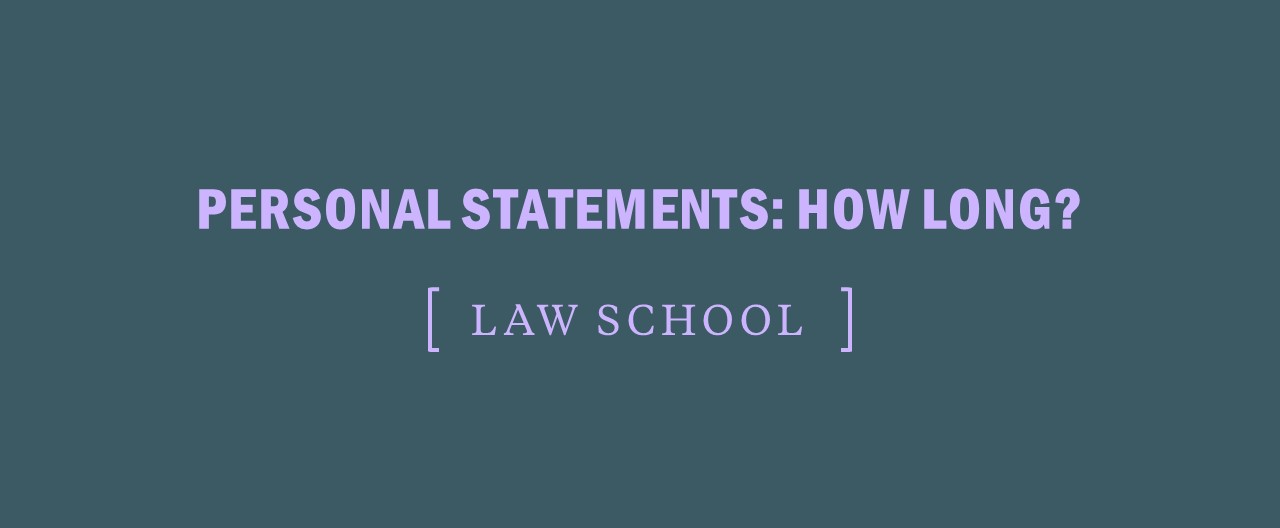 Although much of the law school application process has been standardized, there are still some aspects of it that change from school to school. One such aspect is the length of the law school personal statement.
What is the Typical Recommended Length of a Law School Personal Statement?
These examples show that there is great variety in both length requirements and in specificity in describing those requirements.
Harvard has strict requirements for the length and formatting of personal statements: 2 pages maximum, 11pt minimum font size, 1-inch margins, double spaced
Columbia asks for two double-spaced pages "using readable fonts and margins"
UC Berkeley asks for a personal statement that is "ideally four, double-spaced pages"
Georgetown states: "There is no minimum or maximum length. We do not feel that an applicant's personal statement should be limited."
As you can see, depending on the law school you are applying to, you can expect to write 500 -1,000 words for your law school personal statement.
How Many Pages Should a Law School Personal Statement Be?
Most applicants apply to ten or more schools, and it is unfeasible to write a different version of one's personal statement for each school one applies to. Instead, we recommend that you write two versions of your personal statement: a 2-page version and a 3+ page version. These two versions, with some minor modifications, will satisfy all length requirements.
Two pages is the most common length requirement for law school personal statements but we suggest you start by writing the three-page version, finalizing it, and then pare it down to a two-page version if necessary. The process of paring down the essay may be painful and may take several hours over a couple of sittings, but it is much easier than writing two different essays.
How To Find The Word Count Of Your Law School Personal Statement
General guidance suggests that 250 words equal 1-page double-spaced. If you need to meet a word count requirement in your law school personal statement, use the instructions below to find the word count.
Google Docs
To find the word count of your law school personal statement using Google Docs, navigate to the Tools Tab and select Word Count. A pop message will appear showing you how many pages, words, and characters your personal statement contains.
Microsoft Word
To find the word count of your law school personal statement using Microsoft Word, navigate to the Review Tab and select Word Count. A pop message will appear showing you how many pages, words, characters, paragraphs, and lines your personal statement contains.
Formatting Law School Personal Statements
Formatting for law school personal statements can be overlooked but are critically important. Your ability to follow formatting rules is one of the first indicators to admission officers that you have the ability to follow the rules.
Remember that there is an actual human being at the other end of this process, and he or she will not appreciate reading an essay that is cramped or significantly different in format from the other components of your law school application.
[ RELATED: How to Format Law School Personal Statement ]
How Long Does it Take to Write a Personal Statement for Law School?
Law school applicants should plan to spend time brainstorming their topic, developing outlines, writing, proofreading, and revising their personal statements before submitting them. It can take law school applicants 2-4 weeks to write a good personal statement.
[ RELATED: What Not To Do With Your Law School Personal Statement ]
What Makes a Good Law School Personal Statement?
Follow each school's instructions to the letter. We mentioned Harvard's requirements above: 2 pages, 11pt minimum font size, one-inch margins, double-spaced. If they spent the time putting together those requirements, they don't want you to deviate from them.
Don't play games with margins, font size, etc. First of all, it's obvious to the reader that you have changed the document properties to fit more words into less space. Second, it's just less pleasant to read.
Keep it brief. When no length is specified, only consider writing something longer than three pages if you have something truly compelling to say.
Use a header. Create a header that includes your full name and LSAC number, and indicates that the document is your personal statement. Do this for every written component of your application, not just your personal statement, and make sure it's on every page of the document.
[ RELATED: How To Write a Great Law School Personal Statement ]
Personal Statement Example For Law School
Note: To maintain the integrity and authenticity of this project, we have not edited the personal statements, though any identifying names and details have been changed or removed. Any grammatical errors that appear in the essays belong to the candidates and illustrate the importance of having someone (or multiple someones) proofread your work.
On December 19, 1996, at the age of five, I lost five close family members in a house fire. The oldest victim was my 10-year-old aunt, Donna Scott. She and I grew up together, living in my grandmother's apartment in the [housing projects] in South Central Los Angeles. After losing Donna and my other family members in the fire, I became depressed. Suddenly, being the only child in my grandmother's home, without any other children to talk to or play with, I developed imaginary friends. Because I talked to these "friends," my grandmother advised my mother to find a psychiatrist for me. My mother, however, ignored my grandmother's advice because she understood my behavior as a coping mechanism for the trauma I had experienced. After Donna's death, I felt a profound sense of emptiness; yet, over time, I filled that void by helping others.
I believe the best way I can help people is through the legal system. I chose this route when I began noticing the injustices occurring in my community. When my friends and family interacted with authorities, they were often treated unfairly. Unfortunately, many people in my South Central Los Angeles community did not understand their rights and did not know how to represent or stand up for themselves. My uncle Edward, Donna's younger brother, was falsely convicted on the basis of planted evidence. If only my uncle had known his rights and how to seek effective legal representation, he would probably not have a felony on his record today. My uncle's situation showed me that ignorance of one's rights can lead to prejudicial treatment in the American legal system, and I realized that educating the members of my community would make them less vulnerable. I will work to expose such injustices and focus on corrective measures for all Americans because no one deserves unfair treatment.
Disenfranchised Americans receive unequal treatment in the legal system when they are accused of crimes and when they are victims of crimes. During my internship at the Department of Justice Community Relations Service (CRS) in Washington D.C., I discovered the case of Jason Smith, a fourteen-year-old African American boy who was brutally murdered by the Ku Klux Klan in Louisiana in June of 2011. This case was not processed in a timely manner because one of the alleged murderers was the son of a former FBI agent. Once I knew that this case coincided with the CRS' goal to resolve community tensions and conflicts, I submitted a written report to the Acting National Director of the division, [… who] reviewed the report and informed me that no one in the CRS Headquarters or regional offices had been aware of this incident. She forwarded my report to the regional director in Louisiana to further research the case because the hate crime had occurred within that jurisdiction. I later learned that the Civil Rights Division was investigating the murder.
The Jason Smith case particularly interested me because my younger brother, Kevin, was the same age as Jason when Jason died. When I look at Kevin and see his bright future, it saddens me to know that a child's murder can go unnoticed. I feel relieved and gratified that I could make a difference by highlighting the injustice of Jason's murder. Jason and my uncle's situation reinforced my commitment to the practice of law. As an attorney, I will expose and speak out against injustices. By providing closure for families experiencing injustices and making the legal process comprehensible to those who are unfamiliar with it, I will help bridge the justice gap between socially marginalized individuals and the larger American society. I want to help the disenfranchised feel less excluded from the mainstream world. I can contribute to this by helping ensure that everyone receives effective legal representation.
My involvement with the Jason Smith case at CRS helped me realize that my work in the legal system can effect real change in the lives of people from underprivileged communities. The [target law school's legal clinic] will provide me with the foundation that I need to become an outstanding advocate. Participating in this clinic will improve my knowledge of civil procedures and enable me to provide legal services to underrepresented communities. My cultural sensitivity and open-mindedness will make it easier for clients from these communities to open up and enable me to effectively communicate with them. My leadership ability, organizational skills, and tenacity make me a resource to the [law school's] community. Additionally, my discipline and dedication, along with my desire to make my Aunt Donna proud, will motivate me to persevere through the rigors of law school. I will contribute my commitment to success, my ability to work with diverse groups, my inner-city urban perspective, and most importantly, my optimism to the [law school].

[ READ ANOTHER: Law School Personal Statement Example ]
https://wpapp.kaptest.com/study/wp-content/uploads/how-long-should-my-law-school-personal-statement-be.jpg
528
1280
admin
http://wpapp.kaptest.com/wp-content/uploads/2020/09/kaplan_logo_purple_726-4.png
admin
2022-11-29 14:05:12
2022-11-29 20:05:35
How Long Should My Law School Personal Statement Be?