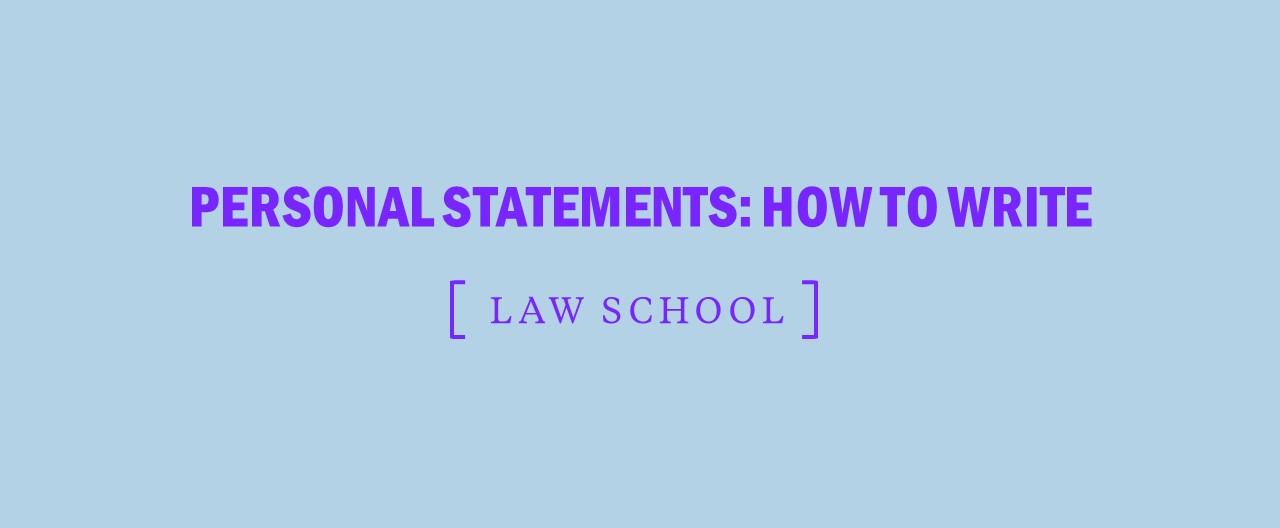 Many prospective law students can feel overwhelmed when faced with the task of writing a law school personal statement, one of the most subjective pieces of your law school application.
A good personal statement is interesting to read without needing to rely on shock value. It should have a conversational tone; it's not there to show how many big words you know, but rather to offer insight into your character.
TABLE OF CONTENTS:
Why Are Law School Personal Statements Important?
Law school personal statements are important because they can turn what would have otherwise been a certain rejection into an offer of admission.
They help admission committees get to know you in a way they couldn't from other pieces of your law school application. And, hopefully, it also shows why a law degree is the next logical step for you.
Tips for Picking a Law School Personal Statement Topic
When deciding what to write in your personal statement, do not make stuff up. Stick with what has really happened to you and how it affected you, and you will write a better personal statement than if you pretend.
Do Your Research
Read as many personal statements as you can. Discovering what has worked vs what doesn't work is equally important.
Be Honest
Admission committees are very experienced at reading personal statements. They can quickly sniff out when something rings false.
Be Yourself
Admission committees utilize the personal statement portion of the application to learn about you and why you want to go to law school. Tell your story, and do not try to hide who you are.
Discuss Personal Stories with Friends and Family
Try getting feedback on your topic ideas from family or friends.  If they have been to law school, even better, but talking about your topic and learning how to articulate why you chose that topic for your personal statement will help you flesh out good ideas vs bad ideas. 
[ RELATED: LSAT Admissions Consulting ]
Try a Reflective Writing Exercise
You should get in the habit of being able to think deeply about how your interests and experiences relate to attending law school. Try writing a sentence or two for each of these prompts to get warmed up:
What you've done
Why you did it
What it meant to you
How it affected you
Then try writing a paragraph or more in response to these prompts:
Recount a time when you faced a challenge, setback, or failure. How did it affect you, and what did you learn from the experience?
Reflect on a time when you questioned or challenged a belief or idea. What prompted your thinking? What was the outcome?
Describe a problem you've solved or a problem you'd like to solve. Anything of personal importance, no matter the scale. Explain its significance to you and what steps you took or could be taken to identify a solution.
Law School Personal Statement FAQs
The personal statement is an integral part of the law school application, and it is important that you not only take it seriously but also try your best to have fun with it. Many questions may be circulating in your head that you feel need to be answered before you start to write your personal statement. Let's look at frequently asked questions applicants have about writing their personal statements.
How long are LSAC personal statements?
Some law schools ask for only five hundred words, while others allow for up to four pages double-spaced. However, most schools ask for a two-to-three-page (double-spaced) essay.
Law schools have personal statement length requirements for two reasons: (1) to test your ability to follow directions (keeping to the length requirement) and (2) to evaluate how well you write.
What can I expect from the personal statement prompt? 
Most law school personal statement prompts are pretty vague and give the applicant a lot of room to interpret it as they see fit. 
Personal statement prompts are usually a general question and contain a page or word limit; exact requirements will vary from one school to the next. If you have questions you should get in touch with the admissions office via phone or email.
How personal should my personal statement be?
Incorporating emotion into your personal statement could make it more interesting and easier to read, but if you overdo it you can sound like you're whining, begging, or trying to write a sob story—which can, in turn, be perceived as disingenuous.
Admissions committees want to see passion, but they also want to see who you are. It is extremely important to be honest. Law schools can see right through feigned emotions. Remember, they've probably read hundreds of thousands of these, and it's very easy for them to detect when people aren't being authentic. Allow yourself to be vulnerable, open, and clear—but make sure it comes from the heart.
A law school personal statement does not mean a mandatory hardship story. While getting through a rough life situation can be a great place from which to pull material for your personal statement, it is not even close to the only way to write a stellar piece, especially if it means overstating reality or making up emotional lessons that weren't really present.
The biggest key to the law school personal statement is to be honest. The story you want to tell about how you've gotten where you are today doesn't have to be exciting or on a grand scale or heartbreaking, it just needs to show something important about you.
"If you write about your childhood in your personal statement, you must find a way to tie it to your adulthood."
Should you discuss your decision to attend law school in your personal statement?
This topic is contentious. If the rest of your application does not clearly indicate why you are applying—say, for example, you have no legal internship or student group experience, majored in a subject unrelated to law, and spent the past five years working in a biology lab—then you should at least touch on your reasons for pursuing a law degree in your personal statement.
However, if your application already demonstrates why you are applying to law school—whether through your college extracurricular activities, your work history, or your coursework—then you are probably safe to submit a personal statement that does not directly mention your decision to attend law school.
How to Format Your Law School Personal Statement
Law school personal statements should be:
Double-spaced, left-aligned

In 11 or 12-point Times New Roman font

Uses a single space after a period

Contain page numbers

Use one-inch margins on all sides

Include a header, that contains:

Your name
Your LSAC number
The words "Personal Statement"
Signatures and titles are not needed for law school personal statements.
How to Write a Great Law School Personal Statement
The trick to writing is getting that first word, sentence, or paragraph on the page; after that, everything can follow more easily. If you are having trouble starting your intro paragraph, start with the body of your essay. Saving the introduction or conclusion till the end is much easier for some people.
In each section of your essay, bring in references to who you are and how you will enhance the law school's student body. Instead of just saying that you are diligent and compassionate, say that your experience training to run a marathon taught you the value of consistent hard work, and the time you spent volunteering with Habitat for Humanity showed you how important it is to empathize and help the under-resourced members of society. 
Find ways to make the things that you've done support your contention that you'll bring something great to the law school.
Start with an Outline
Take your thoughts and organize them into an outline. Try to incorporate key attributes about yourself into your headings.
Remember that legal professionals place a high value on organization—a good personal statement is clearly organized and easy to follow—and since at least some of the people reading and evaluating your essay are legally trained, creating a good outline is crucial.
Personal Statement Intro Section
Starting a personal statement can be difficult and it may be easier for you to leave this section of your personal statement as the last thing you write. Use this section to introduce yourself, catch the attention of the reader, and set up your story.  
Tips for writing an introduction paragraph
Avoid catchy openings like "from a young age" or "I have always wanted to…"
Get to the point quickly
Start with something interesting, relevant, and specific
Think about what is inspiring you today
Avoid exclamation points to emphasize your excitement
Personal Statement Body Section
The body of your personal statement should focus on the details of your story. Each paragraph should expand on your points and begin with a topic sentence that expresses the main idea of the paragraph in which it occurs.
Ending sentences for body paragraphs should wrap up your points and help transition the reader to the next body paragraph or the concluding paragraph.
In the climax of your essay, use concrete language and zoom in on the moment of transition.
For example, if you talk about your financial stress, which was caused by foreclosure and you didn't have an attorney, which led to you getting sick, don't say that you "experienced hardship" or that it  "took a toll" on your health. What was the hardship? What was the toll? Specific, concrete details give transition moments their power.
[ TIP: Vary your sentence length to keep readers interested ]
Personal Statement Conclusion Section
The conclusion section of your personal statement should re-emphasize and summarize your main points.  It should be concise and leave the reader with a greater understanding of who you are and why law school is the next logical step for you in your education.  
If you are having trouble, consider taking a break and asking for help.  
Overcoming Writer's Block
We all suffer from writer's block sometimes, and it can be particularly brutal when the stakes are high … like when you are trying to get into law school.
One way to cut through the blockage is to make a stream-of-consciousness list of word associations. Start with a memory (e.g., first grade), a person (e.g., grandmother), or a place (e.g., the beach), and then just write down every word that comes to mind for the next two to three minutes. Do not worry if the words that come to mind are absurd (e.g., tuna, rabbits, dominoes)—they are coming from somewhere, and one of them just might trigger a memory that makes you think, "Ah! That could have a place in this essay."
This advice may sound a little silly and unguided, but that is precisely the point. When you are experiencing writer's block, that is a sign that you are too "in your head"—that is, your conscious mind. You need to hop over from your left brain to your right, which is less judgmental and more creative.
How to edit your law school personal statement
Do not underestimate how crucial editing is to writing a good personal statement. Editing is about far more than correcting your spelling and punctuation. A hastily edited personal statement could very well be the thing that makes the difference between "Congratulations!" and "We regret to inform you…".
Inspect the Structure
Your first goal should be to make sure that your personal statement is well organized. Return to the outline that you wrote and shift things around if necessary. Make sure each topic sentence inspires you to keep reading.
Copyediting
Run the spell-check, of course, but also read through on your own, very carefully. If your typo is a correctly-spelled but inappropriately used word, it won't set off the spell-check. Pay attention to your use of commas, semi-colons, and other punctuation marks; consult a resource on English language mechanics if you have any doubts about usage.
[ TIP: Make sure that you mention the correct law school in the essay ]
Verify Personal Statement Is About You
Avoid including too much about "the world" and/or too little about yourself.  Look for these items throughout your personal statement.
You have several sentences in a row describing life (or the universe, or society, or the world) in abstract terms.
You spend a full paragraph talking about something or someone else without reflecting on your topic from your perspective.
You get to the end of the personal statement and realize you do not know how what you have read reveals something significant about you as a person.
You spot very few uses of "I" in your personal statement.
If any of these describe your current draft, look for ways of introducing yourself more frequently in it.
Get Feedback From Others
Once you've fully completed editing, ask several people whose writing skills you trust to look over your essay and offer suggestions. Ask them if they came away with a clear and cohesive sense of you as an individual. 
Incorporate Feedback
When you've gotten feedback from others, incorporate suggestions you find valuable into your rewrites. Repeat this as necessary until you get an essay that you've proud of… or until your application is due, whichever comes first.
Law School Personal Statement Example
Note: To maintain the integrity and authenticity of this project, we have not edited the personal statements, though any identifying names and details have been changed or removed. Any grammatical errors that appear in the essays belong to the candidates and illustrate the importance of having someone (or multiple someones) proofread your work.
Personal Statement
I don't imagine the process of coming out as gay is easy for anyone. I can still remember the first time the words came out of my mouth. The person I told, my best friend, waited expectantly for the big news I had promised her over the phone. My heart began to beat faster. My palms were sweating. A million thoughts raced through my head. Here was something integral to my identity, something so deep it had taken me years to uncover. And I was about to tell someone who could either accept it, or turn away from me.
Fortunately, the experience in my case was a positive one, overall. Without fail, my closest friends and family told me they loved me, and would continue to do so. There were, of course, some people who did not accept me, and that hurt in ways that I can't begin to explain. But the ones who really mattered embraced me, and coming out to them was an affirming experience. I knew even more than I had before that I had a network of people around me who cared for me and supported me.
When I was in college, I became involved in activities that affirmed my identity further. I organized on campus for things like a gay student union and gender non-specific bathrooms, and the groups I worked with had various levels of success with these projects. But [my undergraduate university] is a largely queer-friendly school in [a large metropolitan city], and so the activities felt somewhat sheltered. After organizing with these campus groups for a while, I branched out and began volunteering for organizations in the larger city ….
I had always known that not everyone's experience of coming out as gay was as positive as mine, but it was when I became involved with these organizations that I began to see just how cruel the world could be to LGBTQIA [lesbian, gay, bisexual, transgender, questioning, intersex, and asexual] people. I met thirteen-year-olds who had been abused and thrown into the street because they were gay. I met trans women who had been discriminated against for their identities by bosses and landlords. I met drag queens whose daily experience involved street harassment and the threat of bodily harm. For the first time in my life I was surrounded by people who were struggling every day to meet their basic needs like food and shelter because of their identities.
I also began to learn from people who were older than me, who had slept on the Chelsea Piers, and lived through the plague of HIV and AIDS. I learned about intersectionality, the varied forms that oppression can take and where they meet in an individual's life. I learned of how mainstream organizations like HRC [Human Rights Campaign] and those involved in the fight for marriage equality often jettison the most vulnerable members of queer struggle in order to achieve what they consider the "greater good"—like the exclusion of transgender people from the Employment Non-Discrimination Act in the '90s. I learned about assimilation of gay people into mainstream society, and how it worked remarkably well for some while for others it would never, ever be an option.
In the end, it was these—the most vulnerable members of my community—that I found the most reason to fight for. People whose doctors won't treat them because they're HIV positive. Trans men and trans women without legal documentation who can't find a lawyer that will take them on. Intersex prisoners who the prison industrial complex tries to squeeze into its limited boxes.
I honestly believe going to law school is the best way I can help these people. I have spent years writing and signing petitions, organizing LGBTQIA dance parties, protesting in the streets. Now, as I enter the phase of my life in which I am choosing a profession, I want it to be one that takes all I have learned and keeps it in the forefront of my mind. I want to stand up for the people in my community who have so few advocates.
A queer utopia—that is, a world in which the struggles I have learned of through my involvement in the LGBTQIA community no longer exist—is still a long way off. But I have seen good people filling in the gaps in the lives of those most strongly affected by inequality. I am committed to becoming one of those people, and I feel that this is the best way I can do it.
What You Should Not Do in a Law School Personal Statement
A story illustrating the reasons you want to go to law school is always going to be more effective than a generic essay that anyone could have written; remember the point of the law school personal statement is to show a law school something unique about yourself. 
Law School Personal Statement Don'ts
Avoid dramatic tales of romance
Curse often
Avoid absolute statements which tend to sound more unreasoned than reasoned— law school is all about reason
Do not submit an essay version of your resume
Do not use the same personal statement for every school
[ NEXT: What not to do in a law school personal statement ]
https://wpapp.kaptest.com/study/wp-content/uploads/how-to-write-a-personal-statement-for-law-school.jpg
528
1280
admin
http://wpapp.kaptest.com/wp-content/uploads/2020/09/kaplan_logo_purple_726-4.png
admin
2022-11-29 13:33:57
2022-11-29 19:37:58
How to Write a Law School Personal Statement