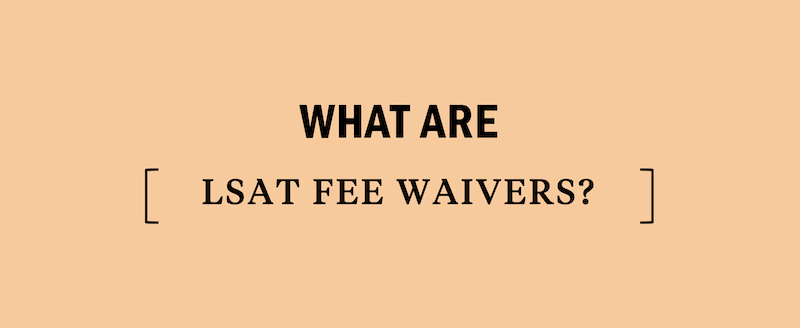 The basic fee for taking the LSAT is $200, which may be financially prohibitive for some. In an effort to reduce barriers for law school applicants, the LSAC (the LSAT test maker) grants fee waivers to qualified applicants.
What do LSAT fee waivers include?
In an effort to ensure that everyone gets a fair shot at receiving a law education regardless of economic status, LSAC has a fee waiver program.
According to LSAC
, the fee waiver covers the following expenses: 
Two

LSATs

(taken within two years of each other)

One

LSAT Writing

Six CAS Law School Reports
Who qualifies for LSAT fee waivers?
Fee waivers are only open to those who
cannot
pay for the LSAT and Credential Assembly Service (CAS). Don't apply if you're just reluctant to pay the fees, or you think the LSAT and other law school application components are overpriced. LSAC will reject your application.
According to LSAC
, in addition to demonstrating extreme need to qualify for the fee waiver you must also: 
Be a U.S., Canadian, or Australian citizen; or

Be a U.S. National; or 

Be a permanent alien of the U.S. with an alien registration card; or

Have been granted deferred action under DACA; or

Have applied for deferred action under DACA; or

Be a permanent resident of Canada; or

Be a refugee in Canada
To demonstrate your financial need, you will have to submit tax documentation as requested by the LSAC. 

How do I apply for an LSAT fee waiver?
First, apply for a fee waiver through your
LSAC account
and submit your request at least 6 weeks before the
LSAT registration deadline
for the date you want to take the LSAT. You'll have 45 days after you fill out your application to submit your federal tax forms, a
Verification of Nonfiling Form
(if you weren't required to file a federal tax return), and DACA documentation, if applicable. 
Your LSAC file will be put on hold until your fee waiver is approved. That doesn't mean you can't take the LSAT—it just means that until your waiver is approved, you won't receive your score and your scores won't be sent to any law schools.  
The LSAC usually takes 1-2 weeks to review fee waiver applications and any accompanying documentation. You will receive the decision via email. If the LSAC approves your fee waiver, the hold will be lifted from your account and you and any law schools you indicated will receive your LSAT score. Your fee waiver is good for two years from the time of the LSAC's approval. 
If the LSAC denies your fee waiver, you may appeal one time. It may take LSAC 2-3 weeks to review your appeal. Appeal decisions are final. 
Whether you qualify for LSAT fee waivers or are just trying to keep costs down, there are ways to
prepare for the LSAT
on a budget. 
The first thing you should do is take an
LSAT practice test
. You can use the results to gauge your readiness for the LSAT and identify specific portions of the LSAT that you need to work on. Based on the results of your practice test and your
score goal
, you can come up with a
study plan
for yourself. Spend some time familiarizing yourself with the different sections of the LSAT and study techniques. 
If there's a specific topic you need help on, sign up for a
free event
with Kaplan to learn some tips and become more familiar with the content. You can also get free access to a week of LSAT prep material with Kaplan's
LSAT Starter Pack
. 
Kaplan's Tuition Assistance Program provides financial support to help talented students take advantage of courses that they would not otherwise be able to afford. Every year, we help hundreds of students who would otherwise not have access to test prep courses step up to the same starting line as everyone else. Find out if you are eligible and how to apply
. 
https://wpapp.kaptest.com/study/wp-content/uploads/2020/07/lsat-registration-fee-waivers.png
328
800
admin
http://wpapp.kaptest.com/wp-content/uploads/2020/09/kaplan_logo_purple_726-4.png
admin
2021-06-25 08:58:21
2022-04-20 15:33:22
What are LSAT Fee Waivers?