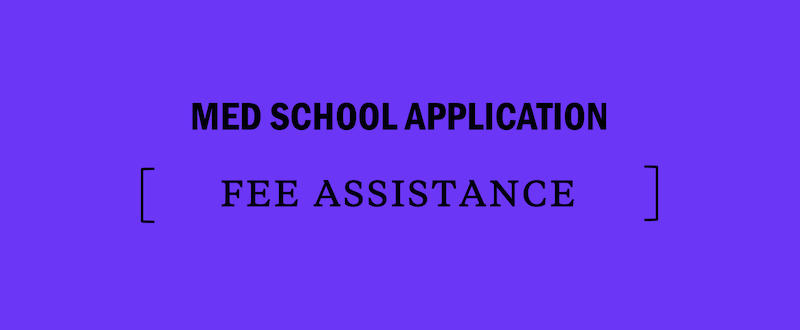 The AAMC (Association of American Medical Colleges) has a Fee Assistance Program available to prospective medical school students who can't cover all the costs of applying to medical school on their own. If you think you fall into that category, you may be eligible for the AAMC's Fee Assistance Program. 
How much does it cost to apply to medical school?
Applying to medical school isn't cheap. Here's what you can expect to pay throughout the medical school application process:
Access to the Medical School Admission Requirements website and The Official Guide to Medical School Admissions

: $28 and $20, respectively.

MCAT Practice Materials

: Price dependent on where you get the materials. Kaplan has a

tuition assistance program

that can qualify you for up to 60% off Kaplan MCAT products. 

MCAT Fee: $315 if you register more than 15 days before your test date, and $370 if you register closer to your test date. This AAMC fee covers your testing and the distribution of your scores to the medical schools you indicate.
Primary AAMC Application Fee: $170 for the first school you send your application to, and $40 for each additional school. 
Secondary AAMC Application Fee: Varies per school, but plan to spend up to $100 on each school.
Medical School Interviews: You'll need to pay for travel and lodging for each medical school interview you're invited to. If you apply only to nearby schools, this cost will be low. If you apply to many schools across the United States, the cost will go up.
What is the AAMC Med School Fee Assistance Program?
The AAMC wants to ensure that cost isn't a barrier to potential medical school applicants. They've created the AAMC Fee Assistance Program to cover some of the basic costs of applying to medical school so that applicants with limited funds aren't prevented from applying on the basis of money. Here's what the Fee Assistance Program covers:
Access to the Medical School Admission Requirements website: $54 value for the rest of the calendar year you're applying and the following year. 
MCAT Official Prep products: $236 value, includes all 12 online MCAT Official Prep products, but does not include The Official Guide to the MCAT Exam.
Reduced MCAT fees: MCAT price reduced from $315 to $125

If you need a medical evaluation to qualify for

MCAT accommodations

, the Fee Assistance Program will cover up to $800 of the cost. 

Reduced AMCAS application fees: $911 value; your application can be sent to up to 20 schools.
You're eligible for the AAMC Fee Assistance Program if your household income falls below 300% of the national poverty guidelines. You also must be
A US citizen or a US national, or

A lawful permanent resident (green card holder), or 

A recipient of DACA, refugee, or asylum status.
AAMC fee assistance will be available to you until December 31st of the calendar year after the year in which you receive approval. For example, if you receive fee assistance starting in July of 2023, you'll have access to that assistance until December 31, 2024. You can apply for fee assistance up to five times in your life. The fee assistance isn't retroactive; if you've already taken the MCAT or sent in your applications and then realize that you would have qualified for the Fee Assistance Program, you won't be able to apply and be reimbursed. 
How do I apply for AAMC application fee assistance?
Once you submit your AAMC application, your application status will be "Submitted" and "On Hold." If you're deemed eligible, AAMC may ask for
supporting documentation
such as child support documentation, financial aid award letters and cost of attendance info, Social Security documentation, or W-2s. Once you've submitted the requested documentation, your application status will change to "Submitted" and "Pending Verification." You'll then be notified of the AAMC's decision. If you're approved for the AAMC Fee Assistance Program, congratulations! If you're denied, you can appeal
only if
you incorrectly entered information in your application.
Since the cost of applying to medical school (not to mention
attending
medical school!) is so high, it's natural to want to save money wherever you can. Here are a few ideas for how to prepare for the MCAT on a budget:
Learn as much as you can

about the MCAT. Knowing the structure of the test, the content of the test, and the

ins and outs of applying to medical school

early on will help you know if you need to budget out money for MCAT prep later. 

Register for the MCAT early. If you put off registering until the week before the MCAT, you'll have to pay a higher fee than if you register early. 

Come up with a study plan

. Plan out your study time early. You can adjust as necessary, but setting a strict schedule for yourself before you even start studying will keep you from procrastinating, and make sure the money you

do

spend on the MCAT doesn't go to waste. 

Take a free diagnostic test

. It's ideal to take several practice MCATs throughout the course of your studying, but it's

especially

important to take one at the beginning to see what areas you need to work on. 

Sign up for a

free sample Kaplan MCAT class

or take a free MCAT practice test

. That will give you an idea of what Kaplan's approach to MCAT prep is so you can make an informed decision about whether or not to purchase a

prep course

. Keep in mind, also, that Kaplan has a

Tuition Assistance Program

than can qualify you for up to 60% off Kaplan MCAT prep products. 

Take advantage of as much free prep material as you can! Whether it's MCAT pop quizzes or Question of the Day emails, all prep is good prep.
https://wpapp.kaptest.com/study/wp-content/uploads/med-medical-school-application-app-fee-assistance.png
330
800
admin
http://wpapp.kaptest.com/wp-content/uploads/2020/09/kaplan_logo_purple_726-4.png
admin
2023-05-02 08:02:17
2023-05-18 20:40:26
AAMC Med School Application Fee Assistance