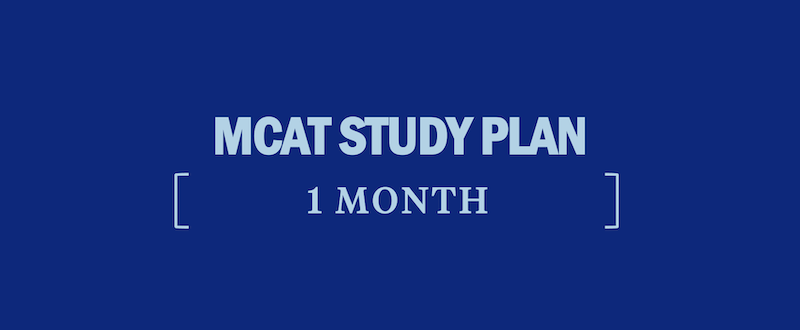 Experts recommend that the average pre-medical student should spend 300-350 hours preparing for the MCAT across several months. Realistically, though, you might not have that much time. For example, what happens if you realize that your test date is a month away and you haven't started your study plan yet? Studying for the MCAT in one month is a challenging task, but if you already have a very strong science and critical reading foundation and are able to devote a significant amount of study time per week, then you may still be able to earn the score you need by following this week-by-week plan.
Before you get started, you'll need to gather together your study materials. As the official MCAT® prep of the American Medical Student Association, here is Kaplan's recommended list:
Before you register for the MCAT, you'll be required to review the official information in the Essentials Guide. It's full of information about the test, including content, logistics, and timing.
You can purchase four full-length online practice tests through the MCAT website.
The AAMC has two different practice questions packages available through their website. The Official MCAT Section Bank has a total of 300 practice questions, divided into three section packs: natural sciences, behavioral sciences, and social sciences. The Official MCAT Question Packs draw from old MCATs to provide you practice passages and questions about Biology, Physics, Chemistry, and Critical Analysis and Reasoning Skills (CARS).
Kaplan's MCAT QBank saves you time with targeted questions. With in-depth explanations, you'll learn from your mistakes and raise your score.
With Kaplan's MCAT books, you not only get the printed resources that cover the subject matter from all the test sections but also access to three full-length practice tests online and additional science videos. The book set is worthwhile for these tests alone, since they provide realistic practice that includes scaled scores and percentiles for each section as well as detailed explanations for every question. Additionally, Kaplan's MCAT 528 Advanced Prep Book and Online Resources will give you more preparation.
Online MCAT Study Calendar
Creating an online study calendar is helpful for keeping track of your personal study plan from almost anywhere. And, if you share your calendar with others, they can help keep you accountable so you stay on track with your studies.
Flashcards are perfect for helping you get study time in when you only have a few minutes. Kaplan provides both a downloadable Flashcard App and a boxed set of applicable flashcards for the current MCAT.
Chris Durland, Manager of Content and Curriculum, MCAT, DAT, OAT, PCAT
"Don't think of test taking as a set of skills that you "turn on" for practice tests. Look for the science in the world around you, and let critical reasoning permeate into your life." 
MCAT 1-Month Study Guide: Week 1
Start by taking a practice test or question set that covers all the topics from the MCAT to familiarize yourself with the test and establish your baseline performance. The MCAT Sample Test is a great resource for this. There are also free online practice tests available from Kaplan, as well as 3 Full-Length tests included with Kaplan's MCAT Books.

Use your initial test results to determine which content areas you need to work on. Modifying the study plan below accordingly. For example, if you did well on all molecular biology questions, you might only study those topics briefly and spend more time on a Biology subject you didn't do as well with, such as anatomy and physiology.

Proactively fill in your calendar with study blocks, planning to study at minimum for three hours per day, six days per week. Take one day off from studying each week so you have time to recharge. Put specific topics to study into each block so that you ensure that you have sufficient prep time set aside.

Devote one full day this week to each of Biochemistry, Biology, General Chemistry, Organic Chemistry, Physics, and Behavioral Sciences.

For test-like practice, use the AAMC Sample Questions and Sections and choose passages based on the content areas you have reviewed.

In addition, study for the Critical Analysis and Reasoning (CARS) section on a daily basis. Use the AAMC Sample Questions and Sections to read passages and work on passage-related questions.

Take a full-length practice test at the end of the week. Consider taking it in a library or similar location that will provided test-like conditions: no snacks or drinks during the test except for during breaks, no music, a quiet—but not silent—environment, and a test taken all in one sitting.
MCAT 1-Month Study Guide: Week 2
MCAT 1-Month Study Guide: Week 3
MCAT 1-Month Study Guide: Week 4
[ RELATED STUDYING: BEST 10 MEDICAL SCHOOLS BY SPECIALTY ]
https://wpapp.kaptest.com/study/wp-content/uploads/2021/05/Screen-Shot-2021-06-17-at-10.18.39-PM.png
330
800
admin
http://wpapp.kaptest.com/wp-content/uploads/2020/09/kaplan_logo_purple_726-4.png
admin
2022-12-01 11:30:00
2022-12-09 20:06:17
How to Study for the MCAT in 1 Month