The Next Generation NCLEX (NGN) launched in April 2023 and is an enhanced version of its predecessor, the NCLEX. As a nursing student preparing to take this exam, you should be aware of what's changed on the new NCLEX. We'll answer frequently asked questions, walk you through the new NGN item types and scoring system, and help you prepare for exam day with free Next Gen NCLEX practice questions. Here's what you need to know about this exam update.
[ FREE RESOURCES: Next Gen NCLEX® (NGN) for Nursing Educators ]
New NCLEX Date: When does Next Gen NCLEX Start?
Students started taking the Next Generation NCLEX on April 1st, 2023. As of this date, the NCSBN is administering the Next Gen NCLEX exam to every test taker regardless of their nursing school graduation year. After April 1st, you cannot take the old version of the NCLEX; the NGN will be the only licensing exam available for aspiring nurses. The NGN is an updated version of the NCLEX and will include new item types (detailed below). Like its predecessor, the NGN will continue to assess students' clinical judgment, and passing this exam is a prerequisite for nurse licensure in the USA and Canada.
What's Changed on the New NCLEX in 2023?
The National Council of State Boards of Nursing (NCSBN) decided to update the current NCLEX to adapt to the evolving demands of the healthcare system and to better assess students' clinical judgment skills. As a result, you should expect to see some critical changes on the Next Gen NCLEX. These updates to the NCLEX include conceptual changes emphasizing clinical judgment, five new item (question) types on the exam, and a new scoring system that allows for partial credit.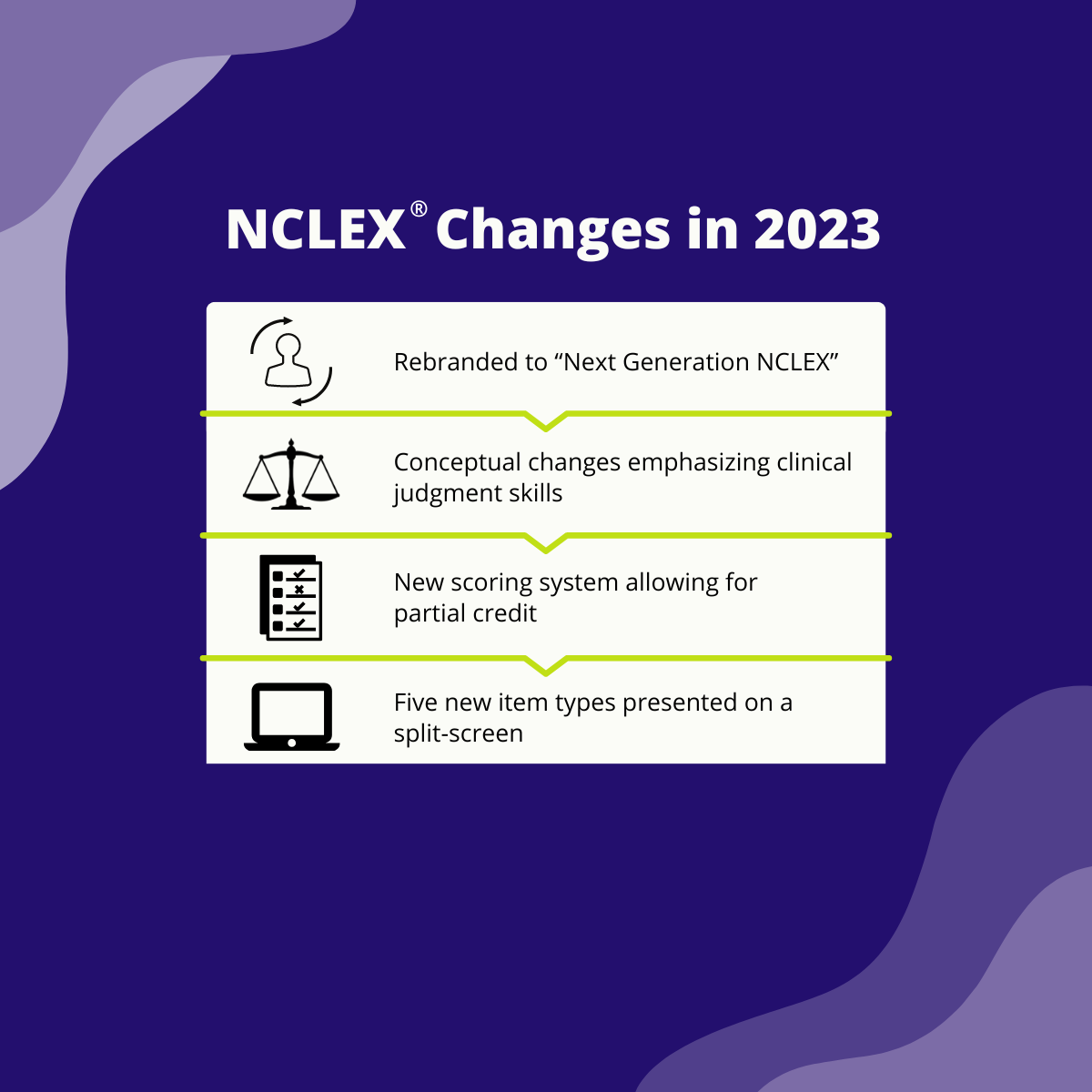 Next Gen NCLEX Changes: Conceptual Changes
According to the NCSBN, clinical judgment is linked to 46% of all tasks performed by entry-level nurses, but, recent research has identified a lack of clinical judgment ability amongst novice nurses. Medical errors are the third leading cause of death in the United States, and only one-fifth of employers are satisfied with new nurses' decision-making ability. In a 2011 report, Saintsing et al. reported that nearly 50% of novice nurses are involved in a nursing care error. 
[ RELATED: A Day in the Life of a Registered Nurse ]
In an effort to remedy these trends, the Next Gen NCLEX will seek to measure clinical judgment ability. As the NCSBN researched and developed the exam, it operationally defined "clinical judgment" as "the observed outcome of critical thinking and decision-making…an iterative process that uses nursing knowledge to:
Observe and assess presenting situations

Identify a prioritized client concern

Generate the best possible evidence-based solutions to deliver safe client care"
Next Gen NCLEX Changes: New Scoring System
The Next Generation NCLEX also has an updated scoring system. The previous version of the exam used a dichotomous scoring method, meaning NCLEX items were scored as either correct or incorrect. Moving forward, the NGN will use a polytomous scoring method to allow for partial credit on certain items. This new scoring system allows for more precise measurement and takes into consideration the complexity of the new NGN item types.
Next Gen NCLEX Scoring: Partial Credit
Partial credit on the Next Gen NCLEX can be assigned in three ways:
+/- Scoring:

Test-takers receive one point for correct responses and lose a point for incorrect responses. If the total score is negative, the final score will be "0."



0/1 Scoring:

Test-takers receive one point for correct responses but don't lose points for incorrect responses.

Rationale Scoring:

Test-takers receive "all or nothing" credit for linked units within an item, meaning it's either all correct or all incorrect.



Next Gen NCLEX Changes: New Item Types
For NCLEX administrations between July 2017 and December 2018, candidates were given the option to complete a special research section that evaluated clinical judgment ability. 85% of test-takers opted to take it, and NCSBN used data from these candidates to validate the need for a revision to the exam and to test the validity of new item types.
The following new item types have been finalized for the Next Gen NCLEX:
Extended Drag-and-Drop Items
Extended drag-and-drop items ask candidates to pair items from two columns. For example, you may be presented with a list of clients and a description of their symptoms. Then, you will have to pair room assignments with client scenarios.
Cloze (Drop down) Items
Cloze (drop down) items present candidates with a narrative case study and then ask for as many as six responses regarding the proper course of care.
Matrix Grid Items
Matrix items provide a scenario and client data and then require candidates to make judgments about the findings, checking appropriate boxes in a supporting matrix.
Enhanced Hot Spot
Enhanced hot spot items also present a scenario and client data. Candidates are asked to highlight specific sections in the scenario to answer questions.
Extended Multiple Choice
This video reviews three item types within the extended multiple choice interaction grouping; Select all that apply (SATA), Multiple response select N (a specified number) or MR-N, and Multiple Response Grouping. Multiple response grouping is like several small SATA in a table format. The video includes scoring models for each type.
Standalone Items: Bow-Tie and Trend
The next generation NCLEX has introduced new item types which are answered based on information you receive in Case Studies. The information is presented in the form of medical record tabs. There are 6-question sets which progress you from recognizing and analyzing findings, then making clinical judgments to provide appropriate care and evaluate the client's response. There are also 2 standalone item types, the Bow-Tie and the Trend. Both standalones also use information provided in a Case Study of a client.
The new items on the Next Gen NCLEX seek to simulate the work nurses do on a day-to-day basis, testing candidates in their critical thinking, judgment, and decision-making skills. Though clinical knowledge is not explicitly tested in any of these question types, a clinical fluency is assumed and imperative for success. When the NCSBN tested these new item types in 2017-2018, candidates took about 1 minute to complete each item.
[ KEEP STUDYING: What's Tested on the NCLEX-RN? ]
https://wpapp.kaptest.com/study/wp-content/uploads/next-generation-nclex-test-changes.png
854
2586
admin
http://wpapp.kaptest.com/wp-content/uploads/2020/09/kaplan_logo_purple_726-4.png
admin
2023-04-10 14:19:00
2023-09-08 16:33:57
All About The New Next Gen NCLEX