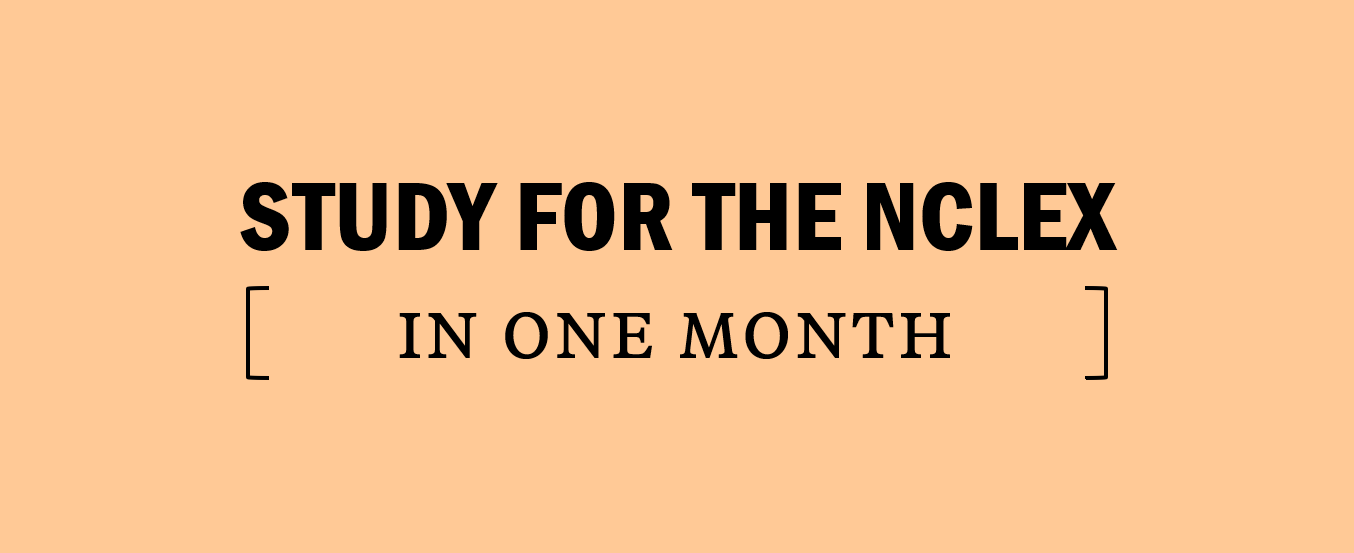 Preparing for the NCLEX can be a challenging task. One of the questions many new graduates ask about their NCLEX prep is: How long do I need to study for the NCLEX? Recommended study times may vary depending upon the level of preparation needed and can range anywhere from four to twelve weeks or more. 
Although this article provides a guide to studying NCLEX in one month, it is highly recommended you allocate more than just four weeks to prepare for your exam. You may unschedule and reschedule your testing date by contacting Pearson Vue at least 24 hours in advance of the date and time of your appointment local standard time.
NCLEX STUDY PLAN WEEK 1: DEVELOPING YOUR PLAN
Decide the Format for Your NCLEX Study Guide
This week, spend two to four hours developing a study schedule. Think of your study schedule as your roadmap to success. You won't know where you're going without a road map. You can use a blank sheet of paper with thirty boxes or a digital or paper planner. If you already keep a personal calendar, consider integrating your study schedule with the system you already use. 
Choose and Plan Toward Your NCLEX Test Date 
First, select an NCLEX Test Date and write it on your calendar. You can always change this later, but having a date to work towards will help guide your studying. Once your test date is set, work on scheduling practice tests, along with review and remediation times for filling in for the remaining dates leading up to test day. You will want to make sure this study plan is catered to your personal NCLEX prep needs; whether those needs are content, practice, test-taking strategies—or all three.
Review NCLEX Exam Practice Questions
Practice tests (preferably realistic Computer Adaptive Tests) are great to get a "feel" for where you are in your study plan. Your test results can be used as an indicator for areas of further study, and as a checkpoint to measure your progress. Spend time remediating test results. If there are content areas you're still unfamiliar with, spend one or two days refreshing subject content using engaging content videos and other methods that give you quick, focused review. Once you have reviewed, fall right back in with your study plan.
One secret to NCLEX success is question exposure. Taking, reviewing, and remediating as many test questions as possible is key. An important aspect of exposure to NCLEX® questions is establishing a realistic practice setting. Avoid distractions, don't look up answers during your exam, focus on your thinking to come up with the correct answer! Pull together practice question resources that will expose you to a minimum of 3500 questions. That might seem like a lot of questions. And it is! But the key to NCLEX success is answering questions, not studying content. 
You should also aim to get plenty of other NCLEX® Qbank practice with realistic, NCLEX-style questions that include complete explanations—but we recommend taking no more than 150 Qbank questions per day to avoid burnout. Make sure you remediate ALL of your NCLEX® practice questions on these tests, not just the questions you've missed.
Break Down Your NCLEX Study Schedule
Start by setting a regular schedule to answer 63 questions in the morning and 63 questions in the evening. Follow each testing session with a review and remediation period of every question, not just the questions answered incorrectly. It is important to review all questions in order to ensure that you clearly understood why the correct answer was right and that it wasn't just a lucky guess.
NCLEX STUDY PLAN WEEKS 2 AND 3: WORKING YOUR STUDY GUIDE FOR SUCCESS
Continue to work through practice questions, taking breaks after each testing session. Review and remediate the previous practice set prior to taking the next practice set. Remediation is just as important, if not more important than answering questions. This phase of NCLEX prep will not only help you understand your test-taking style but also reinforce less familiar content. A content refresher may help you select correct responses to future practice questions – especially if you can gain a clear understanding of why you answered a question the way that you did.
NCLEX STUDY PLAN WEEK 4: THE DAYS BEFORE THE EXAM
As test day approaches, your anxiety may begin to rise. Self-regulation techniques, such as mindfulness techniques (meditation, yoga, reciting positive affirmations) and exercise can help improve your focus and stamina while reducing anxiety. Negative self-talk may also cause a loss of focus and create additional stress. Here are a few stress relievers to get you through this last week: 
Make sure you take regular breaks throughout study periods.

Keep healthy snacks on hand.

Stay hydrated. Drink lots of water, and low or no caffeine.

Go for brisk walks. Exercise will help allay anxiety and promote relaxation.

Get adequate sleep. Plan your schedule so that you are getting at least 7-8 hours of sleep.

The day before the NCLEX (Day 29) – schedule something fun, relax and get in the proper mindset!
Before the test day, we also recommend you visit the NCLEX Test site in order to familiarize yourself with the location and how long it takes to travel there. This will prevent additional anxiety on the day of the test and give you an idea of how much travel time you'll need. Read our post about NCLEX strategies for even more tips.
The big day has arrived – but you're ready! You've been preparing for weeks using these strategies:
Develop your NCLEX study guide

Review NCLEX exam questions and materials regularly

Take

NCLEX practice tests

Practice self-regulation techniques 
Remember to repeat positive affirmations: "I am prepared. I will be successful." Now walk into your NCLEX Test site and pass that test. For more information, here's what you can expect on the day of your exam.
https://wpapp.kaptest.com/study/wp-content/uploads/2021/10/STUDY-NCLEX-EXAM-ONE-1-MONTH.png
553
1354
admin
http://wpapp.kaptest.com/wp-content/uploads/2020/09/kaplan_logo_purple_726-4.png
admin
2022-10-31 12:12:47
2022-10-31 17:15:02
How to Study for the NCLEX in One Month