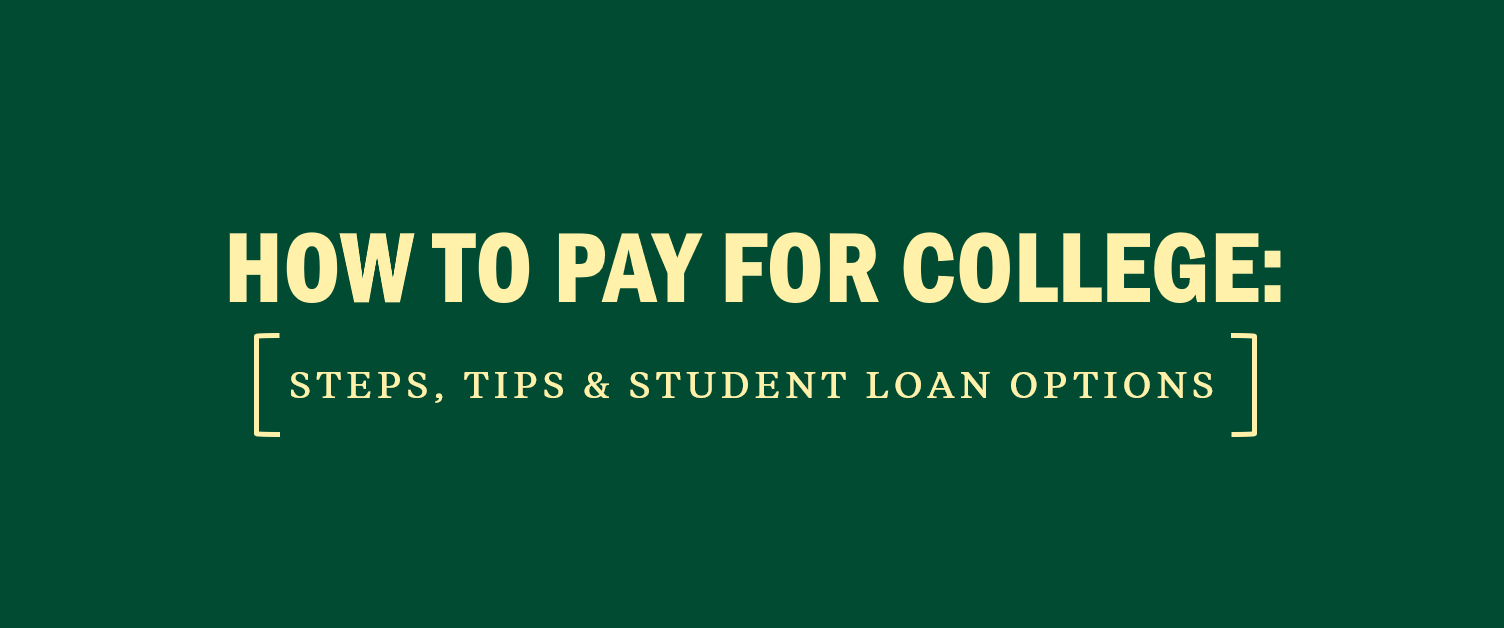 It's never too early to think about how you're going to pay for college. Creating a financial plan for your college education will free you up to enjoy the college experience and focus on schoolwork. There are several different ways to pay for college, including the popular choice of taking out student loans. While college financial planning ideally begins long before applications are completed and acceptances are received, you can create a plan by starting now, wherever you are in the college admissions process. Learn how to pay for college in this step-by-step guide.
[ Read Next: Top Tips for College Financial Planning During High School ]
---
Paying for College Step 1: Determine Your College Costs
This is the first research-heavy step of making a college financial plan. Understanding what you'll need to pay for while attending college can feel like a big reality check, but it's a critical step. For example, maybe you expected to pay for tuition and housing but hadn't factored in additional administrative fees and the mandatory freshman meal plan. Each school is different, so find out the following information to get a comprehensive estimate. To stay organized, create a spreadsheet so you can determine your college costs and make an informed decision. If you're still a few years away from applying to college or specific information is unavailable, look up the average costs of the items on the following list, so you're prepared when the time comes.
Paying for College Step 2: Decide Who is Responsible for What Costs
Different families approach this topic in different ways. Some students work their way through school, while others have full or partial financial assistance from parents or guardians. Determining what portions of your college education you're responsible for financially and knowing exactly where the rest of the money is coming from will relieve some of the stress that comes with making a financial plan. Additionally, you'll be required to enter your Expected Family Contribution (EFC) when applying for financial aid, so figure out this piece of information as early as possible.
Some additional questions to discuss with your parents or guardians are the following:
If they're providing financial support of any kind, when does it stop? Should you expect any help for graduate school, should you choose to go?

Do they expect you to be working and saving money while they pay your tuition?

What about extra educational expenses, like studies abroad or room and board while interning over the summer?

Will your parents give you an additional allowance for entertainment and non-necessary items?

What happens if you're unable to pay for your part of the deal? 

Are you expected to pay your parents back for any percentage of their contributions?
Once you know what pieces of your college education you'll be paying for and approximately how much money you need to cover the costs, start exploring financing options.

Paying for College Step 3: Research Financial Aid Options
This is the second research-heavy step of creating a college financial plan. Financial aid comes from schools themselves, the government, and outside organizations. There are three types of aid: scholarships, grants, and loans. Check out the following articles for an in-depth look at your financial aid options and information on how to go about securing each type of aid.
Types of Student Loans
The two main types of student loans are federal loans and private loans. Regardless of which type you choose, student loans are binding legal agreements, so it's important to understand the terms and conditions of whichever one you choose. Do your research and consult with advisors if you have any questions before signing. Below, we discuss the differences between federal and private student loans so you can determine which is the best type of loan for you.
Federal student loans
Federal student loans are funded by the federal government. There are many benefits to taking out a federal student loan, including flexibility; these loans allow the borrower to change their repayment plan even after they've taken out the loan. Unlike most private student loans, federal student loans also include benefits such as fixed interest rates and income-driven payment plans. 
There are three types of federal student loans: 
Direct Subsidized Loans: These federal student loans are only available to undergraduate students and are based on financial need. The government will pay the interest on your loan while you're enrolled in college. Interest on these loans does not start accruing until you leave school.

Direct Unsubsidized Loans:

These federal student loans are available to undergraduate, graduate, and professional students and are

not

based on financial need. Unlike direct subsidized loans, unsubsidized loans have higher loan limits, and the government does not help pay interest. Instead, interest accrues from the time of disbursement.

Direct PLUS Loans:

These are federal loans that graduate students, professional degree students, or parents of dependent undergraduate students can apply for. They have a fixed rate and are not subsidized. There are two types of direct plus loans: "Grad Plus Loans," which are issued to graduate or professional students, and "Parent Plus Loans," which are issued directly to an undergraduate student's parents and are used for their child's educational expenses.



Private student loans
Unlike federal loans, which the government issues, private student loans are typically issued by a private bank or financial institution. The amount of money you can borrow depends on the lender. If you or your cosigner has excellent credit, you can find private student loans with low interest rates, saving you money in the long run. Private student loans also come with a higher borrowing limit, so if you go to an expensive school and need a bigger loan, using a private student loan may be the best option for you. 
While private student loans don't have all the benefits of federal student loans, they can be a good option depending on your financial circumstances.
Can you get federal and private student loans at the same time?
Yes! Many students fund their college education using federal and private student loans at the same time. The cost of college continues to rise, so the amount of money you need might be more than one type of loan can cover. Federal student loans have strict limits, so students often supplement them with private student loans to finance the full cost of their college education.
Paying for College Step 4: Start Becoming Financially Independent
Even if your parents or guardians are paying for your college education, now is a great time for you to start learning how to become financially independent. Below, we offer some tips and advice to start building credit and managing your personal finances.
https://wpapp.kaptest.com/study/wp-content/uploads/How-to-Pay-for-College_featuredimage-.png
628
1504
admin
http://wpapp.kaptest.com/wp-content/uploads/2020/09/kaplan_logo_purple_726-4.png
admin
2023-01-03 09:37:38
2023-01-04 22:14:14
How to Pay for College: Steps, Tips & Student Loan Options