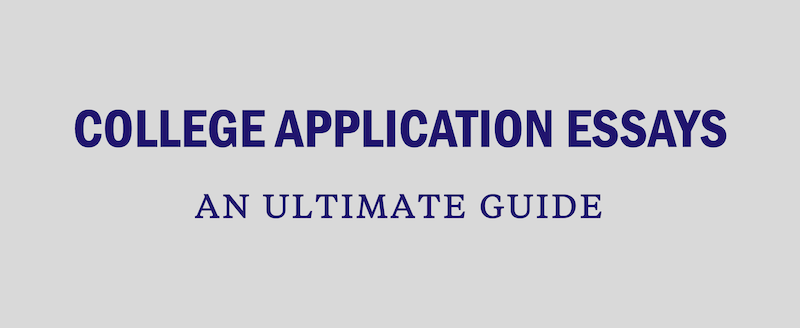 Test scores, grades, and AP classes are all important data points, but they don't allow the real "you" to come through in the college admissions process. This is why essays are so important—they represent the best opportunity to share your voice in your application.
In fact, essays are thought to be the third most important part of the admissions process after SAT/ACT scores and transcripts. 
We know that essays can also be intimidating. That's why we created this guide to help you write powerful essays that will help you get into college.
Writing in the admissions process can be grouped into 2 buckets:
Your main personal statement for the Common App or Coalition Application.

Supplemental essays that are college-specific.
In this guide, we are going to walk you through the entire essay writing process including:
College Application Essay Topics: Brainstorming Ideas
"What should I write about?"
Most students will ask their guidance counselor or college coach this exact question at some point.
Unfortunately, as with most aspects of the admissions process, a one-size-fits-all solution does not exist. There is no "best" or "right" essay topic that will automatically make your essay or application a success.
What you can do, though, is to write an essay that relies on a story from your own lived experience and that reveals your authentic self. Storytelling is a scientifically proven way to inspire and connect with your reader.
Now, you may say, "I haven't lived an extraordinary life! I haven't done anything remarkable or experienced any significant challenge." This is totally OK. Admissions officers report that an effective essay should discuss things that happen in your everyday life. That means everything you need to write a successful essay is in your head already.
The first step in the storytelling process starts with a simple question: what unique traits and characteristics do you want to share with the admissions officer or scholarship committee member? Ultimately, an effective story should reveal to the reader something important about who you are. In order to do this, try brainstorming the traits and characteristics that are most essential to your identity. If you're stuck, you can ask a friend or family member what traits or characteristics they would use to describe you.
Your next step is to think about particular moments when you exhibited those traits. This approach lays the foundation for developing stories to use in both your personal statement and supplemental essays.
How to Rock Your College Essay Personal Statement
Whether you're applying to college using the Common Application, the Coalition Application, or another college-specific application, you will be asked to write a personal essay. Ideally, this will share a new story that the admissions officer couldn't glean from elsewhere in the application. Generally, these essays will require between 500 and 650 words and are intentionally broad. In fact, both the Common App and Coalition Application allow you to submit an essay on a topic of your choosing. This is actually a very good thing for you as an applicant, because you are free to write about almost anything.
First, you should decide which prompt you will be responding to. We recommend reviewing all of the possible topics to see if something catches your eye. If not, you can always choose the option to submit an essay on a topic of your choosing.
Once you have chosen your prompt, you will want to think about a personal story that aligns with the chosen prompt. Remember, the goal of the personal statement is to show the reader your unique character and traits. We know that it can be tempting to try to cram as many accomplishments as possible into your essay in order to impress admissions officers. 
However, this is a missed opportunity, because they will likely already know all of these things from the activities section of your application. So, instead, focus on sharing new insights about you as an individual.
Finally, it is worth mentioning that your personal statement will be shared with all of the colleges that you are applying to with the Common App or Coalition Application. There should not be any college-specific information in your essay—you can save that for supplemental essays.
Supplemental College Essay Tips and Topics
Supplemental essays are a vital part of college admissions: they allow individual colleges and universities to ask very specific questions that are important to them as an institution.
Most students put a ton of effort into their personal statement, neglecting their supplements in the process. And this doesn't go unnoticed by admissions officers. If you put thought and care into your supplemental essays, you'll have a much easier time standing out in the admissions process.
Supplemental essay prompts are given to you directly by the colleges to which you are applying. They may concern a broad range of topics, but most fall neatly into one of 6 main categories:
As you are writing your supplemental essays, it is essential to connect them to each college you apply to. Supplemental essays are all specific to particular colleges, so a question like "What do you want to major in and why?" should be tailored to the college that is asking for the supplement. For instance, if you write about wanting to study biology in college, don't simply discuss you passion for biology and your past experiences in the subject. Instead, tie it directly to professors, curriculum, and research resources at the college in question. The more specific you can be, the better. Admissions officers can easily spot essays that simply swap out one college for another—they'll come off as generic, preventing you from standing out in the admissions pool.
College Application Essay FAQ 1) Are there any topics I should not write about?
Essay topics on overly personal or sensitive topics are generally best avoided as they can also be difficult to fully develop in the context of a 650 word essay. Many who write about these topics wind up writing more about what happened than how they grew from the experience. (If one of these topics is essential to explaining your high school experience—for instance, your grades declined when you were dealing with your parents' divorce—you can address that in the "Additional Information" section of the Common App.)
College Application Essay FAQ 2) How should I respond to really short supplemental essays?
You might encounter supplemental essay prompts that allow only 100 to 150 words. These essays can be tricky, because you don't have a lot of space to respond. Our suggestion is to start with a brief story of just a sentence or 2 to hook the reader. Then, respond to the question as succinctly as possible. For your first draft, it is OK to go over the word count a bit and then trim your essay down as you revise.  This will allow you to explore different approaches to the essay and see what works best for you.
College Application Essay FAQ 3) What about optional supplements? Do I need to answer them?
As a rule of thumb, everything that is "optional" in the admissions process is something that you should absolutely do. This includes optional supplemental essays. Make it a point to put time and energy into your responses.
College Application Essay FAQ 4) Can I recycle essays with colleges that ask the same question?
It's OK to reuse the same story more than once, but we don't recommend recycling an entire essay. It can be tempting, but will ultimately strip the personality and specificity from your essay, harming your case. For instance, if you've written an essay for your application to a small, rural liberal arts college, and that essay is generic enough to use in your applications to other small, rural liberal arts colleges, you probably have more work to do to tailor your essays to each specific college.
Effective essays don't have to be long. Don't feel obligated to max out your word count just because the Common App allows you to write up to 650 words. Every word matters, so make sure everything in your essay is serving a purpose. As you edit and revise, focus on making your story tighter and more concise by eliminating unnecessary words and sentences.
[ KEEP STUDYING: Top 6 Tips to Win Scholarships ]
https://wpapp.kaptest.com/study/wp-content/uploads/college-application-essay.png
328
800
admin
http://wpapp.kaptest.com/wp-content/uploads/2020/09/kaplan_logo_purple_726-4.png
admin
2023-03-08 08:25:32
2023-03-23 20:37:16
Ultimate Guide to College Application Essays