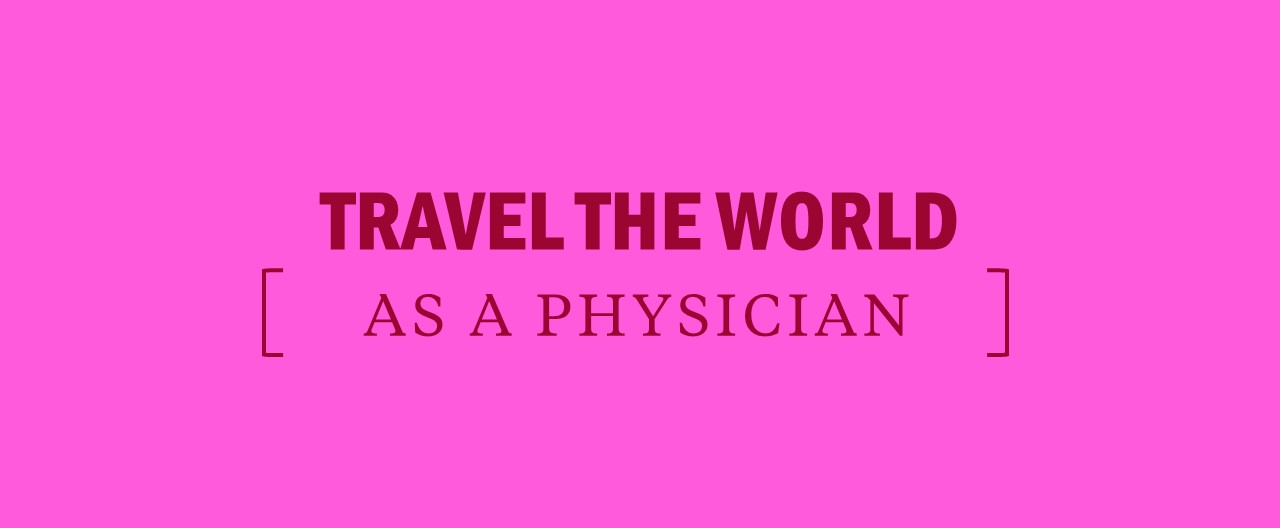 Do you have dreams of becoming a physician but also an itch to travel the world? With all the years and long shifts required to pursue a career in medicine, it may seem like you're confined within the sterile walls of a hospital. However, with advancing technology and growing demands overseas, doctors are now more transient than ever, practicing medicine all over the world.
Can you practice medicine and travel the world?
Yes, you can practice medicine and travel the world. The irony of being a doctor is that you have a salary that allows you to travel but not the time or flexibility to do it—or so it seems. Many doctors assume you cannot mix business with pleasure in medicine. However, there are many ways to incorporate travel into your medical career without having to leave the profession. So, before you turn in your scrubs, consider these creative ways to make your dream come true.
Ways to be a physician and travel the world
There are creative ways you can go off the beaten path and weave a few travel adventures into your medical journey.
Ask to attend medical conferences abroad
One way to practice medicine and travel the world is by asking your employer for permission to attend medical conferences abroad.  By attending medical conferences abroad you may be able to acquire knowledge which can help your team back at home.
Ask to delay the start date of your first job
Another option you can try to travel as a physican is asking to delay the start date of your job after residency and use that time to travel and expand your medical knowledge. If you are in a job that doesn't allow much flexibility, you can also look into other options that give you more freedom, using the tag time between positions to travel.
Emphasizing Experience over salary
All this to say, traveling as a physician, even for medical purposes, requires that you prioritize experiences over salary. There may be instances where you need to be willing to take a pay cut or miss out on a couple paychecks in order to travel the world. However, the payoff of following your passions will far outweigh any financial loss, including helping you avoid burnout.
Beyond medicine, combining traveling with your medical school training will also allow you to learn certain specific skills and lingo that will allow you to better relate to your patients. It will also give you the chance to interact with your future patient clientele on regular basis, giving you a more holistic understanding of their lifestyles and tendencies.

Take Advantage Of Clinicals and Fellowships
You don't have to wait until you're an established doctor with a six-figure salary to travel the world—in fact, you shouldn't. There is no better teacher than experience beyond the classroom, especially when it comes to practicing medicine in the context of your chosen specialty. Clinicals and fellowships are the perfect chance for medical students to not only go outside the classroom, but outside their comfort zones.
For example, if you have a passion for sports medicine, why not train near an actual ski slope near the Arctic Circle where you can experience firsthand how to treat athletic injuries. Or perhaps you're passionate about aerospace medicine. It would benefit you to attend trainings at Johnson Space Center to learn from NASA flight surgeons.
Consider Medical volunteering
While some doctors simply have an interest in exploring new places or acquiring new skillsets, 
others have more altruistic motivations for wanting to travel
—like bringing their skills to people around the world who wouldn't normally have access to quality healthcare. Many people see work as an obligation and travel as a luxury, rather than realizing the powerful impact combining the two could have on others.
According to Volunteer Forever, "Many volunteers don't realize that they may be able to use their specialized skills and that these skills could give them the ability to serve an at-need community in a way that most volunteers could not. Medical volunteer abroad trips can be extremely rewarding, and are a great chance for people with specialized skills to participate in a volunteer project that, because of the nature of their projects, can only accept people with very specific qualifications or interests."
The paradox of serving abroad is you tend to be the one who benefits the most. Look into organizations like Doctors Without Borders, to find out how you can satisfy your thirst for travel, while satisfying needs around the world with your services.
Think About Your Specality
Some specialities in medical school are more conducive to traveling abroad like emergency medicine, anesthesiology and infectious disease whereas someone who specializes in family medicine may a more difficult time.
https://wpapp.kaptest.com/study/wp-content/uploads/2019/02/How-to-travel-the-world-as-a-physician.jpg
528
1280
admin
http://wpapp.kaptest.com/wp-content/uploads/2020/09/kaplan_logo_purple_726-4.png
admin
2022-01-03 15:30:20
2022-01-03 22:11:42
How You Can Travel the World as a Physician