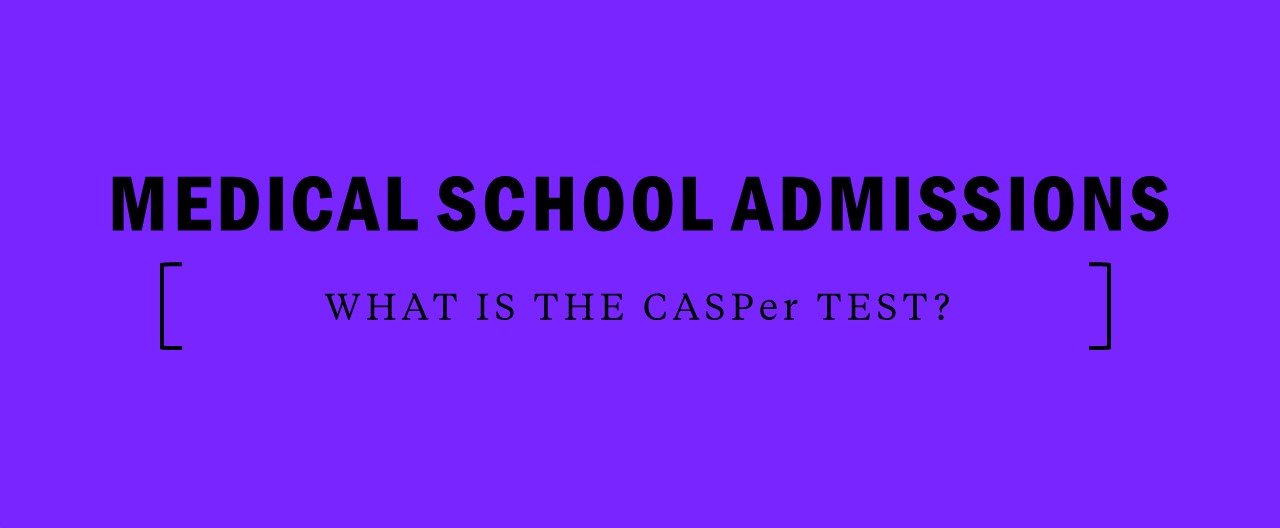 As part of your medical school applications, some schools may require you to take the CASPer exam. But wait, what's CASPer? And isn't dealing with the MCAT enough? Preparing for and taking the MCAT is a huge undertaking already, but once you take it, you're done… right?
The answer is, not quite. To round out your application, many medical schools, both allopathic and osteopathic, have begun to request that applicants take the CASPer test and submit their results, usually along with the school's secondary applications. We break down what you need to know about CASPer, how to feel prepared, when to take it, and more.
CASPer is a situational judgment test (SJT). It's a type of psychological test that will present you with realistic hypothetical scenarios and ask what would you do when faced with a particular situation—and why. According to the CASPer test maker, Altus Assessments Inc., these tests are used to "determine behavioral tendencies, assessing how an individual will behave in a certain situation, and knowledge instruction, which evaluates the effectiveness of possible responses." What does this mean for you? Practically speaking, this behavioral interview will mimic what you may experience during your medical school interviews, specifically the
MMI style of interviewing
(Multiple-Mini Interview). 
The cost to take the CASPer test is $10, plus another $10 for every school you designate to receive your results. If you are approved for a fee-assistance, this will also be honored by the CASPer test maker. The approved fee-assistance programs are:
AAMC

AACOMAS

Texas JAMP

Texas Early Assurance
Do you have to take the CASPer test?
Currently, more than 50 MD and DO programs in the United States ask candidates to submit CASPer scores, so if you are applying to one of those schools you will have to take the exam.
The CASPer has 12 sections, each comprised of a video-based or written scenario and three open-ended questions. You have five minutes to type out your responses. The test moves from one section to the next automatically and will take about 60-90 minutes to complete with an optional 15-minute break halfway through the test. Your grammar, punctuation, and spelling aren't graded, but you'll need to think on your feet and be able to type out your responses quickly. If you're not used to typing fast, be sure to use
the available practice material
so you can gauge your comfort level. 
Each section of the CASPer test is scored by a different human rater. You will not receive your score, and won't have access to it. Only the schools you apply to and have designated will see how you did.
Each medical school decides how to use CASPer scores in their application process and decisions. Because each school sets its own criteria and has a different applicant pool, a score that is competitive for one school might not be as competitive for another. Schools use your CASPer score to get a look into another one of your "dimensions" and to try and get a better idea of how you make decisions.

How can you prepare for the CASPer test?
Although the test maker stresses that because this is a behavioral exam, coaching won't be an effective preparation tool, there are a few things you should definitely do before you take the test:
Make sure that the test software, including the webcam function, are working on the computer you will be using on test day. CASPer offers a "system check" function and you should run that well before it's time to test. 

Take the free practice test offered on the

CASPer website

. This will allow you to become familiar with the question format, timing, and pacing. There is additional preparation advice on the test maker's blog.

Kaplan admissions consultants

can also be an invaluable resource for advice. 

Although there is no additional "official" prep material for CASPer other than what's available on the test maker's website, you should check in with friends who have taken it before and look for advice on pre-med message boards, as well as check in with your pre-med advisor.

Situational judgment tests will be similar to MMI-style medical school interviews, so MMI practice resources can be valuable. Practice reading a problem and formulating an answer that identifies what the issue is, what multiple viewpoints could be, what your duty or responsibility would be, etc. 

Read up on topics like ethical decision making, conflict resolution, medical ethics, problem-solving, and mediation.
Timing for taking the CASPer is critical, as your score is only good for the current application cycle. The test evolves each year and you're measured against the current applicant pool, so if you wait to apply, you'll need to retake the test. Because CASPer is administered online, you can take it on your own computer at home. There are specific dates and times the CASPer is offered, and available dates will be offered to you based on the schools you select to send your scores to. 
Many schools will want your CASPer score along with your secondary applications, but keep in mind that it can take about three weeks for your score to be processed. You'll want to take the CASPer as early as the Spring of your application year and as late as July. Remember that there's an advantage to applying as soon as AMCAS is open for submission; the earlier you have a complete applicant profile with your MCAT and CASPer scores, letters of recommendation, and essays, the sooner your application can be processed and reviewed by medical school admissions committees. 
https://wpapp.kaptest.com/study/wp-content/uploads/2022/01/What-is-the-casper-test.jpg
528
1280
admin
http://wpapp.kaptest.com/wp-content/uploads/2020/09/kaplan_logo_purple_726-4.png
admin
2022-01-05 13:10:40
2022-01-05 19:17:56
What is the CASPer Test?