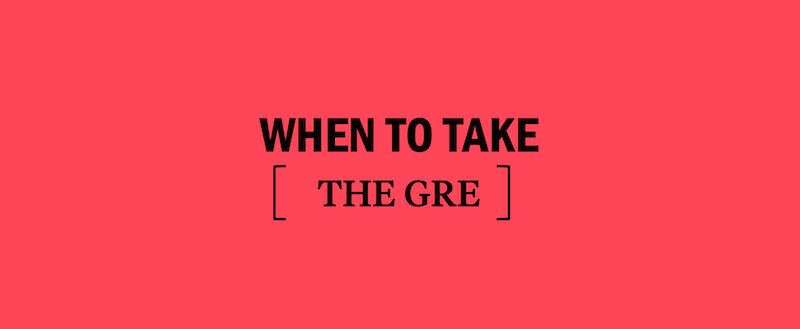 If you are preparing to take the GRE, then one thing you might be wrestling with is when to take the test. Students often wonder if there is either an optimal year of school or time of year to take the test. While there is no one answer that will perfectly fit each person's specific situation, keep the following in mind as you make your decision.
When Do You Plan on Attending Graduate School?
Some people suggest that the optimal time to take the GRE is during your first year of college. The argument goes something like this: since the GRE is so similar to the SAT, and because you've recently taken the SAT, it's better to just take the GRE while those basic math and vocabulary skills are still sharp in your mind. While there is some validity to this argument, it fails to consider a pretty relevant factor: are you completely sure you want to go to graduate school when you are just in your first year of college?
Because GRE scores only last five years, taking the test during your first year puts you in a position where you must go to graduate school no later than one year after you've graduated (assuming you graduated in four years). Otherwise, you'll just have to retake the GRE again.
A better approach would be to wait until you have a couple of years of college under your belt. Make the decision to take the GRE once you are confident that graduate school is your next career move. If you plan on attending graduate school either immediately or nearly immediately after graduating from college, then taking the test during your Junior year is ideal. 
If you're looking to get a few years of professional experience under your belt before heading to graduate school, then taking the test during your Senior year might make more sense: you'll still have five years to make the decision to return to school before you have to take the GRE again.
[ RELATED: How to study for the GRE in 3 months ]
Test Dates: When Should You Take the GRE?
Because the GRE is offered year-round, there is no need to sign up for a test date months in advance. In determining the right time to take the GRE, check your academic schedule — you don't want to take the test during your busiest semester, as both your test results and your GPA will suffer.
Instead, try to find a way to lighten the load for a semester and use the extra hours to prepare for the GRE.
Alternatively, if you have a light summer, use those months to prepare for and take the test then.
When Are GRADUATE SCHOOL Application Deadlines?
This is perhaps the most important factor to consider. Application deadlines for most programs are in December and January. That means you should aim to have all of the pieces of your application polished and ready to go by the beginning of December. For those of you looking to attend graduate school in the fall of next year, this is a good target. But does that mean you should wait until November to take the GRE?
No, not at all. If your current fall semester is very busy, then it will be better to prepare for and take the test over the summer. And even if you can prepare for and take the test during the fall semester, it's better to aim for a September or October test date. That way, if you need to retake the test, you will have enough time to do so. Keep in mind that you must wait 21 days before taking the test a second time.
If you are not looking to go to graduate school right away, or if you are currently a first year student or Sophomore, then taking the test in the summer or fall is less important. Instead, focus on taking the test when you have the time, energy, and resources to completely and effectively prepare for it.
Not everyone who is preparing for the GRE is a college student. Many people decide to return to graduate school after some time in the real world — either as a professional, a parent, or a wanderer. If you've made the decision to take the GRE after a period of time out of school, it's important to give yourself an appropriate amount of time to study and prepare for the test. Also, try to take the test during a time of the year that's not as busy for you.
If you're a parent, for example, try to avoid taking it during the busy back-to-school season. Or perhaps holidays are your busiest time of the year. And if you're currently working professionally, avoid taking the test during a busy quarter, or when you have a big project due.
Every person is different. The right time to take the GRE is when it is right for YOU. Consider the relevant factors that will affect when you will take the test, and plan from there. For most people who are still in college, the best time to take the GRE is sometime between the spring semester of their Junior year and the fall semester of their Senior year.
At the very least, make sure that you give yourself adequate time to prepare for the test (at least a couple of months) and plan for the possibility that you may want to retake it if things don't go perfectly.
[ NEXT: Top Tips for Your GRE Test Day ]
https://wpapp.kaptest.com/study/wp-content/uploads/2020/06/Screen-Shot-2021-06-19-at-8.46.38-PM.png
329
800
admin
http://wpapp.kaptest.com/wp-content/uploads/2020/09/kaplan_logo_purple_726-4.png
admin
2023-08-22 14:30:15
2023-08-22 19:39:32
When to Take the GRE: Test Dates, Deadlines, & More