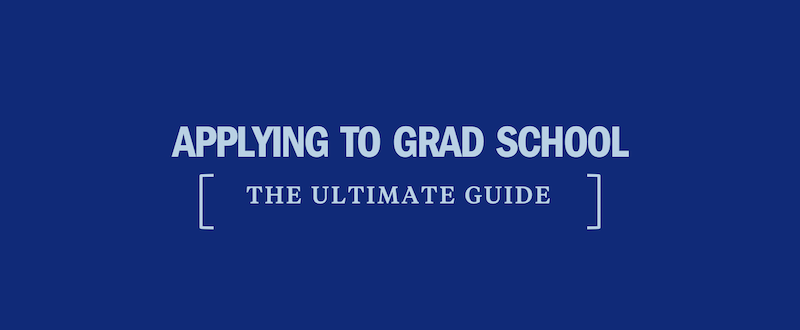 Applying to grad school can be stressful and time-consuming. If you don't plan ahead enough, you may miss critical deadlines, not give recommenders enough notice, or not turn in the best application possible. Whether you are just beginning to think about grad school, getting ready to prep for the GRE, or about to start working on your applications, we'll tell you what you need to know. We'll give you a timeline of what the application process looks like and answer some common questions that applicants have.
When to Apply for Grad School
Each graduate program has its own application deadline, so research the specific programs that interest you before beginning work on your applications. In general, though, you should plan to submit your applications during the fall or winter of the year before you wish to matriculate. Continue reading to learn more about graduate school application timelines and materials, how to choose a graduate school, and more.
Grad School Application Timeline
Applications for most grad programs don't open up until about 9 months before you would start school. However, grad school will likely be on your mind sooner, and you should start setting yourself up for success long before.
As a general overview, here's what your grad school application timeline should look like:
2 years before grad school: Start planning. Research schools and narrow down your interests.
1 year before grad school: Start preparing. Take the GRE, begin gathering your application materials, and look into financial aid.
9 months before grad school: Apply. Get your application in as early as you can.
6 months before grad school: Decide. Weigh the pros and cons of each school to which you've been accepted and decide where you'd like to matriculate.
Maybe you already know what you want to study in grad school, or maybe you're still deciding. About 2 years before you want to go to grad school narrow down your interests and determine your field before forging ahead.
Compile a list of disciplines and programs that interest you. Find advisors at your school to offer their perspectives on various professions and degree paths. If you are already in the workforce or out of school, talk with supervisors, mentors, and trusted colleagues. Visit programs' websites, request brochures, and attend open houses.
Learn the difference between master's, professional, and doctoral programs in your field. Which best suits your timeline and career goals?
Research specific schools. Consider factors like location, cost, reputation, competitiveness, and whether the school is public or private.
Look into the average credentials of matriculants at your prospective schools to determine which ones you should target.
Explore the earning potential of each of your possible degree paths.
Come up with a timeline for taking the GRE, and then schedule your

GRE prep

.
When you're about one year away from beginning graduate school, it's time to start gathering your materials and take the GRE. Don't panic; prepare.
Choose a GRE test date and reserve your seat. The GRE is offered nearly every day at most test locations.
Study for the GRE. Allow yourself at least 3 months

before your test date to study and prepare for the GRE.

Register for the FAFSA and start looking into private scholarship and grant applications.
Create a calendar of deadlines for all of the grad schools you are applying to, including financial aid deadlines.
Identify professors or individuals to write letters of recommendation. You'll want to reach out to them as early as possible to give them enough time to meet submission deadlines.
How to Apply to Grad School
Applications are usually released about nine months before graduate school program start dates. Stay organized and focused.
Start working on applications early so you'll have enough time to review, revise, and perfect. Polish your

personal statement

and get feedback.

Get all required materials organized and be sure they are included with your application.
Double-check that everything is accurate.
Submit your applications on time.
Before each interview, research the particular program and school. Anticipate common questions and prepare your answers. Review your personal statement and be prepared to expand on it in your interview.
How to Choose a Grad School Program
At six months before matriculation, you've likely received some acceptance letters! Keep these things in mind when narrowing down your top choices.
Weigh the pros and cons of each program. Think about which program may be the best fit for you, taking into account the school's mission statement, student culture, location, faculty, and how you felt if you had a campus visit.
Consider non-academic factors, including climate, extracurricular opportunities, cost of living, and financial aid availability.
Look into ways to finance your education.
Grad School Admissions Requirements
Admissions requirements will vary by program, but you will most likely have to include the following with your application:
cumulative undergraduate GPA (and major GPA)

GRE scores

letters of recommendation

personal statement

admission interview
Always research the specific requirements of the programs to which you are applying to make sure you are fulfilling all requirements and to tailor your applications to each specific program.
How To Ask For Letters of Recommendation For Grad School
There are two fundamental rules of requesting letters of recommendation for graduate school: ask early and ask nicely.
As soon as you decide to go to graduate school, you should start identifying potential writers for your letters of recommendations and let them know that you may ask them for a recommendation. This will give your letters of recommendation writers plenty of time to think about what to say. Once they've agreed, let them know about deadlines well in advance to avoid potential scheduling conflicts. The more time they have to write your letter of recommendation, the better the job they'll do recommending you for grad school.
As for asking nicely, you should let these people know that you think highly of their opinion and that you'd be happy and honored if they would consider writing you a letter of recommendation for graduate school. You can help your recommenders by scheduling brief appointments with them to discuss your background; providing a list of due dates for each application; providing any forms required by the program; listing which recommendations will be submitted in hard copy and which will be submitted online; providing any forms required by the program; supplying stamped, addressed envelopes for hard-copy submissions; and following up with the recommenders.
What GRE Score Do You Need?
The GRE is a multiple-choice, computer-based, standardized exam required for admission to graduate programs. It measures your command of basic arithmetic, algebra, geometry, data analysis, and college-level vocabulary. More importantly, it assesses your ability to analyze and evaluate written material, think critically, and solve problems.
Like your undergraduate GPA, your GRE score provides graduate admissions committees with common measures to evaluate your qualifications and preparedness for graduate-level academic work.

A high score on the GRE will have a direct, positive impact on your graduate school application.

When considering your GRE score goal, look at the requirements—or minimums, if applicable—at the graduate programs you're applying to. If you can find the mean or average GRE score of admitted applicants, you'll be able to determine what GRE score will make you competitive in that program. Not all graduate programs publish the GRE ranges of accepted students, but they'll likely share that information if you give them a call.
As you prep for GRE Test Day, it's important to develop an approach that makes you comfortable with each question type and content area on the GRE. If you're comfortable with the content, have a strategic approach, and pace yourself carefully, you'll meet or exceed your goals.


How Many Grad Schools Should You Apply to?
Think about applying to grad school as marketing yourself. There are many things you can do make sure that your application is as strong as it could be, and to present yourself in the most persuasive and appealing way possible.
The number of applications submitted will vary considerably from candidate to candidate, but the golden rule is that you should only apply to a graduate program if you have enough time to make your application outstanding. If you have time to perfect only three applications, then you should focus on applying to just three schools, rather than applying to five different schools and submitting only "average" applications. Be realistic about your limitations.
In terms of a target number—assuming that time is not a factor and you can commit yourself to all of your applications—five or six is generally optimal.
You'll want to divide your schools into three general categories:
Dream Schools: places you'd love to attend, but where your chances of acceptance are uncertain
Target Schools: programs you'd like to attend, and where your grades and GRE score are close to the median
Safety Schools: programs where your numbers make acceptance highly likely
Ultimately, each applicant has their own risk profile and timing to consider, but for most candidates, applying to too few schools can increase the risk of not being admitted, and applying to too many can be overkill. Make sure you are budgeting your time well as you'll want to submit the best application possible to each of your prospects.


What are the Best Grad Schools?
The answer to this question is different for everyone. What you need to consider is: what are the best grad schools for you?
Depending on your prospective programs, you will likely have dozens—if not hundreds—of options. Here are a few things to consider when choosing a grad program.
Applying to Grad School: Interview Tips
Not every graduate program requires an interview, but for many, it's an important requirement. Also, some schools use interviews to evaluate borderline cases. If you are a candidate who has been contacted about an interview, make sure to schedule it as soon as possible.
Programs vary on who conducts the interview. It may be someone on the admissions committee, or it may be a local alumnus of the school. Either way, get the logistics established as early as possible so you can begin to prepare for interview day.
Top 8 Tips for Grad School Interviews
Know who you are—and who you say you are. Review your application to the school before your interview day. Remember that all the interviewer knows about you is what they've read on paper, so they will likely start with what they know. You should know it, too.
Track the highlights. Think ahead of time about your role in leadership, volunteer, or professional positions. Be ready to relate several stories on how you've taken initiative and been a role model for others. Consider how you might apply those abilities to your new graduate environment—whether from an academic or community perspective.
Ask the right questions. Prepare some questions ahead of time about the program, the school, or the graduate community. Make sure that your questions show you've done your homework. For example, if your question can be easily answered on the program's website or literature, dive a little deeper.
"Why here?" The interviewer will inevitably ask why you are interested in the particular school and program. Be prepared to give a compelling answer. Remember that honesty wins. "It's close to my family, affordable, and has a great post-graduate career network," is a perfectly acceptable answer—and much better than, "this has been my dream school since I was 12" … if it hasn't.
Focus on presentation—inside and out. Project professionalism and friendliness. It's important to look the part in proper business attire, but that doesn't mean you have to wear the most expensive labels. You're evaluated on your presentation, not your price tag.
Preparation leads to calm. Stay as relaxed as possible. Not only will this help you project overall confidence and friendliness, but it will keep fidgeting to a minimum. Be aware of your other nonverbal communication, as well. Practice good eye contact and posture before the interview. It might help to hold mock interviews with trusted friends, family members, or even professors you're close to. Make these as official as you like—from running through questions over a video call, to putting on your interview suit and playing the part for a whole hour. Go about it however will make you feel the most relaxed on interview day.
Extend courtesy to all. If you are meeting with other members of the program's administrative staff, apply the same interview rules to those interactions—no matter how brief. The perceptions of all administrative staff members may be highly valued, and can have an effect on your overall evaluation.
Be yourself (you know this one). Always be open and honest. A genuine truth beats a beautiful lie any day.
How to Pay for Grad School
Before you decide to pursue a graduate degree, be sure to research your programs of interest to get a firm understanding of the financial costs. In addition to school tuition, books/materials, and fees, you'll want to factor in living and moving expenses, especially if you are relocating to a different state. The good news is that a graduate degree is often a sound investment. The Bureau of Labor Statistics consistently shows higher earnings for graduates with master's, doctoral, and professional degrees.
Some grad programs will be fully-funded through an assistantship or fellowship, which will cover the full cost of your tuition and sometimes even provide a living stipend. However, many programs will require to get creative about financing options. The good news is that there are many grants, loans, scholarships, and other options out there where you will be able to find money to put towards your graduate degree.
Your first stop for figuring out how to pay for graduate school is the FAFSA, or Free Application for Federal Student Aid. It will take you less than an hour to fill out, and unlike on your FAFSAs from college, you won't need your parents' information.
FAFSA unlocks all federal and state aid for graduate school—including federal loans, federal and state grants, work-study, and school student assistance. Submit FAFSA as early as you can each calendar year, as many aid sources are first come, first serve.
The aid package you receive from FAFSA will help you figure out how much money you need to find from other sources. If you are currently a student, start by setting up an appointment at your school's financial aid office. They may be able to point you toward some financial sources you haven't yet thought of.
If you're eligible for merit-based aid, look into scholarships, fellowships, and research or work-study opportunities, which offer funding that does not need to be paid back. Fastweb.com is a good place to start locating these.
Look into the

Fulbright grant programs

for graduate students.

Marshall Scholars

are fully funded for graduate study in the United Kingdom.

Rhodes Scholars

are provided with fully funded graduate studies opportunities at the University of Oxford.

Teaching assistantships let you earn your tuition by assisting a professor, teaching a seminar, or leading a section.

Research assistantships let you conduct research with faculty in your field while earning your tuition.

Stipends are often a part of teaching or research assistantships.
Other Grad School Funding Sources
Faith-based organizations. There are many faith-based scholarships available. They vary widely in their requirements, but they're worth looking into if applicable to you. Even if the requirements are specific, that's not a bad thing if you can find your niche. Remember that tighter qualifications can also mean less competition.
Military benefits. If you or your spouse served in the armed forces, you may be eligible for generous tuition help. The post-9/11 GI Bill will pay your full graduate tuition at a public school, and up to almost $22,000 a year at a private or foreign school. (Some private schools will waive the difference in what's called a Yellow Ribbon program.) The amount you're entitled to is determined by the number of months you served after September 11, 2001.
Your employer. Some workplaces have generous tuition reimbursement programs. If you're currently in the workforce, start with a call to your company's HR department to find out if your employer will pay for all or some of your advanced degree. Many are willing to contribute, particularly if your degree will help advance their business. Make sure you ask HR if there are any conditions for their tuition reimbursement programs; for instance, some employers require that you stay at the company for a certain amount of time while earning your advanced degree, or even after.
Non-traditional scholarships. Students over 25 or 30 are sometimes referred to as non-traditional students. There are more than 200 scholarships aimed directly at these students. If this is you, keep it in mind as you search for funding.
Your IRA. If you've been in the workforce and have started an IRA, you are allowed to borrow against it without penalty to pay for graduate school. This is a route that should be considered carefully: The true magic of retirement accounts is in their compounding over time—and by taking money out early, you are sacrificing future returns. Plus, an IRA withdrawal may affect your offer of financial aid.
A home equity loan. If you own a home, you can borrow against the value of your house and use that money for school, either as a loan or as a line of credit (HELOC). Weigh this option carefully, however, since your home is on the line if you can't make your payments or if the housing market drops. You also won't qualify for student loan forgiveness programs if you go this route, and your interest rate could rise, given that not all home-equity loans have fixed rates.
Student loan forgiveness programs. Once you graduate, there are ways to get your debt written off if you meet certain qualifications. Only a few types of federal loans are eligible, and you have to have been making on-time payments toward them. Most importantly, you need to be a federal employee or working in public service or at a qualifying nonprofit, with a salary beneath a particular threshold. Find more information at studentaid.ed.gov.
If you're thinking of taking out loans to either fund grad school or supplement other funding, you might have trouble determining which are the best types of loans for you to target. We'll help you understand different types of loans and associated terminology.
Student loans

: Money advanced for educational purposes by the government or private institutions. A student borrows the principal and pays it back to the lender in installments—with interest.

Subsidized loans

: While only available to undergrads, a subsidized student loan is issued by the federal government and eligible for interest benefits. The government pays the interest on subsidized loans while you're enrolled in school at least half-time.

Unsubsidized loans

: These loans are available to grad students and not based on financial need, making the amount you are allowed to take out higher. The interest on unsubsidized loans begins accruing immediately, though you are not required to begin repayment on the principal or the interest until after school.

Interest rate

: The proportion of a loan, expressed as a percentage of the principal, that is charged by the lender to the borrower.

Grace period

: The period of time between the actual due date of a payment and the date you can begin payment without accruing fees or penalties. In the context of student loans, this is the time period—usually six months—between the date you graduate (or drop below half-time status) and the date you must begin repayment.

Repayment period

: The entire period in which a borrower is responsible for repaying a loan.

Federal Stafford Loan

: Subsidized or unsubsidized, low-interest federal loans that are available to undergraduate and graduate students who fill out the FAFSA.

Federal Perkins Loan

: Low-interest loans available to undergraduate or graduate students. The government issues the loan through the student's school, which contributes a share and acts as lender. The interest rate for Perkins Loans is fixed at 5%.

Pell Grant: Okay, this one's not a loan, but you must fill out a FAFSA form to be eligible. The maximum Federal Pell Grant award for the 2019-2020 award year is $6,195. 98% of recipients have a family adjusted gross income of less than $60,000.
https://wpapp.kaptest.com/study/wp-content/uploads/2021/04/grad-school-applications-ultimate-guide.png
330
800
admin
http://wpapp.kaptest.com/wp-content/uploads/2020/09/kaplan_logo_purple_726-4.png
admin
2021-04-01 12:24:00
2021-08-23 21:49:55
Applying to Grad School: The Ultimate Guide