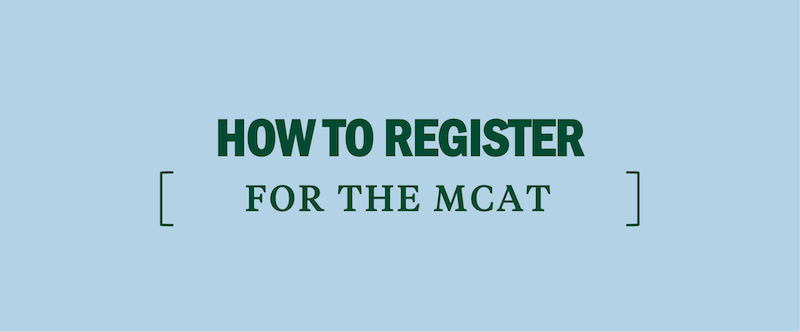 Once you've selected an MCAT test date, you'll have to complete a few steps to register:
First, make an account with the

Association of American Medical Colleges (AAMC)

, which develops and administers the MCAT. 

Once you've logged in to your AAMC profile, click on "Start Exam Registration".

You will be asked to provide Biographic Info including your address. Be sure to fill in your personal information as it appears on the government ID you will be using as identification on the day of the test.

Once you have completed all of the required forms and reach the "Schedule" page, click "Schedule an MCAT Exam".

Select your test date and location. If no seats are available for your desired location and date, you can request to be notified if an appointment becomes available, though there are no guarantees.

Once you've selected your location and appointment time, you can click "Proceed to Checkout" to pay for your registration.
The cost to register for the MCAT is $320. The AAMC has a fee assistance program for those unable to take the MCAT without financial assistance. 
If you require testing accommodations, you must submit a request via MCAT Accommodations Online. Note that the review process may take up to 60 days, so plan accordingly. 
Can I Change My MCAT Test Date?
You may change your MCAT registration, including changing your test date or test center up to 15 days before your scheduled appointment. If you want to
cancel your MCAT
registration, you may do so at any time, though you will only get a partial refund ($160) if you cancel before the Gold Zone Deadline (29 days prior to the test).
Here are the details about AAMC's three scheduling zones and rescheduling fees:
| | Gold Zone Deadline: 29 days prior to test date/time* | Silver Zone Deadline: 15 days prior to test date/time* | Bronze Zone Deadline: 8 days prior to test date/time* |
| --- | --- | --- | --- |
| Initial Reservation Fee | $320 | $320 | $375 |
| Date and/or Test Center Reschedule Fee | $95 | $160 | N/A |
|  Cancellation Refund | $160 | N/A | N/A |
|  International Fee | $115 | $115 | $115 |
* 
all deadlines are 7:59AM local test center time
If you want to reschedule your MCAT, you will have to make sure that:
Scheduling for your

desired MCAT test date

has opened 

There are seats available. Current availability can be found via the

MCAT Registration System

 

Your changes are complete by the Silver Zone Deadline of the exam you are currently scheduled to take

Your changes are made before the Bronze Zone Deadline of your new desired test date
Plan carefully because you will want to make sure to make all of your changes at one time. For example, if you make a change to your test date and location together, you will only be charged one rescheduling fee. If you make these changes separately, you will be charged a rescheduling fee each time.
You can make a request for rescheduling via the MCAT Registration System or by calling 202-828-0600. Before you reschedule, be sure to make sure that you will still receive scores back in time before your medical school application deadlines.

When Should I Take the MCAT?
The medical school application cycle opens in June of each year. Since many schools have a rolling admissions policy, you will want to submit your application materials and have your MCAT score in hand as early in the cycle as possible.
The AAMC recommends you spend about 300-350 hours to prep for the MCAT.
We generally recommend
that you spread your
MCAT prep
over at least three to five months. So, if you are planning on taking a January or March exam, you'll want to get started studying in September or October. If you're testing in April, May, June, or July, then January or February is the perfect time to get started on your prep.
[
KEEP READING:
Which MCAT Test Date is Right for You?
]
The first step in your MCAT Prep should be taking a
practice test
to gauge your baseline score. You should take your
score goal
into account to decide how you would like to move forward with your prep. To stay motivated and on track, you may consider taking an
MCAT course
with an expert teacher or getting a private tutor. 
However you choose to prep, you'll want to take the time at the beginning to set a clear plan and then stick to it. We have a variety of free study plans to get your ready for your MCAT test date:
https://wpapp.kaptest.com/study/wp-content/uploads/2021/04/Screen-Shot-2021-06-17-at-10.55.15-PM.png
332
800
admin
http://wpapp.kaptest.com/wp-content/uploads/2020/09/kaplan_logo_purple_726-4.png
admin
2022-06-17 15:05:00
2023-08-16 17:07:21
How to Register for the MCAT