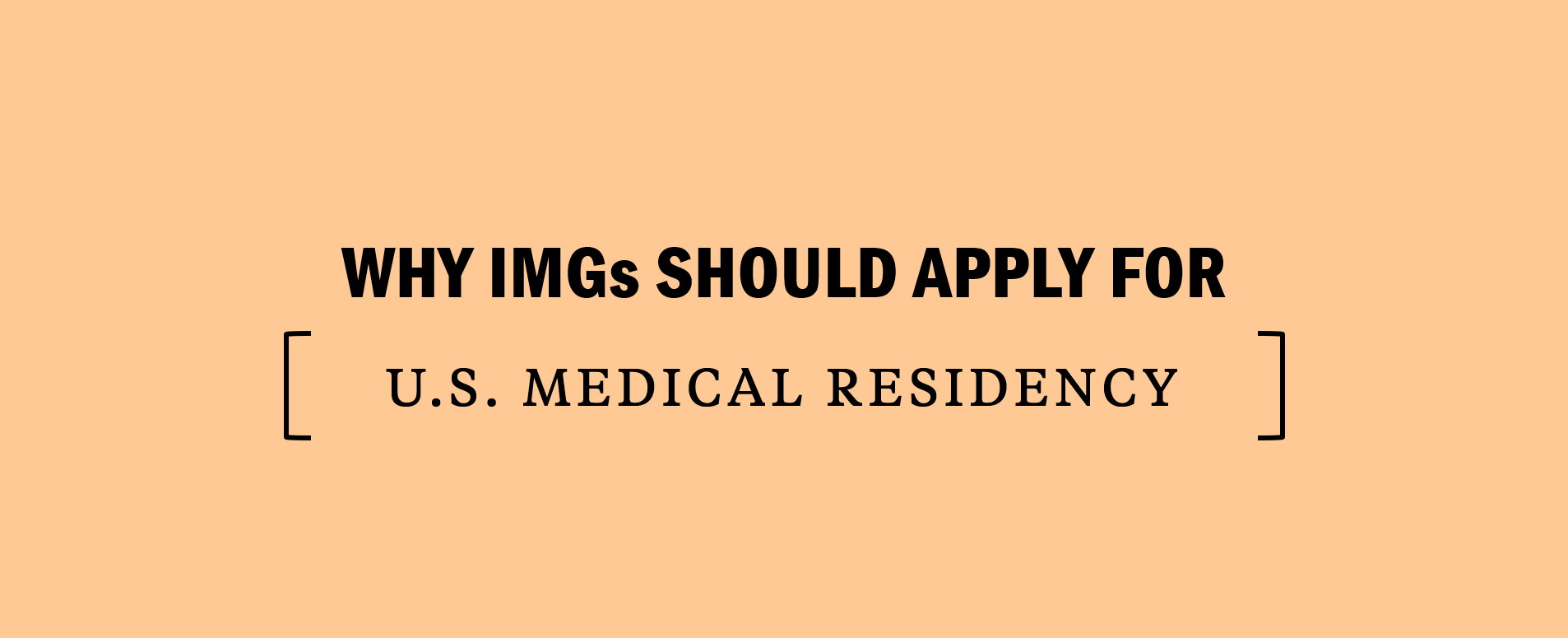 Now is the best time for international medical graduates (IMG) to apply for medical residency training in the United States. Benefits for IMGs to apply in the US include:
Increased healthcare demand in the US
An expected shortage of doctors and physicians in the US
More healthcare positions available for IMGs
Simplified USMLE requirements
More affordable application process
Increased Demand for Healthcare Providers in the US
The United States is forecasting a significant doctor shortage. A 2020 study by the Association of American Medical Colleges (AAMC) projects that the U.S. could face a deficit of up to 139,000 physicians by the year 2033. The AAMC study cites America's aging population as one of the biggest factors. It is predicted that by 2033, the population over the age of 65 will have grown by 45.1%, compared to only a 10.4% growth in the national population. Patients over 65 see physicians and have medical procedures done in disproportionate numbers compared to younger patients. Currently, over 50% of physicians providing care to geriatric patients in the US are IMGs.
More US Physicians Reaching Retirement Age
Not only is there an increased demand from patients seeking medical care, there is also an expected reduction in the number of doctors who will be actively practicing. 2 out of every 5 practicing physicians will have reached age 65 in the next 10 years. Physician burnout during the COVID pandemic has led many experienced doctors to retire at an earlier age than usual. In 2021, a survey conducted by Merritt Hawkins for the Physicians Foundation showed that 38% of physicians would like to retire in the next year, this includes 21% of physicians 45 years old or younger.
Greater Access to Healthcare in the US
Increased access to healthcare has also created additional demand. The Affordable Care Act has given access to health insurance to roughly 20 million people who were previously uninsured. This is a population that may not have had access to a primary care provider in the past.
More Positions Available for International Medical Graduates
There is no easy short-term solution to the current physician shortage since the number of medical schools has remained relatively fixed over the past years and the number of students they can admit is limited. Training new U.S. medical students can be a very time-consuming process. Since the U.S. cannot produce enough medical graduates to fill those positions in a timely manner, it is relying on international medical graduates to fill those slots. Currently, 27% of the physicians working in the United States are IMGs.
The 2022 National Residency Match saw 36,277 first-year positions available, an increase of 1,083 positions compared to 2021 and the largest number of positions available ever recorded. The number of positions available has been steadily increasing each year for the past decade. In 2012, there were 24,034 first-year positions available.
In 2022, the number of US medical school seniors who successfully matched went up by 0.1% while the number of non-US IMGs who successfully matched went up by 3.3%. 4,571 non-US IMGs successfully matched into a residency program in 2022, which was the most in history. This is up 65% since 2012. The success rate for non-US IMGs has also increased, in 2022 the match rate was 58.1% in comparison to 40.6% in 2012. Increased demand and available residency positions have created increased success rates for IMGs looking to enter a training program.
Simplified USMLE Exam Requirements
IMGs are required to take the United States Medical Licensing Exams (USMLE) in order to be eligible to apply for residency in the U.S. This series of tests consists of multiple Step exams. In the past, the competitiveness of candidates was heavily measured by their performance on the USMLE Step 1.
This exam tests basic science knowledge, which is taught during the first two years of American medical schools. U.S. medical students take Step 1 right after finishing their second year and usually perform very well on the exam. International medical graduates, on the other hand, will usually take Step 1 years after having covered their basic sciences and require more comprehensive preparation prior to taking the exam. IMGs who passed Step 1 but did not achieve high scores would often struggle to match into residency programs.
Scoring Change for USMLE Step 1
In 2022, the USMLE Step 1 scoring was changed from its three-digit score to a Pass/Fail score. This change makes passing the exam on the first attempt even more crucial for IMGs but it eliminates the stress of needing to score well above the mean in order to be competitive. With this change, the USMLE Step 2 CK exam, which still has a three-digit score, becomes the most important score when evaluating a candidate's competitiveness. The USMLE Step 2 CK evaluates clinical knowledge and historically, IMGs have performed better and many would argue is a better indication of your performance as a physician.
Elimination of USMLE Step 2 CS
Another change regarding USMLE exams is the permanent suspension of the USMLE Step 2 CS, an exam designed to evaluate clinical skills and English proficiency in a clinical setting through the use of standardized patients. English proficiency is now evaluated through the Occupational English Test (OET) which is a simpler and easier exam to sit for as it can be taken online without the need to travel to the U.S. to be tested, as was the case with the Step 2 CS.
Affordable Medical Residency Application Process
Another factor that usually goes unnoticed is the fact that a more affordable application process can not only lead to more IMGs being able to apply but also to a more successful match rate among them. Even though the cost of the application fees, exam fees, etc have not gone down, on the contrary, they have gone up, and the overall cost of the application process has significantly been reduced due to savings during the interviewing process.
For example, in the years prior to COVID, if an IMG with a competitive application got offered twenty interviews, their chances of successfully matching would be pretty high only if they were able to attend all their interviews. However, in the past, students who were offered interviews all over the country would have to spend thousands of dollars in travel (flights, hotels, car rentals, restaurants, etc) and many IMGs would not be able to attend all of their interviews because of budget constraints. In these cases, most IMGs would opt to attend only the interviews at their preferred programs. Many times, their preferred programs would be the most attractive to the majority of applicants and therefore the more competitive ones. Attending the more competitive ones and not being able to interview at less preferred programs would significantly hurt their chances of successfully matching.
During the pandemic, residency programs were forced to offer virtual interviews and most, if not all, have continued to offer them. Being able to interview from their home country, without having to incur those costly travel expenses has allowed IMGs to attend all of the interviews they get offered, regardless of where the program is located and what date the interviews are scheduled for since they are able to interview in more than one program on the same day, something that would've never been possible in the past.
New ECFMG Accreditation Requirement Coming in 2024
Starting in 2024 there will be a new Educational Commission for Foreign Medical Graduates (ECFMG) requirement for medical schools to be accredited. Specifically, individuals will be eligible to apply for ECFMG Certification—the first step in the certification process—and take the required examinations if, at the time of application, their medical school is accredited (including provisional or conditional accreditation) by an accrediting agency recognized by the World Federation for Medical Education (WFME). However, individuals who apply for ECFMG certification prior to 2024 will not be affected and will continue the current examination and certification process. Therefore, IMGs who are worried about their schools not being accredited during this change should start the ECFMG certification prior to 2024.
See here for more on the 2024 Accreditation Requirements:  www.ecfmg.org/accreditation.
At Kaplan, we understand the road to attaining a medical residency is competitive and there are many obstacles along the way. However, the increasing number of residency positions available, as well as all the other favorable conditions mentioned in this article, combined with the urgency to apply prior to 2024 makes now the best time for IMGs to start the process of attaining their medical residency in the US. We look forward to offering our support on your journey!
https://wpapp.kaptest.com/study/wp-content/uploads/why-imgs-should-appy-for-us-medical-residency.png
775
1906
Nick Chuvalas
http://wpapp.kaptest.com/wp-content/uploads/2020/09/kaplan_logo_purple_726-4.png
Nick Chuvalas
2022-11-03 17:59:52
2022-11-04 12:44:37
Why IMGs Should Apply for US Medical Residency