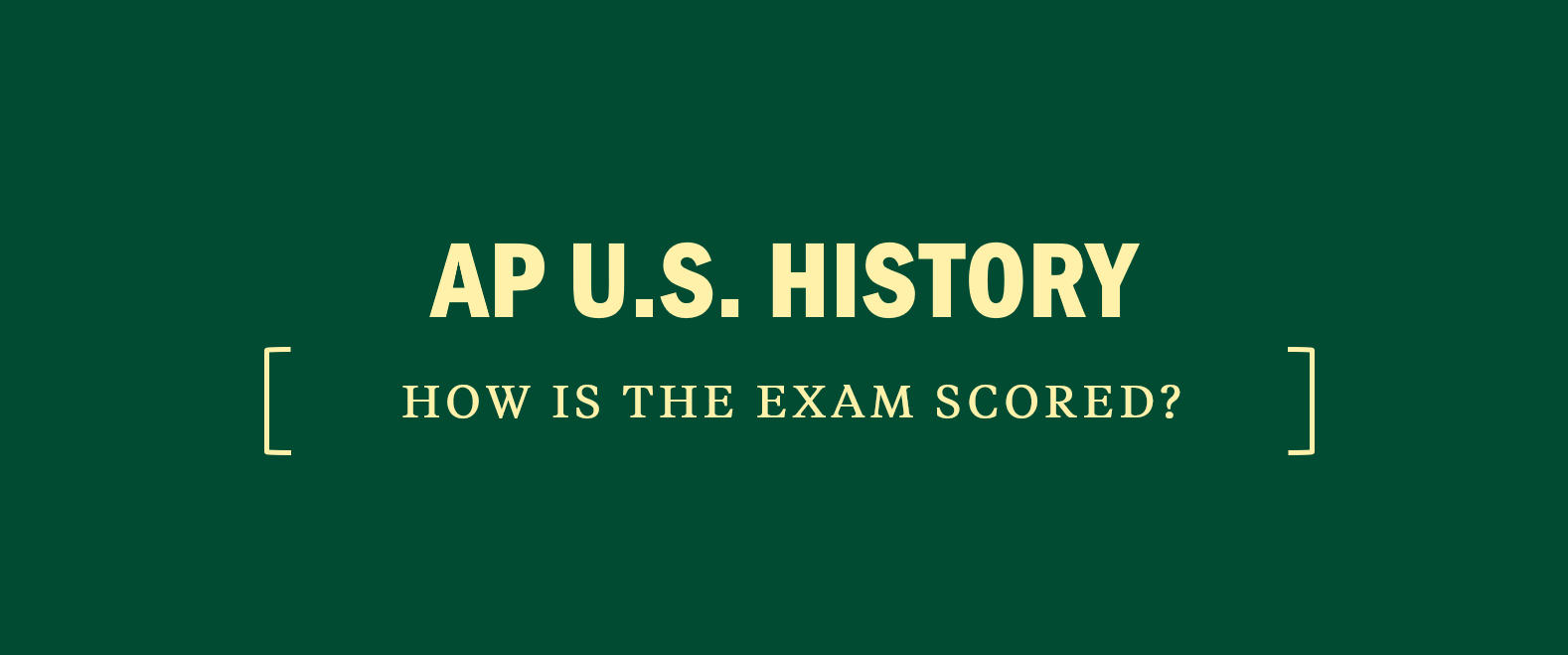 The AP U.S. History exam, divided into two sections, is three hours and fifteen minutes long. Section I is 1 hour and 45 minutes long and consists of 55 multiple-choice questions and four short-answer questions. Section II is 1 hour and 30 minutes long and consists of one document-based question (DBQ) and one long essay question (LEQ).

| Section 1 | 60% |
| --- | --- |
| Multiple-choice questions | 40% |
| Short-answer questions | 20% |
| Section 2 | 40% |
| Document-based question | 25% |
| Long essay question | 15% |
All AP exams are rated on a scale of 1 to 5, with 5 being the highest:
| | |
| --- | --- |
| 5 | Extremely well qualified |
| 4 | Well qualified |
| 3 | Qualified |
| 2 | Possibly qualified |
| 1 | No recommendation |
Scores are based on the number of questions answered correctly. There is no penalty for incorrect answers. No points are awarded for unanswered questions. Therefore, you should answer every question, even if you need to guess.
Registering for the AP U.S. History Exam
You can register for the AP U.S. History exam by contacting your guidance counselor or AP Coordinator. If your school doesn't administer the exam, contact the Advanced Placement Program for a listing of schools in your area that do. Most recently, the fee for each AP exam is $93 within the United States, and $123 at schools and testing centers outside of the United States. For those qualified with acute financial need, the College Board offers a $31 credit. In addition, most states offer exam subsidies to cover all or part of the remaining cost for eligible students. To learn about other sources of financial aid, contact your AP coordinator.
For more information on all things AP, contact the Advanced Placement Program:
Phone: (888) 225-5427 or (212) 632-1780
Email: apstudents@info.collegeboard.org
Website:
https://apstudent.collegeboard.org/home
Testing conditions vary from site to site. However, there are several key items that all students should bring on Test Day.
Several sharpened No. 2 pencils with erasers. We suggest that you also bring along a separate eraser. White erasers work very well in erasing pencil from scan sheets.
Several black or dark blue ballpoint ink pens. We suggest that you not use erasable ink or liquid ink pens. They can smear or run, affecting legibility.
Your school code
A watch that does not make noise. Some testing sites do not have clocks visible.
Your Social Security number for identification purposes
A photo ID
Some items are prohibited or best left at home. These are items not to bring.
Books, correcting fluid, dictionaries, highlighters, or notes
Scratch paper
Computers (unless you are a student with a disability and have been approved to bring a computer)
Watches that beep or have an alarm
Portable listening devices, such as MP3 players, CD players, and radios
Cameras
Cellular phones or personal digital assistants (PDAs)
Clothing with subject-related information
The College Board website is the best resource for additional information regarding AP courses, exams, and services. We suggest you visit often throughout the school year to access information regarding updates and test dates and to answer any questions you may have along the way.
https://wpapp.kaptest.com/study/wp-content/uploads/APUSH-exam-scoring.png
659
1578
admin
http://wpapp.kaptest.com/wp-content/uploads/2020/09/kaplan_logo_purple_726-4.png
admin
2021-06-03 07:46:56
2023-04-11 20:24:25
How is the AP U.S. History Exam Scored?