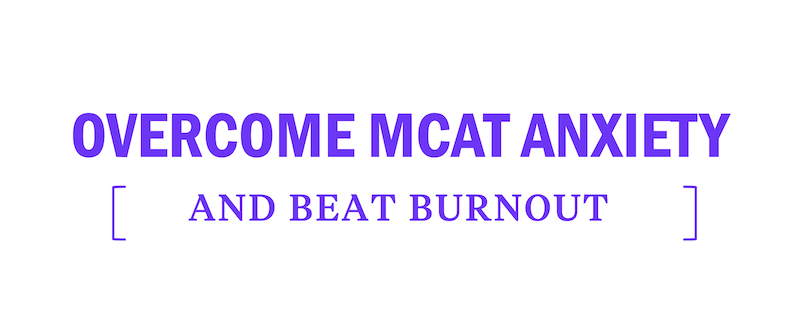 Dealing with MCAT stress and avoiding MCAT burnout while studying can seem impossible. But by planning ahead and following these tips, you can have effective study sessions and a reasonable MCAT-life balance.
MCAT Anxiety Tip #1: Start with an MCAT study schedule to guide your prep.
Before you start seriously studying for the MCAT, take a diagnostic test. This will show you where your strengths and weaknesses lie, and help you determine how you can best map out your studies for the next several months. Be as detailed as possible so you know exactly what you'll be doing every time you sit down to study.
If you're wondering how long you should study for the MCAT, read our expert recommendations for setting your MCAT study schedule duration.
MCAT ANXIETY TIP #2: ALTER YOUR MCAT STUDY PLAN AS YOU GO.
Each week or two, take an hour to change your MCAT plan for the coming week(s) based on how you performed on your most recent practice test, what techniques you feel you need to improve the most, and the content areas where you're struggling. It may seem like a waste of time to spend so long on your study plans instead of actually studying for the MCAT, but it will save you time in the long run. You'll have effective study sessions that meet your current needs.
[ GOOD TO KNOW: Our Experts' Top 10 Tips to Study for the MCAT ]
MCAT ANXIETY TIP #3: SET SHORT- AND LONG-TERM MCAT PREP AND SCORE GOALS.
It's important to have an overall score goal on the MCAT, but break it down into bite-sized pieces while you study. For example, if you have a goal to raise your score by 10 points, you might take one week to increase your score in a particular section by one point, another week to become comfortable with a particular type of question, and another to master a certain content area. Set these smaller goals in your initial MCAT study planning session, and reevaluate periodically to make sure these goals are still helping you on your way to accomplishing your bigger score goal.
MCAT ANXIETY TIP #4: GET ENOUGH SLEEP AND EXERCISE, AND EAT WELL.
Sacrificing your physical well-being will likely decrease your chances of doing well on the MCAT. Don't be tempted to pull all-nighters, eat exclusively fast food, and forgo exercise to give yourself more time to study; instead, build sleep, healthy eating, and exercise into your schedule. Taking care of your body will help you stay focused and think clearly.
MCAT ANXIETY TIP #5: PLAN FOR BREAKS FROM YOUR MCAT STUDYING.
It's unrealistic (and unhealthy) to assume that you'll be able to study without taking breaks and tending to other responsibilities. Purposefully give yourself blocks of time away from anything MCAT-related each week in addition to scheduling time in for your classes, work schedule, and other commitments. Depending on your personal preferences, this may look like several hours off each day, one full day off every week, or a combination.
MCAT ANXIETY TIP #6: ELIMINATE DISTRACTIONS WHILE YOU STUDY FOR THE MCAT.
You'll feel significantly more productive and at ease if you know your MCAT study time will be effective. For your individual study time, find a quiet, secluded spot where you can spread out your materials. Put your phone on silent and turn the TV off. If you listen to music, make sure it's something that won't take any of your attention away from the material.
MCAT ANXIETY TIP #7: MIX UP YOUR MCAT STUDY TECHNIQUES.
You'll certainly need a large amount of individual study time, but don't hesitate to form an effective study group, too. Take an MCAT prep course, if you have the means. Read, take quizzes, and watch helpful videos in your personal study time to break up the monotony of MCAT textbook-reading.
MCAT ANXIETY TIP #8: GET HELP AND SUPPORT FROM OTHERS.
While you're studying, find other people with similar MCAT goals to whom you can be accountable, or maybe even study with. Communicate with other people in your life about extra needs you might have during this time, and make sure you maintain some sort of social life.
MCAT ANXIETY TIP #9: PLAN SOME MCAT STRESS-RELIEVING TECHNIQUES.
You'll likely feel stress when preparing for and taking the actual MCAT. This is completely normal, but it's helpful to know how to move past the stress and into productivity again. Learn what works for you; when taking a practice test, do breathing exercises help you stay focused and calm? When you're in the middle of a long study session, does taking a ten-minute jog reinvigorate you? Does meditation when you wake up in the morning help you stay concentrated on your goals throughout the day? Learn what works for you early on in your studying; don't wait until you hit a wall to come up with a stress-relief plan.
MCAT ANXIETY TIP #10: KEEP A HEALTHY PERSPECTIVE.
If you put in the time and effort, you will likely get an MCAT score good enough to get you into a medical school. If you don't, you can retake the MCAT, work on other parts of your application, and apply the following application cycle.
For more MCAT study tips and resources, check out Kaplan's Free MCAT Prep Resources page.
https://wpapp.kaptest.com/study/wp-content/uploads/2021/04/test-stress-anxiety-burnout-how-hard-is-the-mcat-help-prep-prepare-study-guide-schedule-plan.png
330
800
admin
http://wpapp.kaptest.com/wp-content/uploads/2020/09/kaplan_logo_purple_726-4.png
admin
2021-04-27 17:23:58
2021-05-18 14:43:58
Top 10 Tips to Deal with MCAT Anxiety