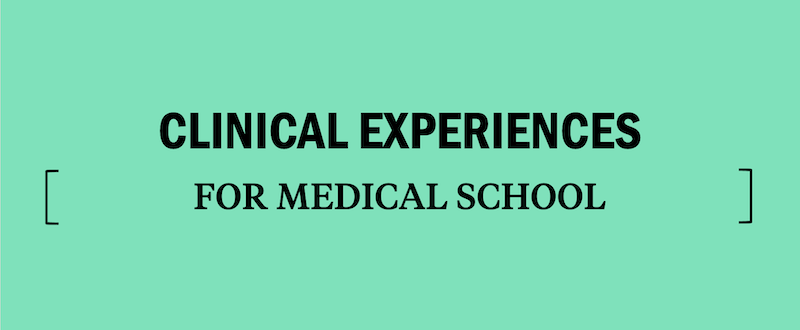 You block off an entire Sunday afternoon to tackle the beast that is the AMCAS—the centralized medical school application. You're clicking through the online form, filling in the boxes until you get to the page titled "Volunteering and Shadowing." You stop there. Are you worried that when it comes time to document your exposure to the medical field, you'll feel like your clinical experience hasn't adequately prepared you to fill out your medical school application? Are you looking to gain more first-hand insight into the workings of the career to which you've pledged your life?
One of the most important parts of your medical school application is the proof that you've got some experience in the field, that you know what it takes to work in medicine, and that you're someone who is going to make it to the other side ready to practice—not burned out and cynical because you didn't know what you were getting into.
Volunteer Clinical Experience
Completing volunteer work and shadowing to gain clinical experience in the medical field is a crucial part of your 
medical school application
, and students tend to worry that they haven't done enough of either. It can be difficult to find avenues for gaining this experience, especially in a way that sets your volunteer work apart from that of your fellow applicants.
The following is a list of options for shadowing or volunteer experience that will enhance your medical school application and give you a head start on practicing medicine.
More Intensive Clinical Opportunities
There are many jobs available in the healthcare field, but due to time constraints and limited training, 
medical school applicants
 often restrict themselves to a smaller pool of opportunities. Today, we'll focus on clinical opportunities that require more time and training, and are therefore ideal for a pre-med who is taking a gap year or is looking for a medically-focused summer job.
Regardless of which type of clinical experience you pursue, remember that the most important factor is that you are able to work with patients and providers in a professional, standardized healthcare setting. Check out the following pre-med positions that you can pursue with just a little extra time and training:
Get out there and start immersing yourself in the medical field. Only through hands-on clinical experience can you be sure you're pursuing a career in medicine for the 
right reasons
.
https://wpapp.kaptest.com/study/wp-content/uploads/2019/09/Screen-Shot-2021-06-18-at-6.50.47-AM.png
330
800
admin
http://wpapp.kaptest.com/wp-content/uploads/2020/09/kaplan_logo_purple_726-4.png
admin
2021-06-17 09:21:01
2021-06-18 12:55:38
Finding Clinical Experience Opportunities