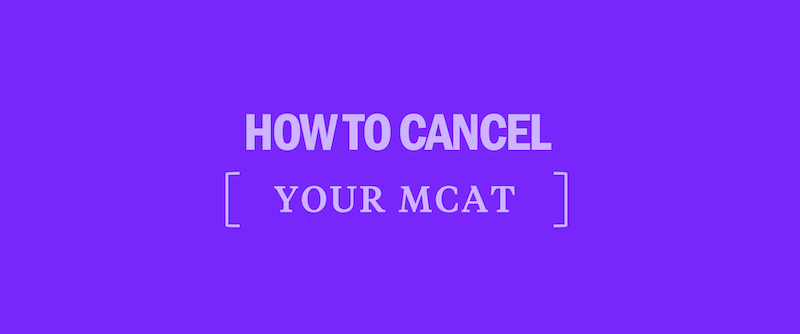 Even after you've chosen your MCAT test date, paid your registration fee, and completed your registration, you may still have to cancel or make a change to your registration because studying didn't quite go as you planned or life got in the way.
[ RELATED: Predicting Top Medical Specialities ]
Before you decide to make a change to your MCAT registration, you should be aware of any related fees you may incur. The AAMC has three scheduling zones for each exam date: Gold, Silver, and Bronze. Flexibility is highest and fees are lowest within the Gold zone. You must make a change to your test date before the Silver Zone deadline, which is 15 days before your test date.
Here are the details:

| | Gold Zone Deadline: 29 days prior to test date/time* | Silver Zone Deadline: 15 days prior to test date/time* | Bronze Zone Deadline: 8 days prior to test date/time* |
| --- | --- | --- | --- |
| Initial Reservation Fee | $320 | $320 | $375 |
| Date and/or Test Center Reschedule Fee | $95 | $160 | N/A |
| Cancellation Refund | $160 | N/A | N/A |
| International Fee | $115 | $115 | $115 |
* 
all deadlines are 7:59AM local test center time
Changing Your MCAT Test Date or Test Location
If you want to reschedule your MCAT, you will have to make sure that:
Scheduling for your

desired MCAT test date

has opened 

There are seats available. Current availability can be found via the

MCAT Registration System

 

Your changes are complete by the Silver Zone Deadline of the exam you are currently scheduled to take

Your changes are made before the Bronze Zone Deadline of your new desired test date
Plan carefully because you will want to make sure to make all of your changes at one time. For example, if you make a change to your test date and location together, you will only be charged one rescheduling fee. If you make these changes separately, you will be charged a rescheduling fee each time.
You can make a request for rescheduling via the MCAT Registration System or by calling 202-828-0600. Before you reschedule, be sure to make sure that you will still receive scores back in time before your medical school application deadlines.

You can cancel your MCAT at any time before your scheduled appointment, but you will only receive a partial refund if you cancel prior to the Gold Zone Deadline, or 29 days before your scheduled test date. If you cancel after the Gold Zone Deadline, you won't receive a refund.
To submit a cancellation request, visit the MCAT Registration System.
Requesting an Emergency Refund
The AAMC issues emergency refunds if one of the following occurs after the Silver Zone Deadline:
You are hospitalized

You experience a death in your immediate family

You are unexpectedly called away to active military service

You are unexpectedly called away for health care service duties related to a catastrophic event

You are called to jury duty the day of your exam

You are displaced from your residence due to a natural disaster
If you are requesting an emergency refund, you will have to provide supporting documentation such as hospital records, official requests, or other related documents. The maximum refund amount you will be issued is the amount listed under the Gold Zone Deadline. All requests must be received no later than three weeks after your scheduled exam date, and the exam may still count as one of your attempts toward your testing limits. 
You are allowed to take the MCAT three times in one year and up to seven times in a lifetime. 

If you're making a change to your MCAT test date, your study plans probably weren't working for you. Study plans are often thrown off by personal difficulties, family troubles, health problems, work demands, or other unforeseen time constraints. It's important to have a fresh approach to get your MCAT studying back on track. 
As you build your new study schedule, you want to make sure that you addressed the issue that derailed your MCAT studying the first time around. Then, scrap your original study plan and start fresh to reinvigorate your studying. 
It can be disheartening to have to postpone your MCAT and keep studying, especially if you felt like you were making good progress. Work on keeping your spirits up and try not to focus on your progress relative to the last time you studied. You want to embark on this journey fresh and ready to conquer the MCAT!
[ KEEP STUDYING
:
How to Study for the MCAT in a Month
]
https://wpapp.kaptest.com/study/wp-content/uploads/2019/08/Screen-Shot-2021-06-18-at-3.22.03-PM.png
334
800
admin
http://wpapp.kaptest.com/wp-content/uploads/2020/09/kaplan_logo_purple_726-4.png
admin
2022-06-18 14:40:49
2022-06-22 22:03:07
How to Cancel Your MCAT