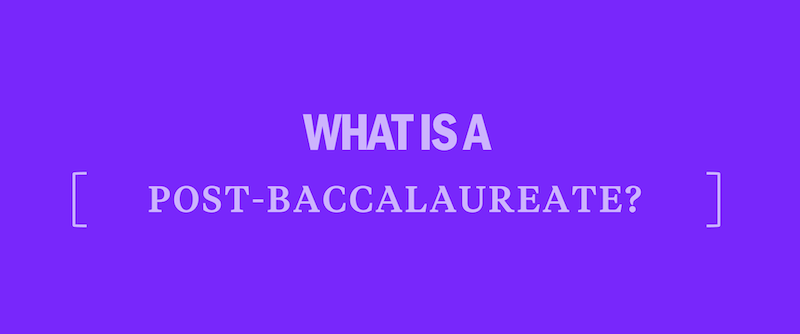 A post-baccalaureate program—or post-bacc—is a program completed after graduation from college. Students can enroll in a post-baccalaureate program with a variety of goals: to complete a second BA/BS degree, to attain a graduate certificate, or to complete prerequisite courses for admission into medical school or other graduate programs. Most post-baccalaureate programs take one to two years to complete.
[ RELATED: The Prerequisites for Medical School ]

The Benefits of Post-Baccalaureate Programs
Most commonly, students choose to attend a post-baccalaureate program because they did not complete the prerequisite science courses required by most medical schools. Perhaps you wanted to focus your undergraduate studies in a different discipline or you didn't know you wanted to pursue a medical career in college. Post-baccalaureate premedical programs allow you to focus solely on medical school prereqs, and often on an accelerated timeline since you are not juggling other courses like you had to in college.
Some individuals that were pre-med in college and completed all medical school prereqs still choose to enroll in a post-baccalaureate program to improve their chances of getting into medical school. A post-bacc program can give you the opportunity to improve your transcript—you can retake classes you took as a pre-med in college to raise your grades.
In addition to completing medical school prerequisites, post-baccalaureate programs offer the following benefits:

How Do I Find a Post-Baccalaureate Program?
The Association of American Medical Colleges (AAMC) has a
database of post-baccalaureate programs
. You can search for programs by state, focus (e.g., "academic record enhancers" or "career changers"), and whether the institution is public or private. The directory also includes schools that have post-bacc programs for students that are interested in health professions that do not require medical school. 
Post-baccalaureate programs can be expensive. Most post-bacc programs cost somewhere in the range of $20000-$40000. Financial aid is offered by many, though you may have to take out loans. Not all post-bacc programs are eligible for federal aid—be sure to speak with the financial aid offices of programs you are considering to see if they are eligible for federal student aid. If you do take out federal unsubsidized loans, keep in mind that the interest on the loan will begin to accrue immediately and will continue throughout your medical school career.
https://wpapp.kaptest.com/study/wp-content/uploads/2019/11/Screen-Shot-2021-06-18-at-3.05.44-PM.png
334
800
admin
http://wpapp.kaptest.com/wp-content/uploads/2020/09/kaplan_logo_purple_726-4.png
admin
2022-01-03 14:55:14
2022-01-03 20:55:48
What is a Post-Baccalaureate?