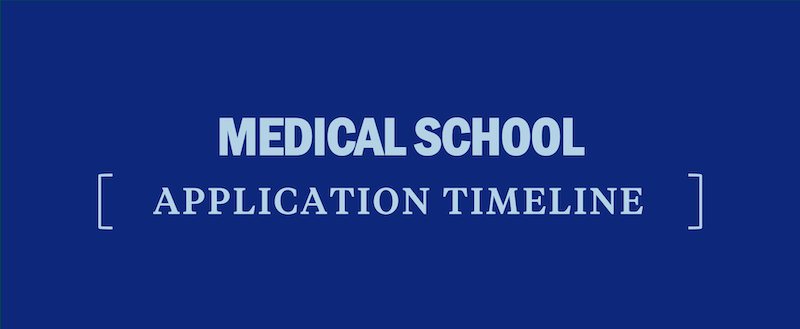 You might think that applying to medical school is pretty much the same as applying to college. Sure, the basic idea is the same, but the process can actually be much more complicated. That's why it's a good idea to start by setting up a medical school application timeline so you hit all the right points at just the right time.
While there is no wrong time in your life to go to med school, that doesn't mean there's not a best time of the year to apply.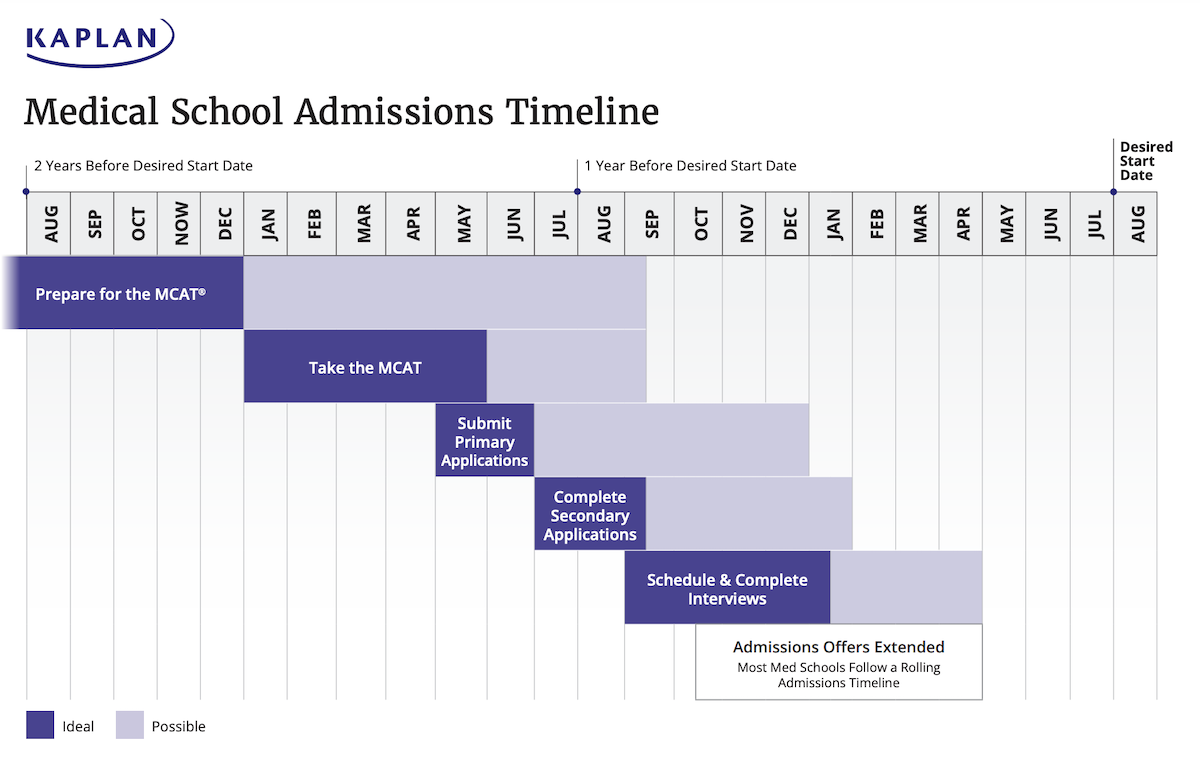 When is it too late to take the MCAT?
Ideally, you should have your MCAT score in hand by the time you're filling out your medical school application. To play it safe, this means that you should take the MCAT early enough to receive your scores by the time application submissions open in June.
Registering for the MCAT at the beginning of the year will afford you plenty of time and also give you the opportunity to retake the test before applying if you're not happy with your score. If you're not an early-bird type of test-taker, however, the good news is that your medical school application can be verified and processed without your MCAT score.
Once the score is available, the American Medical College Application Service (AMCAS) will upload it automatically and inform your schools of the update. If you are applying to an osteopathic medical school, you'll want to log into your MCAT account via the MCAT Testing History (THx) System and have your scores released to AACOMAS.
Do your research to understand how each of your schools look at the primary application without the MCAT scores and whether or not they screen the secondary applications they send out based on GPA/MCAT statistics.
When should you submit your medical school application?
Here's where things start to differ from college applications. While college applications tend to be due near the end of the year, many medical schools have rolling admissions, and while the deadlines may seem to be comfortable, it is imperative to get your application submitted as soon as possible.
The AMCAS primary application opens in the beginning of May and can be submitted in the beginning of June. Verification and processing of your application can take a while, especially as things pick up in late June and early July, so getting on the ball early can help you throughout your medical school application process.
Here's how: the earlier you get your primary application in, the earlier your prospective schools will send the secondary applications for you to fill out, and the earlier you can send those in. In turn, you'll get scheduled for interviews early in the season when the majority of incoming class seats are still unfilled.
Looking through the application, you will find there is more to applying to medical school than simply filling out paperwork. You'll need to pull together letters of recommendation, transcripts, and a
personal statement
.
When it comes to letters of recommendation for med school, who you choose to ask is of utmost importance. Two tips for successfully obtaining your letters of recommendation:
Give your letter writers plenty of time to craft an excellent letter.
Ensure your letter writers have the appropriate information on submitting their letters to AMCAS. (Note: AACOMAS does not process letters of recommendations or forward letters of evaluation to the colleges. Each of the osteopathic medical schools has its own processes for receiving letters of recommendation. Refer to the AACOM College Information Book for specific medical school letter information.)
Transcripts tend to not be an issue, but you want to make sure you haven't left any schools out and are accurate in the coursework you report on the medical school primary application. This is one of the main reasons for delays in processing applications.
Of course, you also want to make sure you have enough time to write, proofread, and ask others to proofread your med school personal statement. It is one of the most important components of your primary application, and it will be taken into consideration by all of your prospective schools. If you are looking for professional assistance in constructing a high-quality personal statement, Kaplan has the perfect service for you.
In the medical school application process, early preparation is key, as well as doing research on the schools you're interested in. Try starting an Excel spreadsheet to keep track of schools, deadlines, and requirements.
For further med school info and resources, don't hesitate to call your prospective schools, contact AMCAS or AACOM, or talk to your own institution's counselor for help. Above all, keep your chin up! The primary application represents the culmination of all your efforts so far and will be the best way you can sell yourself to the admissions committee.
https://wpapp.kaptest.com/study/wp-content/uploads/2021/05/Screen-Shot-2021-06-17-at-10.23.15-PM.png
329
800
admin
http://wpapp.kaptest.com/wp-content/uploads/2020/09/kaplan_logo_purple_726-4.png
admin
2023-07-01 08:36:00
2023-09-19 16:57:30
How to Plan Your Medical School Application Timeline