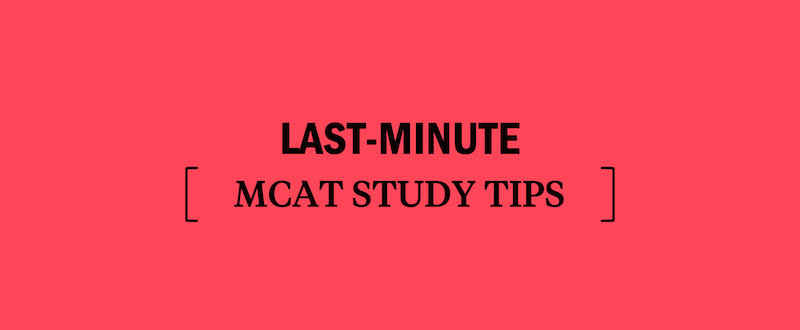 One of the biggest worries about the MCAT is what to do the final few days before the test. The last week before the MCAT is often a time of stressful studying, jangled nerves, and sleepless nights. Fortunately, it doesn't have to be this way; as countless students who have prepared for the MCAT with Kaplan know, the countdown to test day can and should be a time of exhilaration – all of your hard work is about to pay off!
To help you approach the exam in the best possible light, here's a handy walk-through of what you should be doing in the final days before the MCAT.
With one week left before the MCAT, you'll want to go through a dress rehearsal. Wake up and run through your routine exactly the way you will on Test Day. Know when you'll get up, what you will have for breakfast, how you'll warm up both physically and mentally, and when you need to be in the car and on the way.
A great way to reduce your anxiety is to visit the testing center itself; don't just think about going there. You need to be absolutely certain about the following issues:
How long does it take to get there? Is there traffic on your route? What about construction? Anything that may delay your commute on Test Day is significant, so pay attention!
If you're driving, consider the parking situation. Do you need quarters for meters? Cash for a parking garage? Free parking on side streets?
Take the time to actually go into the testing center – don't just drive by.
List of Questions For MCAT Test Location
Where is the actual entrance?
What are their security procedures?
Where are the bathrooms?
How big are the lockers?
Is there a refrigerator or microwave available to you?
What is the temperature like in the center?
Add any other questions that you might have about the center and the testing environment.
The more questions you can answer now, the better prepared you'll be for the real thing and the less likely you'll be caught off guard by something small on Test Day itself.
[ RELATED: How To Study The Week Before The MCAT ]

The Week of the MCAT Tips
The Day Before the MCAT Tips
Wake up early, have your usual breakfast, and give yourself a chance to warm up both physically and mentally.
Pick a few MCAT problems and passages to review from your MCAT Prep Book; choose those that you've done successfully in the past, so that you are building confidence.
Leave for your test center with plenty of time to spare. Traffic is never reliable, and you don't want to be stressed out before the test even starts. In many cases, if you arrive early, you can start the test early.
Expect to feel some test anxiety; it would be a bad sign if you didn't. Use your nerves to give yourself that competitive edge that will help you achieve your highest possible score. You've been preparing for this for a while, and now you're ready for success.
You've already done all the hard work, so just go in there and knock 'em dead. Remember all of your practice and everything will go smoothly – when it's all over, you'll be one step closer to medical school!

https://wpapp.kaptest.com/study/wp-content/uploads/2019/09/Screen-Shot-2021-06-19-at-8.08.41-AM.png
330
800
admin
http://wpapp.kaptest.com/wp-content/uploads/2020/09/kaplan_logo_purple_726-4.png
admin
2023-04-26 13:07:41
2023-08-31 21:49:36
Last-Minute MCAT Study Tips