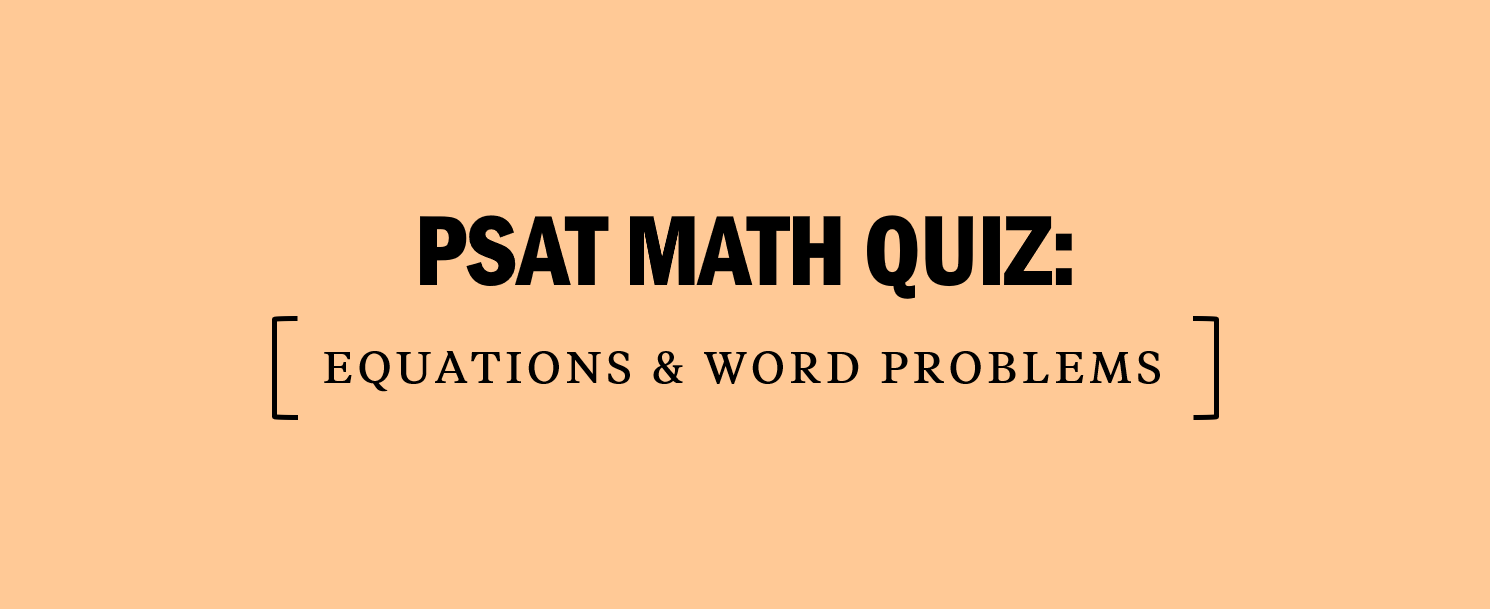 Content Review:
Test your PSAT readiness by taking this PSAT Math quiz!

Answer 1
D: Straightforward math works well on simple equations like this one. Start by carefully distributing the -1 on the left. Then combine like terms and divide by -2 on both sides to isolate x. You should find that x = -11/2, which is (D).
Answer 2
C: Don't get bogged down by the prose; focus on what you need to answer the question posed. Temperature (T) is the independent variable on the x-axis, and volume (V) is the dependent variable on the y-axis. Therefore, the skeleton of the equation you're looking for is V = mT + b.
Because each answer choice has a different y-intercept, finding this is enough to get you to the right answer; there is no need to determine the slope. Although the graph is not centered like you're used to, you can still find the y-intercept. In this case, it's 1. This eliminates every answer choice except (C), which is correct.
Answer 3
C: The Kaplan Strategy for Translating English into Math will work well here. Watch out for extra information that may confuse you. Let a be the average of Test One (92); b, the average of Test Two (77); c, the average of Test Three (what you need to find); and d, the overall test average (84).
The average is the sum of the terms divided by the number of terms: (a + b + c) / 3 = d. Plugging in the values you know yields (92 + 77 + c) / 3 = 84. Multiply both sides by 3 and then subtract to solve for c, which gives 83. This corresponds to (C).
Answer 4
B: Follow the Kaplan Strategy for Translating English into Math. Assemble equations and set them equal to each other. Let d = Die-Hard Package, p = Personal Package, and v = number of visits. Using the information about each package, you know that d = 250 and p = 130 + 4v.
Now, solve for v:
250 = 130 + 4v
120 + 4v
30 = v
Answer 5
The total bill consists of a flat tax and a percentage of annual income. The flat per capita tax is a one-time fee that does not depend on the taxpayer's income and therefore should not be multiplied by i. This means that 25 is the per capita tax. The other expression in the equation, 0.02i, represents the percentage income tax times the annual income (which the question tells you is i). Therefore, 0.02 must represent the amount of the income tax as a percentage, which is (D).
https://wpapp.kaptest.com/study/wp-content/uploads/PSAT-Math-Quiz_equations_featuredimage.png
609
1490
admin
http://wpapp.kaptest.com/wp-content/uploads/2020/09/kaplan_logo_purple_726-4.png
admin
2022-12-05 10:50:02
2022-12-05 21:40:25
PSAT Math Quiz: Equations and Word Problems